Posted on: November 9, 2023, 06:02h. 
Last updated on: November 9, 2023, 06:02h.
MGM Resorts said it was moving toward a deal with approximately 20K Las Vegas hospitality workers just hours before a threatened walkout.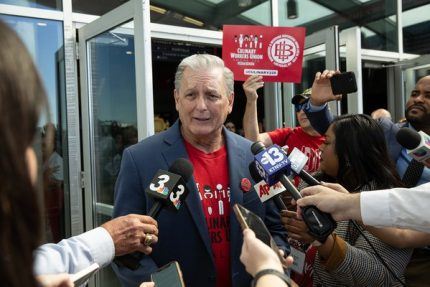 MGM's CEO Bill Hornbuckle announced on Wednesday that a tentative settlement with the Culinary Union was forthcoming.
I believe we will come to a deal today," he said during Wednesday's earnings call. "We know from listening to our employees that they are looking for a pay increase to combat inflation, among other concerns. This deal, when announced, will do just that."
The union reached a tentative contract on Wednesday with Caesars Entertainment covering its estimated 10K workers.
Wynn Resorts continues to negotiate with union members. On Wednesday, the company appeared hopeful the two sides could reach a tentative contract soon.
We have had productive bargaining sessions with the Union, with our next session scheduled for tomorrow," Wynn said in a statement to Las Vegas TV station KTNV.
Strike Deadline Is Friday
If no deals are struck, the union has threatened to go out on strike on Friday.
Any tentative agreements reached at the bargaining table still need approval from rank-and-file union members before going into effect.
Ted Pappageorge, secretary-treasurer for the Culinary Union, remains "cautiously optimistic" about the progress of remaining negotiations, at least with MGM.
MGM has the opportunity to do the right thing," Pappageorge told reporters this week. "We have a lot of work to do. All of the same issues that were facing us yesterday with the Caesars Entertainment negotiation committee are on the table here with MGM Resorts."
Pappageorge also revealed the tentative agreement with Caesars improves salary, job security, working conditions and benefits for union members, according to KTNV.
In a statement, Caesars Entertainment said its new agreement will lead to "meaningful wage increases that align with our past performance."
Earlier this week, the Nevada Current reported MGM Resorts was training managers to serve alcohol to customers to prepare for the threatened strike.
"Good luck to them," Culinary Union spokesperson Bethany Khan said upon hearing the report. "They also need to clean rooms, wash dishes, clean the casino floor, make the drinks, cook the food, serve the guests, and everything else."
Some 35K Las Vegas hospitality workers have been working without a contract since September. About 95% of the workers previously authorized a strike.
There's extra pressure to avoid a strike given it's just days before the highly anticipated Formula 1 Las Vegas Grand Prix. The race is scheduled to take place between November 16 and 19. It's expected to bring a large crowd to Las Vegas.
Late this week, tourists in Las Vegas already were concerned about the quality of services if workers go out on strike.
Rooms won't be clean, and there will be less staff," Kim Shafer of Seattle told KTNV. "It's certainly going to affect us."
Canadian Nathan Mantik further told the TV station, "We come here to have a good time and do whatever, and if working people aren't happy with their wages, it won't be fun for anybody."
Detroit Strike Continues
Across the country, 3,700 workers have been on strike at three Detroit gaming properties — Hollywood Casino at Greektown, MGM Grand Detroit, and MotorCity Casino Hotel — since October 17. Workers are urging people not to enter the three casinos.