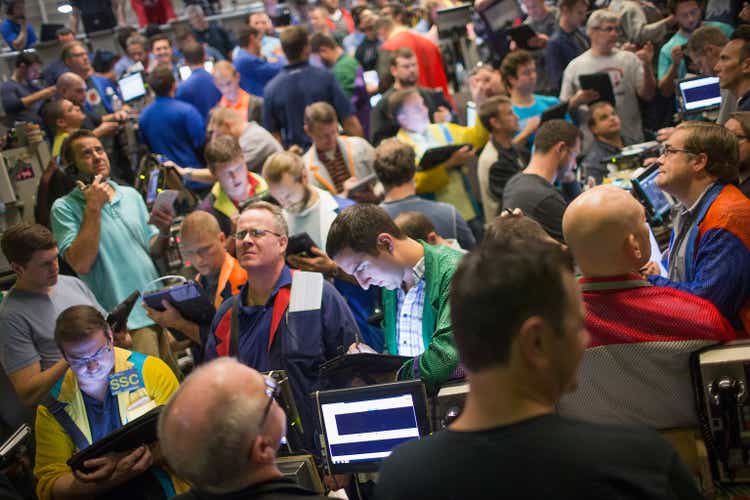 Stock index futures remained higher Wednesday after the August durable goods report showed an unexpected rise.
S&P futures (SPX) +0.4%, Nasdaq 100 futures (NDX:IND) +0.4% and Dow futures (INDU) +0.3% were higher.
The S&P 500 (SP500) fell to a three-month low yesterday, dropping below 4,300, while the VIX (VIX) hit a three-month high.
August headline durable goods orders rose 0.2%, compared with forecasts for a 0.5% decline. Core orders rose 0.4%, stronger than the 0.1% expected.
Rates are retreating from highs. The 10-year Treasury yield (US10Y) fell 5 basis points to 4.51% and the 2-year yield (US2Y) fell 6 basis points to 5.07%.
See how yields are trading across the curve.
Yesterday, "Bloomberg's aggregate bond index hit a fresh low for 2023 so far," Deutsche Bank's Jim Reid said. "The 10yr Treasury yield (hit the) highest closing level since 2007."
"Similarly, the 30yr yield … also hit a new cycle high of 4.68%. Moreover, it was real yields that continued to drive those moves, leading to another set of milestones across the curve. Among others, yesterday saw the 2yr real yield close at 3.19%, the 5yr real yield close at 2.43%, and the 10yr real yield close at 2.22%. In every case, that's their highest level since the GFC, and it demonstrates how the impact of higher borrowing costs is still filtering through into the economy."