L&D Staff Augmentation That Allows You To Scale
Whether you're looking for a content creator to help you increase onboarding engagement or a User Experience (UX) specialist to improve training accessibility, Learning and Development staffing solutions can help you broaden your team's capabilities and quickly scale. This eBook shows you how to augment your team with L&D experts who have the domain expertise you're looking for.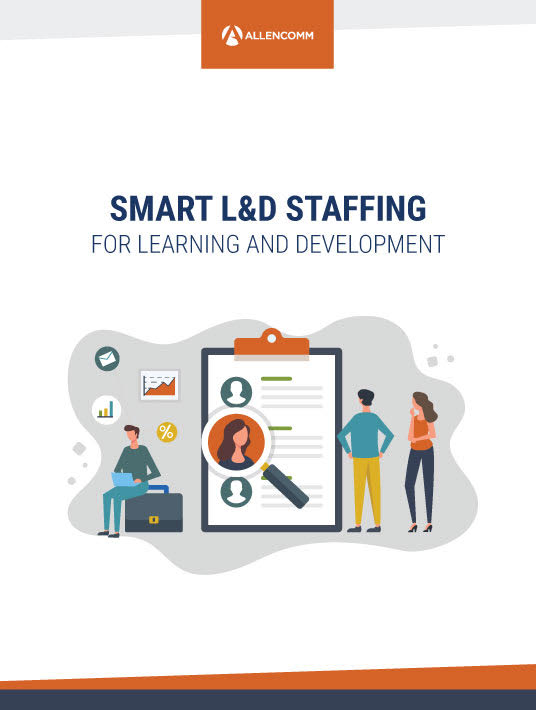 eBook Release
Smart L&D Staffing For Learning And Development
Discover how to add new skillsets to your team to create more competitive offerings through smart staffing.
Why Opt For Learning And Development Staffing Solutions?
From Instructional Designers to technical leads, staff augmentation gives you access to the top L&D professionals so that you can achieve your objectives and maximize ROI. Rather than have to go through the often time-consuming and resource-draining task of hiring permanent team members, you're able to bring experts into the fold on a short or long-term basis to tap into the competencies and talents you need. The right Learning And Development staffing solution offers seamless collaboration and industry experience. But how do you make a strong business case for staff augmentation? The first step is to assess current in-house skillsets and L&D requirements to create an outsourcing action plan and strike a balance between internal and external resources. You should also weigh the cost-saving benefits of augmentation, such as not having to pay for a full-time staff member's ongoing training and development.
About This eBook
Why should you consider staff augmentation solutions? Which L&D experts do you need to fill gaps and maximize ROI? Here's a sneak preview of what's inside this guide by AllenComm:
What Is Smart Staffing?
Smart Staffing: 3 Questions And 9 Reasons
Unlock The Ability To Staff All Roles, Or Just One
Staffing In Phases
Why Smart Staffing Is A Strong Investment When It's Time To Scale
Get Your Copy
Download Smart L&D Staffing For Learning And Development today to discover how to expand your L&D team minus recruiting, onboarding, and new hire training costs.