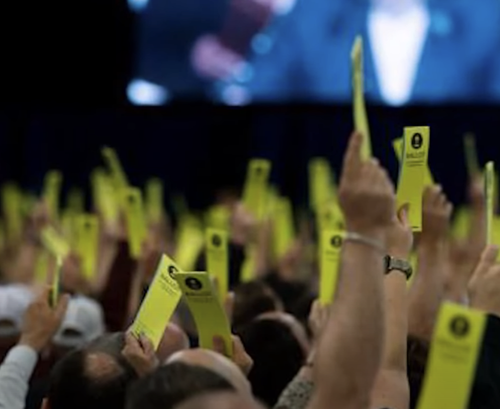 Bill Clinton and Al Gore? They were once Southern Baptists and I imagine that they remain generic Baptists.
The Rev. Jerry Falwell? An independent Baptist who led a church that became Southern Baptist. How about the Rev. Pat Robertson? He was Southern Baptist, but his second ordination was totally post-denominational (with one Episcopal bishop taking part, for what it's worth).
President Jimmy Carter was a Southern Baptist, but dropped his ties to the Southern Baptist Convention. I think journalist Bill Moyers fits that mold, too. Come to think of it, so does political science professor and pastor Ryan Burge.
So what does "Baptist" mean, with or without that whole "Southern" thing? Is it up to the individual believer, the local congregation or some kind of affirmation at the regional, state or national level? After all, there are hundreds of different "Baptist" brands and thousands of totally independent "Baptist" congregations.
These questions loomed in the background during this week's "Crossroads" podcast (click here to tune that in). The topic was press coverage of the national meeting of the Southern Baptist Convention, which was held in New Orleans this year.
As usual, the big SBC show drew lots of coverage — especially with the dramatic appeal by the Rev. Rick Warren, perhaps America's best-known evangelical, for his Saddleback Church to be readmitted to the national convention, even after it plunged ahead and ordained women to various ministries.
Supporters of the ordination of women lost that move — by a wide margin. Also, the Rev. Bart Barber, the establishment candidate, was easily elected to a second term as SBC president.
That being said, what was the big news here? The best way to follow the crucial decisions in New Orleans is to dig into two Religion News Service pieces. Here is a key passage from the first, by religion-beat veterans Adelle Banks and Bob Smietana:
Warren and the Rev. Linda Barnes Popham, who leads the Louisville church, each argued that Baptists don't agree on a range of matters — from Calvinism to COVID-19 — but that hadn't halted their ability to have a shared commitment to spreading the gospel.

R. Albert Mohler Jr., president of Southern Baptist Theological Seminary, argued against keeping either Saddleback or Fern Creek within the Southern Baptist fold. He said the idea of women pastors "is an issue of fundamental biblical authority that does violate both the doctrine and the order of the Southern Baptist Convention."

Newly reelected SBC President Bart Barber appeared before the outcome of the votes were announced to urge an appropriate response. "I believe in the sanctity of marriage, but I know sometimes in our churches people wind up in biblical divorce," he said. "But we don't throw divorce parties at our church, OK?"
A few paragraphs later, there was this:
The closely watched decisions about women pastors demonstrated that many Southern Baptists remain committed to the Baptist Faith and Message, their doctrinal statement that declares: "While both men and women are gifted for service in the church, the office of pastor is limited to men as qualified by Scripture."
The big question: Is the Baptist Faith and Message 2000 document a doctrinal "statement" or a binding "covenant" that controls which autonomous SBC congregations are in, and which ones are out?