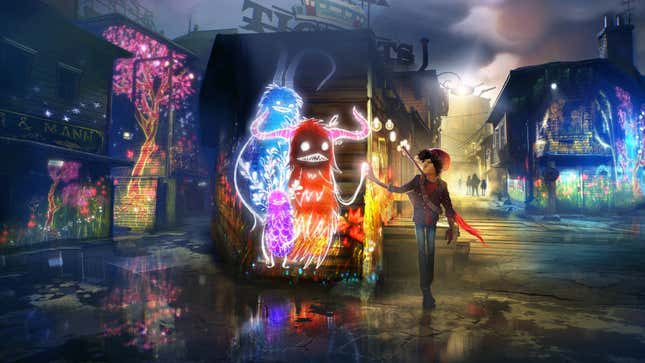 Sony has quietly closed down PixelOpus, one of its first-party PlayStation Studios. Based in San Mateo, California, the studio was responsible for 2014's Entwined and 2019's Concrete Genie.
This Wacky Magical Girl Anime Is Studio Trigger-Coded To Perfection
News of this first broke through a Twitter post from the studio, which expressed the team's gratitude to the players who have enjoyed their games.
"Dear friends, our PixelOpus adventure has come to an end. As we look to new futures, we wanted to say a heartfelt thank you to the millions of passionate players who have supported us, and our mission to make beautiful, imaginative games with heart. We are so grateful!"
Sony didn't immediately comment on the closure publicly but has since confirmed in a statement to IGN that PixelOpus is, in fact, shuttering on June 2.
"PlayStation Studios regularly evaluates its portfolio and the status of studio projects to ensure they meet the organization's short and long-term strategic objectives," the company told IGN. "As part of a recent review process, it has been decided that PixelOpus will close on June 2."
PixelOpus was a small team within the hulking giant that is PlayStation Studios, having less than 20 employees as of 2019. The studio's breakout game was 2019's Concrete Genie on PS4, which was gorgeous to look at and had cool painting mechanics, but its pacing felt a bit plodding, even with a brisk run time of five or so hours. Before the closure, Pixelopus was working on a project with Sony Pictures Animation, but we don't know yet if that game is still in the works with another team or has been canceled entirely.
It's a sad end for a talented studio, but feels pretty in line with Sony's hard pivot to prestige blockbusters at all costs. On top of closing PixelOpus, the company shuttered Japan Studio in 2021, which was putting out some of the more experimental work within the PlayStation first-party ecosystem. It's a shame, and while there are still some studios doing cool things at places like Media Molecule, there's certainly a gap within Sony's catalog without it.