By Lambert Strether of Corrente.
Bird Song of the Day
European Starling, Chez Cobbolds, Ille-et-Vilaine, Bretagne, France. "Song."
* * *
Politics
"So many of the social reactions that strike us as psychological are in fact a rational management of symbolic capital." –Pierre Bourdieu, Classification Struggles
Capitol Seizure
Oh:

P.S. Having attended the reading of the partial verdict, I can now answer the question @emptywheel raised: Who is the Proud Boys jury foreperson? It's the lobbyist for the American Geophysical Union. More on him below. Full article at https://t.co/tZihkDxtaN pic.twitter.com/gaZYipPXvM

— Roger Parloff (@rparloff) May 4, 2023
Biden Administration
"The job crunch hits the White House as Biden searches for a new pandemic czar" [Politico]. The deck: "They approached everyone." Unsurprising. Those without integrity know they'll get no support from Biden. Those with any shreds of remaining integrity are amazed and appalled by what Biden has done. And both must see the job as, well, a dead end. "A week before Biden is set to declare an end to the nation's public health emergency and dissolve his current Covid team, the White House still hasn't found a director to run the new office charged with keeping up the fight." Ah, "fighting for." More: "The fledgling Office of Pandemic Preparedness and Response was intended to serve as a permanent command center for federal efforts to keep Covid under control, coordinate pandemic work across the government and guard against future public health threats…. The slow progress now threatens to dash Biden aides' hopes of orchestrating a May 11 handoff from the current Covid team to the incoming pandemic preparedness chief, a way to reassure Americans that the White House is still closely monitoring the virus even as it dismantles its emergency response apparatus. It's also alarmed outside public health experts who worry the Covid team's dissolution will create a vacuum at the government's highest levels, increasing the odds of strategic missteps and further diminishing political will in the White House and on Capitol Hill to continue the battle against Covid. While Congress authorized the creation of the new pandemic preparedness office late last year, it did not put any new funding behind it." Oh, well done. More: "And in an ominous early sign, the White House office's most immediate Covid goal — overseeing the development of next-generation vaccines — is tied to a $5 billion pot that health experts worry Congress could end up clawing back as part of a compromise deal on the debt ceiling. 'So much of what they're looking toward in terms of preparedness is through next-gen [vaccines],' said Michael Osterholm, an epidemiologist and former Biden transition Covid adviser. 'If we have a misstep in trying to get early work done for new vaccines then that'll be a big challenge — and that again will fall back on being their responsibility.' It all amounts to a job with few clear advantages — and all of the blame if Covid comes roaring back or the government is caught off-guard by a public health emergency once again." • These are the adults in the room. They delivered a policy of mass infection without mitigation. Trump, with Operation Warp Speed, netted out better, and Biden squandered the temporary advantage Trump had won.
2024
"Column: Despite accusations of rape and other crimes, Trump's up in the polls. How can that be?" [Los Angeles Times]. "I guess it's possible that Republicans really don't care about Donald Trump's run-ins with the law. Maybe, despite the numerous allegations, investigations and charges against him — for rape, for defamation, for seeking to subvert the 2020 election, for his role in the Jan. 6 assault, for falsifying records about hush money payments — he will maintain his position as the front-running GOP candidate and once again persuade his tens of millions of zealous supporters to vote for him. It's a stunning and depressing display of the lowering of national expectations, a remarkable nadir we've reached, that a candidate accused of multiple criminal acts is a perfectly credible contender for the presidency. No sitting or former president has ever been charged with a crime until Trump. It's one of his many historic firsts, along with being twice impeached." Just out of curiosity: Whatever happened with that Bragg dude? The walls were closing in again, but then they weren't. More: "It's true, of course, that he hasn't yet been convicted of anything." • Oh.

"Asa Hutchinson: Donald Trump has led us astray" [CNN]. "We must no longer accept blatant bias and partisan bickering as the norm from politicians or media personalities. This starts by moving past the misguided notion that the media is an enemy of the state and the people, a falsehood perpetuated by certain Republican leaders, like Trump, in recent years." • Quite right. The media is part of the State, as Taibbi shows this morning.

"What we know about the GOP's big, vague claims about Biden 'bribery'" [Axios]. "House Oversight Chairman James Comer (R-Ky.) and Sen. Chuck Grassley (R-Iowa) on Wednesday subpoenaed the FBI for a June 2020 form called an FD-1023, which is used to memorialize interviews with sources and often includes unverified information. According to a whistleblower, the FD-1023 'describes an alleged criminal scheme involving' Biden and a 'foreign national relating to the exchange of money for policy decisions' while he was vice president. The identity of the whistleblower and the foreign country allegedly involved have not been disclosed. Nor have any other details, including the year. The subpoena is also intended to uncover whether the FBI and Justice Department appropriately investigated any such allegation of bribery made by a source, according to the letter sent by Grassley and Comer." • Let's wait and see.

"The Senate map comes into sharper focus" [Politico]. "The launch of President Joe Biden's reelection campaign and Donald Trump's slow-bleed takedown of GOP rival Ron DeSantis has so far drowned out discussion about the other high-stakes political pursuit of 2024: the battle for the Senate. In short, Democrats are facing a brutal slog across the national map to hold their slim majority. The party is forced to defend 22 Senate seats (including the two independents who caucus with Democrats), while Republicans must defend just 11. And those Democratic-held seats aren't exactly in optimal locations. Three are in red states that Trump won in 2020. Five more are in highly competitive swing states. No Republican incumbents are running in states that Biden won. Together, it explains why conventional wisdom holds that the GOP will recapture the Senate. But a lot has happened in recent weeks — and much of it is good news for Democrats. A handful of Democratic incumbents viewed as potential retirees in tough states have announced their intention to run for reelection. The prospect of messy Republican primaries — some featuring polarizing candidates who are likely to be weak general election nominees — has once again reared its head. Now comes the latest development: Colin Allred, a Dallas-area Democratic congressman, announced Wednesday his intention to challenge Texas GOP Sen. Ted Cruz." •
Democrats en Déshabillé
Patient readers, it seems that people are actually reading the back-dated post! But I have not updated it, and there are many updates. So I will have to do that. –lambert

I have moved my standing remarks on the Democrat Party ("the Democrat Party is a rotting corpse that can't bury itself") to a separate, back-dated post, to which I will periodically add material, summarizing the addition here in a "live" Water Cooler. (Hopefully, some Bourdieu.) It turns out that defining the Democrat Party is, in fact, a hard problem. I do think the paragraph that follows is on point all the way back to 2016, if not before:

The Democrat Party is the political expression of the class power of PMC, their base (lucidly explained by Thomas Frank in Listen, Liberal!). ; if the Democrat Party did not exist, the PMC would have to invent it. . ("PMC" modulo "class expatriates," of course.) Second, all the working parts of the Party reinforce each other. Leave aside characterizing the relationships between elements of the Party (ka-ching, but not entirely) those elements comprise a network — a Flex Net? An iron octagon? — of funders, vendors, apparatchiks, electeds, NGOs, and miscellaneous mercenaries, with assets in the press and the intelligence community.

Note, of course, that the class power of the PMC both expresses and is limited by other classes; oligarchs and American gentry (see 'industrial model' of Ferguson, Jorgensen, and Jie) and the working class spring to mind. Suck up, kick down.

* * *

"How Rep. James Clyburn Protected His District at a Cost to Black Democrats" [Politico]. "As the [redistricting] process commenced, Clyburn had a problem: His once majority Black district had suffered a daunting exodus of residents since the last count. He wanted his seat to be made as safe as possible. Republicans understood the powerful Black Democrat could not be ignored, even though he came from the opposing party and had no official role in the state-level process. Fortunately for them, Clyburn, who is 82 and was recently reelected to his 16th term, had long ago made peace with the art of bartering…. The resulting map, finalized in January 2022, made Clyburn's lock on power stronger than it might have been otherwise. A House of Representatives seat that Democrats held as recently as 2018 would become even more solid for the incumbent Republican. This came at a cost: Democrats now have virtually no shot of winning any congressional seat in South Carolina other than Clyburn's, state political leaders on both sides of the aisle say." • Your Black Misleadership Class in action!
Realignment and Legitimacy
"National Police Association and Other Groups Sue to Obtain Audrey Hale Manifesto" [Jonathan Turley]. "It is not uncommon for there to be a delay in the release of information in a major crime pending investigation. What was weird is that the police quickly confirmed that Hale acted alone and Hale was dead. There is no prosecution that will occur in the case. Yet, it is May and the authorities are still refusing to release the manifesto . . . and they will not fully explain why. Now, the National Police Association and other groups are suing to make the writings and other materials of mass shooter Audrey Hale public. There were twenty journals, five laptops, a suicide note, yearbooks, cellphones and various notes written by Hale, 28, that were seized from the house she shared with her parents. There have been press reports that the authorities consider the manifesto to be 'astronomically dangerous.'" Yeah? Who decides that, and why? See Taibbi's two stories in this morning's links. More: "The Tennessee Public Records Act governs records created by any governmental entity of Tennessee, including the police department. The law covers all records 'regardless of physical form or characteristic, made or received pursuant to law or ordinance or in connection with the transaction of official business by any governmental entity.' Note the verb 'received.' That would include this evidence. Furthermore, 'made' would include emails addressing why authorities decided to withhold the documents. If these are public records they must 'be open for personal inspection by any citizen of this state,' and custodians cannot refuse access 'unless otherwise provided by state law.' There is an exception under Rule 16(a)(2) of the Tennessee Rules of Criminal Procedure for ongoing investigations or prosecutions, but this case is clearly not active in the sense of any additional charges. Hale is dead. The law does not contemplate that the government can simply declare that a case is forever pending as a way to avoid disclosures. I do not know what is in the manifesto or why it is so unnerving for authorities. However, what is clearly 'dangerous' is for officials to flaunt the law and withhold information from the press and the public." • What is this "law" of which you speak? Turley seems not to understand that we've been under a State of Exception since 2016.
#COVID19
"I am in earnest — I will not equivocate — I will not excuse — I will not retreat a single inch — AND I WILL BE HEARD." –William Lloyd Garrison
Resources, United States (National): Transmission (CDC); Wastewater (CDC, Biobot; includes many counties); Variants (CDC; Walgreens); "Iowa COVID-19 Tracker" (in IA, but national data).
Lambert here: Readers, thanks for the collective effort. We are now up to 50/50 states (100%). This is really great! (It occurs to me that there are uses to which this data might be put, beyond helping people with "personal risk assessments" appropriate to their state. For example, thinking pessimistically, we might maintain the list and see which states go dark and when. We might also tabulate the properties of each site and look for differences and commonalities, for example the use of GIS (an exercise in Federalism). I do not that CA remains a little sketchy; it feels a little odd that there's no statewide site, but I've never been able to find one. Also, my working assumption was that each state would have one site. That's turned out not to be true; see e.g. ID. Trivially, it means I need to punctuate this list properly. Less trivially, there may be more local sites that should be added. NY city in NY state springs to mind, but I'm sure there are others. FL also springs to mind as a special case, because DeSantis will most probably be a Presidental candidate, and IIRC there was some foofra about their state dashboard. Thanks again!
Resources, United States (Local): AK (dashboard); AL (dashboard); AR (dashboard); AZ (dashboard); CA (dashboard; Marin); CO (dashboard; wastewater); CT (dashboard); DE (dashboard); FL (wastewater); GA (wastewater); HI (dashboard); IA (wastewater reports); ID (dashboard, Boise; dashboard, wastewater, Central Idaho; wastewater, Coeur d'Alene; dashboard, Spokane County); IL (wastewater); IN (dashboard); KS (dashboard; wastewater, Lawrence); KY (dashboard, Louisville); LA (dashboard); MA (wastewater); MD (dashboard); ME (dashboard); MI (wastewater; wastewater); MN (dashboard); MO (wastewater); MS (dashboard); MT (dashboard); NC (dashboard); ND (dashboard; wastewater); NE (dashboard); NH (wastewater); NJ (dashboard); NM (dashboard); NV (dashboard; wastewater, Southern NV); NY (dashboard); OH (dashboard); OK (dashboard); OR (dashboard); PA (dashboard); RI (dashboard); SC (dashboard); SD (dashboard); TN (dashboard); TX (dashboard); UT (wastewater); VA (dashboard); VT (dashboard); WA (dashboard; dashboard); WI (wastewater); WV (wastewater); WY (wastewater).
Resources, Canada (National): Wastewater (Government of Canada).
Resources, Canada (Provincial): ON (wastewater); QC (les eaux usées); BC, Vancouver (wastewater).
Hat tips to helpful readers: Art_DogCT, B24S, CanCyn, ChiGal, Chuck L, Festoonic, FM, FreeMarketApologist (4), Gumbo, hop2it, JB, JEHR, JF, JL Joe, John, JM (9), JW, KatieBird, LL, Michael King, KF, LaRuse, mrsyk, MT, otisyves, Petal (5), RK (2), RL, RM, Rod, square coats (11), tennesseewaltzer, Utah, Bob White (3).
* * *
Look for the Helpers
I'm filing this here because the account is a helper. This anecdote:

As they got up to leave I noticed that they're having difficulty picking up their right foot to walk.
It was just sort of dragging with each step.
Their right arm didn't look right either.
A new problem, I think.

— tern (@1goodtern) May 5, 2023

I don't see many of the "bafflingly angry" in RL. But I see plenty of anecdote on Twitter, and they're not bots. I don't understand the psychology, individual or collective, at all.

Another anecdote from a helper:

No one is ready to discuss this, but at what point will someone consider that if Covid impacts the brain. Perhaps this marked uptick in violence is not occurring in a vacuum, given that most Americans have had Covid.

People are truly angrier and more aggressive.

— Shay Stewart Bouley (@blackgirlinmain) May 4, 2023

And:

That's what I'm thinking, people have emerged with levels of anger that are simply not normal.

— Shay Stewart Bouley (@blackgirlinmain) May 4, 2023
Maskstravaganza
"Masks Work. Distorting Science to Dispute the Evidence Doesn't" [Scientific American]. "Medical assertions of exclusive 'ownership' over the science of masks when they are used during a pandemic ignore the fact that they represent a well-understood engineered solution, with decades of widespread and successful use behind them. Demands to reject this evidence reflect a failure to recognize and respect interdisciplinary expertise that has undercut the global pandemic response. Placing randomized trials above other types of research such as observational, lab and modeling studies, has interfered with the COVID response. A randomized trial approach that allows a few studies to cancel out a huge body of research from other disciplines has no basis in science…. For masks, are randomized trials an appropriate way of evaluating a basic engineered safety system in the first place? We don't rely on such trials for seat belts, bike helmets or life jackets, and the oft-cited randomized trial of parachutes is an old running joke. Why is that so hilarious? What do the engineers know that doctors don't? In many scientific disciplines randomized trial methods are fundamentally inappropriate—akin to using a scalpel to mow a lawn. If something can be directly measured or accurately and precisely modeled, there is no need for complex, inefficient trials that put participants at risk. Engineering, perhaps the most 'real-world' of disciplines, doesn't conduct randomized trials. Its necessary knowledge is well-understood. Everything from highways to ventilation systems—everything that moves us, cleans our air and our water, and puts satellites into orbit—succeeds without needing them. This includes many medical devices. When failures like a plane crash or catastrophic bridge collapse do occur, they are recognized and systematically analyzed to ensure they don't happen again. The contrast with the lack of attention paid to public health failures in this pandemic is stark."

"How a pandemic measure is being exploited by criminals: security experts" [CTV]. "'We are seeing a lot of people who are up to no good keeping masks on, and I'm sure it's to aid in their ability to do what they want to do,' said James Blight with Paladin Security. Last week in Richmond, two men wearing masks were caught on surveillance video trying to steal bags from patrons of a popular seafood restaurant. They were chased down by staff who managed to retrieve a stolen bag, but RCMP say the masked men have not been identified. 'I think the normalization of the medical mask makes it very challenging, it adds to the anonymity that a thief can have when they want to do something criminal,' said Blight." • The next step, of course, would be to make masking a crime. Adams made some gestures toward that in New York, but it seems not to have taken. But these goons won't stop trying.
Sequelae
"Viral persistence, reactivation, and mechanisms of long COVID" [eLife]. "An intriguing aspect of [post-acute sequelae of SARS-CoV-2 infection (PASC, or "Long Covid"] is the discovery of reactivation of latent viruses after SARS-CoV-2 infection…. It has been shown that EBV, a herpesvirus that infects a majority of individuals and is typically in a latent state, can be reactivated after SARS-CoV-2 infection…. There has been evidence of reactivation of other herpesviruses, including cytomegalovirus, herpes simplex virus 1, human herpesvirus 6, and human herpesvirus 7, in acute SARS-CoV-2 infection… Furthermore, some human endogenous retroviruses (HERVs) have been associated with more severe acute SARS-CoV-2 infection…. Therefore, while a few herpesviruses are known to be reactivated in PASC and other viruses have been found to be upregulated in acute disease, identification of the full range of viral species or nonviral pathogens that can be reactivated or triggered has not been characterized… Specifically, what spectrum of viruses is reactivated in PASC? Also of interest is whether the timing of latent virus reactivation relative to symptomatic onset of PASC is relevant. Reactivation of latent viruses has been linked to the [i.e., Leonardi was right, at least at the 30,000-foot level, when nobody else was] that is, by disabling the host type I interferon response via autoantibodies (Acharya et al., 2020), resulting in decreased control of these latent pathogens." • Ya know, "dysregulation" of the "immune response" bears an uncomfortable resemblance to "acquired" "immune" "deficiency" "syndrome." #JustSaying
Elite Maleficence
"Covid-19 Global Health Emergency Is Over After Three Years" [Bloomberg]. "Covid-19 no longer constitutes a global health emergency, the World Health Organization said, lowering its alert level three years after the novel coronavirus began killing millions of people as it swept across the world. The WHO said Friday it's time to transition to long-term management of the pandemic after a panel met Thursday to discuss the recent evolution of the disease. The move is largely symbolic, given that most countries have returned to normal social behaviors, relaxing lockdowns and masking guidelines while reopening borders to travel. Still, three years of emergency measures leave behind a world that would be unrecognizable to pre-pandemic observers in a multitude of ways, with Zoom calls and working from home becoming routine." That's not what I would choose as unrecognizably new, but whatever. More: "Tedros said he wouldn't hesitate if necessary to reconvene an emergency committee if Covid-19 becomes a bigger global danger again. The US is preparing to end its public health emergency May 11 as Covid infections return to levels seen at the outbreak's beginning in 2020." • They aren't at that level at all, as the charts that I am still able to publish daily show.

The slow strangulation of Covid data sources reminds me of the Promontory series that Yves did c. 2013, which in my recollection put the lid on any accountability for the banks in the foreclosure crisis:

Getting rid of data deprives populations of the capacity for situational awareness, and the ability to criticize policy. It's why governments are doing ithttps://t.co/4GcCDiPmiE

— David Fisman (@DFisman) May 4, 2023

The political class and their masters in the oligarchy have performed a pretty neat trick: First, they turned a collective problem into a problem of "personal risk assessment." Then they denied us the data to make such assessment on any basis other than propaganda in the press. (Meanwhile, elites know perfectly well what the score is; that's why Davos was #DavosSafe. That's why the Newton, MA school system, where Walensky and Jha send their kids, decided to spend a million bucks on clean air. In 2020. They know what the score is; they just don't want you to know. If I had the time, I should look where the GBD goons send their kids.)

Hospital Infection Control continues to whack patients (1):

2-4 The light green is total inpatient beds occupied, the dark green are those occupied due to COVID. The red line is HAI COVID (I used a 28-day moving av4rage to dampen the noise). HAI COVID numbers are on the right Y-axis.

— Michael Olesen 💉😷🇺🇸🇺🇦 (@maolesen) May 5, 2023

(Sources here.)

Hospital Infection Control continues to whack patients (2): "New Leapfrog Hospital Safety Grade Reveals Significant Increase in Healthcare-Associated Infections and Worsening Patient Experience During COVID-19 Pandemic" [Hospital Safety Grade]. "The average risk of three healthcare-associated infections (HAIs)— including Methicillin-resistant Staphylococcus aureus (MRSA), central line-associated bloodstream infections (CLABSI) and catheter-associated urinary tract infections (CAUTI)—spiked to a 5-year high in hospitals during the COVID-19 pandemic and remain high, according to The Leapfrog Group's spring 2023 Hospital Safety Grade data, released today. The Safety Grades also show a continued decline in patient experience measures, which are reported by patients and correlated with patient outcomes…. "The dramatic spike in HAIs reported in this Safety Grade cycle should stop hospitals in their tracks—infections like these can be life or death for some patients," said Leah Binder, president and CEO of The Leapfrog Group. 'We recognize the tremendous strain the pandemic put on hospitals and their workforce, but alarming findings like these indicate hospitals must recommit to patient safety and build more resilience.'" • Hospitals haven't been committed to patient safety for some time.

Soviet-style psychiatry:

I blew up at her. "WHY did you tell me that, knowing how I feel? I don't want my therapist to think I'm nuts." Her "I don't think you're nuts, but I think the isolation and loneliness is also very bad. I'm hoping you can learn to strike a balance." 2/

— Soylent Spring 🧌 Born to be Mild (@Soylent_Spring) May 4, 2023
* * *
Lambert here: I'm getting the feeling that the "Something Awful" might be a sawtooth pattern — variant after variant — that averages out to a permanently high plateau. Lots of exceptionally nasty sequelae, most likely deriving from immune dysregulation (says this layperson).
Case Data
From BioBot wastewater data from May 4: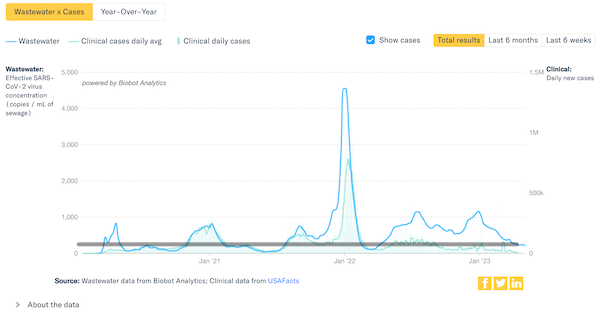 Lambert here: Unless the United States is completely, er, exceptional, we should be seeing an increase here soon. UPDATE Indeed, a slight uptick. Let's wait and see. A chart of past peaks:
For now, I'm going to use this national wastewater data as the best proxy for case data (ignoring the clinical case data portion of this chart, which in my view "goes bad" after March 2022, for reasons as yet unexplained). At least we can spot trends, and compare current levels to equivalent past levels.
• Another way to think about "waves":
SMALL WAVES, BIG WAVES, WHAT DOES IT MEAN ? 🤔

Since the beginning of the pandemic, NEVER, the data on the number of cases have been reliable. There are several reasons for this:
– high nb of asymptomatics, people who do not know they have the virus
– insufficient nb of tests pic.twitter.com/MlSZiPfx44

— Emmanuel (@ejustin46) May 4, 2023
Variants
From CDC, May 6, 2023. Here we go again: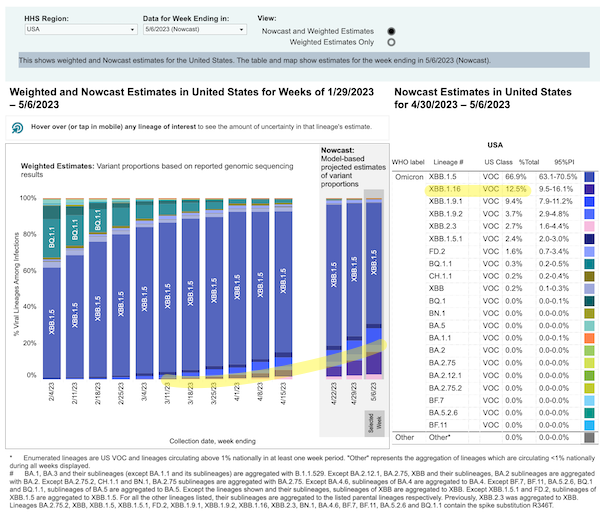 Lambert here: Looks like XBB.1.16 is rolling right along. Though XBB 1.9.1 is in the race as well.
Covid Emergency Room Visits
NOT UPDATED From CDC NCIRD Surveillance, from April 29: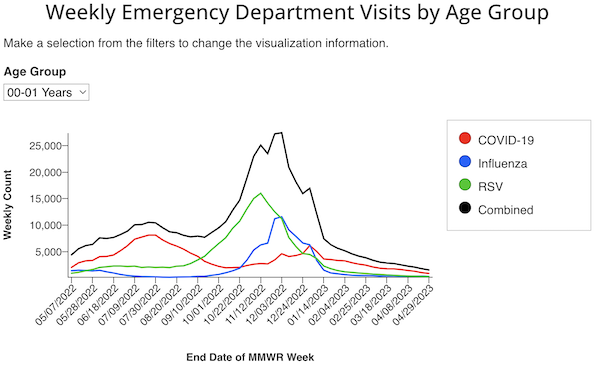 NOTE "Charts and data provided by CDC, updates Wednesday by 8am. For the past year, using a rolling 52-week period." So not the entire pandemic, FFS (the implicit message here being that Covid is "just like the flu," which is why the seasonal "rolling 52-week period" is appropriate for bothMR SUBLIMINAL I hate these people so much. Anyhow, I added a grey "Fauci line" just to show that Covid wasn't "over" when they started saying it was, and it's not over now. Notice also that this chart shows, at least for its time period, that Covid is not seasonal, even though CDC is trying to get us to believe that it is, presumably so they can piggyback on the existing institutional apparatus for injections.
Positivity
I think Walgreens is gone. I'll remove it on Monday.
Deaths
Death rate (Our World in Data):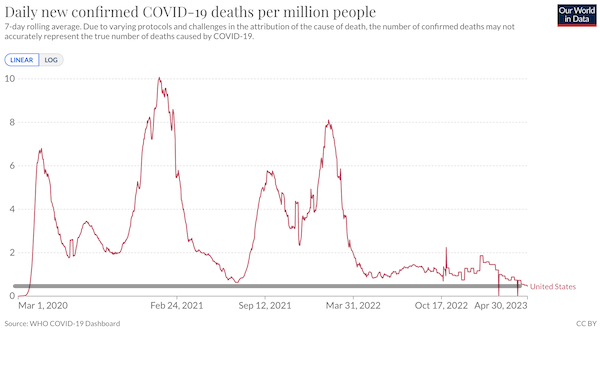 Lambert here: So this data feed, er, came alive again.
Total: 1,162,403 – 1,161,935 = 468 (468 * 365 = 170,820 deaths per year, today's YouGenicist™ number for "living with" Covid (quite a bit higher than the minimizers would like, though they can talk themselves into anything. If the YouGenicist™ metric keeps chugging along like this, I may just have to decide this is what the powers-that-be consider "mission accomplished" for this particular tranche of death and disease).
Excess Deaths
NOT UPDATED Excess deaths (The Economist), published April 23: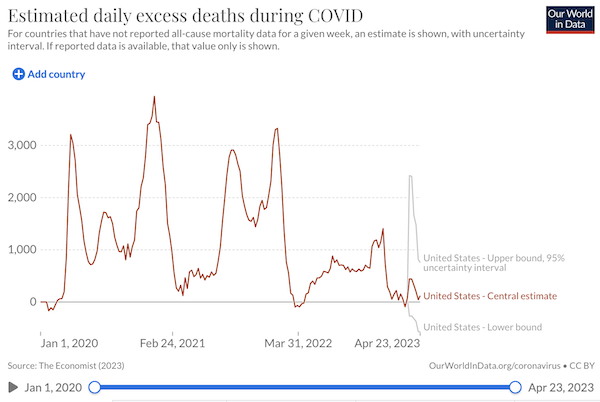 Lambert here: Based on a machine-learning model. (The CDC has an excess estimate too, but since it ran forever with a massive typo in the Legend, I figured nobody was really looking at it, so I got rid it. )
• "COVID-19 Mortality Working Group – Excess mortality continues in January 2023, but with less non-COVID excess mortality than in 2022" [Actuaries Digital]. "Total excess mortality for the month of January 2023 is 8% (+1,100 deaths) i.e. there were 1,100 more deaths than would have been expected if the pandemic had not happened. Two-thirds of the excess mortality is due to deaths from COVID-19 (+760 deaths), with another +230 COVID-19 related deaths, and the remaining excess of +150 had no mention of COVID-19 on the death certificate. The proportion of excess deaths that are not from or related to COVID-19 was lower in January 2023 (13%) than we saw across 2022 (33%)." • Hmm. I'm not an excess deaths maven. Can readers comment?
Stats Watch
* * *
The Bezzle: "Waymo doubles robotaxi service area in Phoenix in bid to grow driverless trips tenfold" [TechCrunch]. "Waymo is doubling its commercial robotaxi service area in the Phoenix metro area, an expansion that will add new suburbs and connect previously isolated sections of the sprawling and car-dependent desert city. The service area, which now includes Scottsdale, nearly all of Tempe and larger sections of Chandler and Mesa, is 180 square miles in size…. A larger service area, particularly one that allows for riders to take driverless Waymo vehicles from one suburb to downtown or to the airport, is critical for the company to grow its business and generate more revenue. The expansion will also help the company scale beyond the 10,000 autonomous trips that public riders take each week in Phoenix and San Francisco combined, Waymo Chief Product Officer Saswat Panigrahi said in a media briefing." • 10,000 is a tiny, tiny number.
Tech: "Web3's fake version of Web history" [Dave Karpf, The Future, Now and Then]. This is well worth a read, and properly situates the much-loved and long-lost blogosphere. From the conclusion: "Clearly Generative AI will figure into the Internet of the 2020s. Among the three competing visions of the next Internet, the AI proponents have emerged victorious. It's too early to say what it will eventually look like. It is not too early to regulate how it is deployed and monetized. And, as a result, there's a very real sense in which Web3 is already yesterday's digital future. The crypto crash in 2022 silenced most of the Web3 hype bubble. You read much less about DAOs and play-to-earn games than you did a year or two ago. The tech journalists who spent early 2022 insisting 'with all the money and talent in that space, there must be something real there' have collectively reached the conclusion that it was scams all-the-way-down after all." •
Manufacturing: "Overinflated: The Journey of a Humble Tire Reveals Why Prices Are Still So High" [ProPublica]. "The lowly tire shop, it turns out, may be one of the best places to examine the post-pandemic recovery and its uncertain future. Tires have been buffeted by nearly every force driving inflation since the pandemic began — from border shutdowns that prevented migrant workers overseas from reaching rubber plantations to the war in Ukraine's toll on an obscure but essential ingredient in tires called carbon black. Americans depend on tires to get to work, to get groceries — essentially to live, in much of the country. But unlike food and gas, tires aren't something people typically budget for… For most customers, a tire is — as one industry veteran put it — a 'grudge purchase.' They have little time to shop around and a huge information gap. 'Consumers don't really have a frame of reference on what a tire should cost, because you only buy them every few years,' said Phillip Kane, a business consultant and former executive at Goodyear and Pirelli. Bill Wood, an economist who studies the plastics and rubber industries, was more blunt: 'They can tell you it's going to cost whatever it's going to cost, and as long as it doesn't sound like it's made out of gold, you're going to say, 'OK."Since the start of 2021, manufacturers have announced dozens of price increases, sometimes amounting to double-digit percentage hikes. Yet customers have continued buying." • Well worth a read. I love this "industrial romance" stuff, there should be more of it.
Labor Market: "Jobs Report: Manufacturing Jobs Flat at Historically Low Unemployment" [Industry Week]. "Unemployment in and outside of manufacturing remained at historically low levels last month, according to the latest data from the Department of Labor. The latest Employment Situation report from the Bureau of Labor Statistics showed the unemployment rate remained unchanged at 3.4% with approximately 250,000 new jobs added in April. Manufacturing jobs growth remained similarly flat, with 11,000 jobs added last month, though the manufacturing unemployment rate remained at a historic low of 2.8. That's one-tenth of a percent lower than it was in March, but still one percentage point higher than its previous low point of December 2022, when it hit 1.8%. Almost all jobs added in manufacturing were in durable goods production, which made up 10,000 of new manufacturing jobs in April. The largest-growing sectors were transportation equipment and fabricated metal product manufacturing, which added 6,800 and 6,300 jobs, respectively."
* * *
Today's Fear & Greed Index: 52 Neutral (previous close: 51 Neutral) [CNN]. One week ago: 58 (Greed). (0 is Extreme Fear; 100 is Extreme Greed). Last updated May 4 at 1:17 PM ET.
Healthcare
"US approves 1st vaccine for RSV after decades of attempts" [Associated Press]. "The U.S. approved the first vaccine for RSV on Wednesday, shots to protect older adults against a respiratory virus that's most notorious for attacking babies but endangers their grandparents, too. The Food and Drug Administration decision makes GSK's shot, called Arexvy, the first of several potential vaccines in the pipeline for RSV to be licensed anywhere. The move sets the stage for adults 60 and older to get vaccinated this fall — but first, the Centers for Disease Control and Prevention must decide if every senior really needs RSV protection or only those considered at high risk from the respiratory syncytial virus. CDC's advisers will debate that question in June. After decades of failure in the quest for an RSV vaccine, doctors are anxious to finally have something to offer — especially after a virus surge that strained hospitals last fall." • At this point, I can't help wondering if the timing is political, designed to restore the credibility lost through the failure of mRNA vaccines to be sterilizing, and their safety issues.
Our Famously Free Press
And they're still at it:
The case of Kitty Genovese, as the legend that started the so-called "bystander effect", alleging that the more people witness a crime in broad daylight, the more everyone will refuse to help, was all made-up. It was a collaboration between the New York Times editor and the chief…

— UAE Exotic FaIconry & Finance𓅃 (@FalconryFinance) May 5, 2023
(More here.)
Who cares about "confidence" if you're getting the clicks?
Both halves of the corporate news binary have now gone through near-total collapses of audience confidence. https://t.co/OqaKOXemwr

— Matt Taibbi (@mtaibbi) May 4, 2023
I'm not so sure that Taibbi is right, here. The Times readership, I would urge, is if anything working hard to make their bubble impenetrable.
Guillotine Watch
"Why do we buy into 'stealth wealth' and the class who wear it?" [Guardian]. "'Stealth wealth' is the name given to the clothes worn by the extremely rich – very fine wools in navy or grey, oversized coats, tiny handbags, whites so bright they're almost blue, a thousand shades of camel, a whole caravan of them, a palette that whispers "taste" with a little lisp. Logos are replaced with secret codes – a clever little stitch at the hem, or a hoodie made of cashmere. Woven through these merino wools and pale suedes are the codes and strappings of a life where the wrong type of collar, for example, betrays you as a gatecrasher, a fraud. For years now, the fashion press has monitored and marketed these clothes to the rest of us, frauds every last one, with the unspoken promise that if we spend the equivalent of the price of a car on our new jumper, we too might gain access to a world that doesn't want us." • William Gibson's word for this kind of clothing is "simple."
Class Warfare
"Writers strike looks to be a long fight, as Hollywood braces" [Associated Press]. "Hollywood writers picketing to preserve pay and job security outside major studios and streamers braced for a long fight at the outset of a strike that immediately forced late-night shows into hiatus, put other productions on pause and had the entire industry slowing its roll. The first Hollywood strike in 15 years commenced Tuesday as the 11,500 members of the Writers Guild of America stopped working when their contract expired. The union is seeking higher minimum pay, more writers per show and less exclusivity on single projects, among other demands — all conditions it says have been diminished in the content boom of the streaming era…. The last Hollywood strike, from the same union in 2007 and 2008, took three months to resolve. With no talks or even plans to talk pending between the WGA and the Alliance of Motion Picture and Television Producers, which represents studios and productions companies, there is no telling how long writers will have to go without pay, or how many major productions will be delayed, shortened or scrapped." • Same script as the rail strike and every other strike. Somehow, just giving the workers what they want in exchange for a speedy settlement is never an option…. 
"Unionizing Freelancers: What Recent Progress Means For The Self-Employed" [Forbes]. "The problem of unionizing freelancers is tricky because there are many different types of freelancers. Some freelancers shouldn't actually be classified as freelancers, as they work 40 hours per week for the same organization. This problem, known as misclassification, is a massive issue because these misclassified workers should get benefits from their companies. Uber drivers, for instance, are not considered full-time Uber employees, and as such, do not have access to their healthcare…. Efforts to stop misclassification are underway in California, New Jersey, and New York, including offering a third category of employees known as 'dependent contractors.' Bernie Sanders has tried to introduce the Workplace Democracy Act to right some of the wrongs of the National Labor Relations Act, which allows companies not to offer benefits to independent contractors. The act—last introduced in 2018—would ensure that anyone who works for anyone else has some protections. Unfortunately, anywhere from 10-30% of workers are still misclassified as independent contractors." • Outright theft.
From East Palestine:
I have had my well tested twice by NS and both times I have been told the water here is "safe for consumption". This is our water. We paid nearly $5k to get the filter recommended by the NS toxicologist. The NS assistance center refused to reimburse me today. #EastPalestine pic.twitter.com/wvWb7Rrsjk

— Jessica Conard (@JessicaConardEP) May 4, 2023
Thanks for nothing, Norfolk Southern!
News of the Wired
"Train Panoramas" [Kottke.org]. "A piece of software called Trainbot can watch a piece of train track, detect passing trains, and then stitch together panoramic images of the full-length trains. The software for running your own trainbot is available on Github and 'should work with any video4linux USB cam, or Raspberry Pi camera v3 modules.'" • Cool!
* * *
Contact information for plants: Readers, feel free to contact me at lambert [UNDERSCORE] strether [DOT] corrente [AT] yahoo [DOT] com, to (a) find out how to send me a check if you are allergic to PayPal and (b) to find out how to send me images of plants. Vegetables are fine! Fungi and coral are deemed to be honorary plants! If you want your handle to appear as a credit, please place it at the start of your mail in parentheses: (thus). Otherwise, I will anonymize by using your initials. See the previous Water Cooler (with plant) here. From:
* * *
Readers: Water Cooler is a standalone entity not covered by the annual NC fundraiser. So if you see a link you especially like, or an item you wouldn't see anywhere else, please do not hesitate to express your appreciation in tangible form. Remember, a tip jar is for tipping! Regular positive feedback both makes me feel good and lets me know I'm on the right track with coverage. When I get no donations for five or ten days I get worried. More tangibly, a constant trickle of donations helps me with expenses, and I factor in that trickle when setting fundraising goals:
Here is the screen that will appear, which I have helpfully annotated: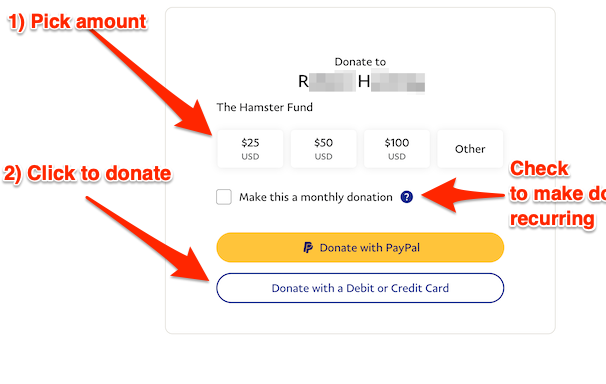 If you hate PayPal, you can email me at lambert [UNDERSCORE] strether [DOT] corrente [AT] yahoo [DOT] com, and I will give you directions on how to send a check. Thank you!