By Lambert Strether of Corrente.
Bird Song of the Day
California Towhee, Rice's Crossing Road, Nevada, California, United States.
* * *
Politics
"So many of the social reactions that strike us as psychological are in fact a rational management of symbolic capital." –Pierre Bourdieu, Classification Struggles
Capitol Seizure
"Romance novel cover model who dragged Capitol officer on Jan. 6 sentenced to 3 years in prison" [NBC]. "A former bodybuilder and romance novel cover model who dragged a police officer down the stairs of the U.S. Capitol on Jan. 6 was sentenced in federal court to three years in prison Thursday. Logan Barnhart, 42, of Michigan, was identified by online sleuths who used facial recognition to turn up images of him at bodybuilding competitions. He was arrested in August 2021." • The "nation of snitches" part perhaps not so humorous.
Biden Administration
"Biden to nominate two Latina judges to appeals courts" [NBC]. "[Biden] will pick Irma Carrillo Ramirez to serve on the Fifth Circuit Court of Appeals. She currently serves as a magistrate judge in Texas and is expected to receive bipartisan support in the Senate, a source involved with the nomination said. If confirmed, she'd be the first Latina to serve on the famously conservative appeals court. The president also intends to pick Ana Isabel de Alba to serve on the Ninth Circuit Court of Appeals. She is currently a federal district court judge in California. The selections represent an attempt by Biden to build on what the White House touts as the most diverse slate of judicial nominees in U.S. history." • Feinstein is getting in the way here, because if she's absent, the Democrats need Republican votes to advance them to a confirmation. All I can say is that I hope that, identities aside, these two judges do whatever the Chamber of Commerce wants.
2024
"Mike Pence Tells Fox News, 'I Just Trust Republican Primary Voters' to Choose Someone Other Than Trump in 2024" [Mediaite]. Pence: "Look, it's early in this process. I do think we'll have better choices. I think nobody could have defeated Hillary Clinton in 2016 other than Donald Trump. But I think come 2024, our party will choose the right standard bearer to meet this moment, to strengthen America at home and abroad. And my family and I continue to reflect on what role we might play in that. And I promise to keep you informed of any decisions we make."

"Ron DeSantis receives warm welcome in Trump-friendly Ohio" [NBC]. "'This is a person that we can adopt here in Ohio as our own,' said Summit County GOP Chairman Bryan Williams, noting DeSantis' family roots in nearby Youngstown while introducing him before an audience of several hundred at the county's Lincoln Day breakfast. The event — one of two GOP functions DeSantis was scheduled to headline Thursday in the Buckeye State — is part of the governor's national tour to promote a book and expand his profile beyond Florida. DeSantis has not yet launched a campaign for president, but polls show him as Trump's closest Republican competitor, and he is expected to enter the race in May or June."

"Loudoun schools explore replacing boys and girls bathrooms with all-gender, single stalls" [WJLA]. Youngkin not in the headline, oddly. More: "In 2021, the school board passed policy 8040, which allows students to use bathrooms and locker rooms of their choice despite their biological sex at birth. And now, LCPS said it's working to redesign school bathrooms to comply with the Virginia Department of Education's Model Policies for the Treatment of Transgender Students in Virginia's Public Schools, a policy that was crafted under former Virginia Democratic Governor Ralph Northam. But the model policy is currently being rewritten by Republican Gov. Glenn Youngkin's administration. 'We received 71,000 comments and we are working through all of them. The sad thing is that tens of thousands of them were actually submitted by bots based on our initial assessment, and so we're making sure that we address those comments that are real,' Youngkin said. 'It's an obligation for us, as Virginians, to put parents back in charge of their children's lives and together with caring teachers and counselors, and parents, we can support our children. This is what our model policies are all about. And as soon as we finished getting through all of these comments, we'll be ready to get ready to deliver them.' Despite the state policy being potentially revised, LCPS is still moving forward with its $11 million pilot program."

"Trump deposition: Former president answers questions for 7 hours in New York fraud lawsuit" [ABC]. A test of endurance! More: "Former President Donald Trump answered questions for nearly seven hours Thursday during his second deposition in a legal battle with New York's attorney general over his company's business practices, reversing an earlier decision to invoke his Fifth Amendment protection against self-incrimination and remain silent. The Republican met all day with lawyers for Attorney General Letitia James, who sued Trump last year. Her lawsuit claims Trump and his family misled banks and business associates by giving them false information about his net worth and the value of assets such as hotels and golf courses. Shortly after Trump entered the Manhattan skyscraper that houses James' offices, his attorney, Alina Habba, said he was 'not only willing but also eager to testify.'" • N
Republican Funhouse
"Sources: GOP senators preparing for McConnell retirement" [The Spectator]. "Senate GOP leader Mitch McConnell has been out of the public eye for weeks, following a serious fall that hospitalized him. Now multiple sources confirm that Senators John Barrasso of Wyoming, John Cornyn of Texas and John Thune of South Dakota are actively reaching out to fellow Republican senators in efforts to prepare for an anticipated leadership vote — a vote that would occur upon announcement that McConnell would be retiring from his duties as leader, and presumably the Senate itself. One source says that Cornyn has been particularly active in his preparations, taking fellow senators with whom he has little in common to lunch in attempts to court them. Requests are being targeted at a plethora of conservative senators, including the sixteen who voted to delay the leadership election earlier this year, a proxy for opposition to McConnell's leadership."
Democrats en Déshabillé
Patient readers, it seems that people are actually reading the back-dated post! But I have not updated it, and there are many updates. So I will have to do that. –lambert

I have moved my standing remarks on the Democrat Party ("the Democrat Party is a rotting corpse that can't bury itself") to a separate, back-dated post, to which I will periodically add material, summarizing the addition here in a "live" Water Cooler. (Hopefully, some Bourdieu.) It turns out that defining the Democrat Party is, in fact, a hard problem. I do think the paragraph that follows is on point all the way back to 2016, if not before:

The Democrat Party is the political expression of the class power of PMC, their base (lucidly explained by Thomas Frank in Listen, Liberal!). ; if the Democrat Party did not exist, the PMC would have to invent it. . ("PMC" modulo "class expatriates," of course.) Second, all the working parts of the Party reinforce each other. Leave aside characterizing the relationships between elements of the Party (ka-ching, but not entirely) those elements comprise a network — a Flex Net? An iron octagon? — of funders, vendors, apparatchiks, electeds, NGOs, and miscellaneous mercenaries, with assets in the press and the intelligence community.

Note, of course, that the class power of the PMC both expresses and is limited by other classes; oligarchs and American gentry (see 'industrial model' of Ferguson, Jorgensen, and Jie) and the working class spring to mind. Suck up, kick down.

* * *

"US Democratic National Committee, lawyer Elias part ways" [Reuters]. "The Democratic National Committee will no longer be represented by longtime Democratic lawyer Marc Elias, spokespeople for his law firm and the DNC confirmed on Wednesday…. Elias in 2021 left U.S. law firm Perkins Coie with other lawyers who specialize in election law to start his current firm. He said on Twitter on Tuesday that his team is currently working on 45 'pro-democracy' lawsuits in 18 states." • Huh.

"DNC Parts Ways with Top Election Lawyer Marc Elias" [National Review]. "On Tuesday, multiple sources told Punchbowl News that the DNC and Elias had a number of strategic disagreements. The lawyer, who has represented the DNC since 2009 and will continue to represent other arms like the DCCC, has been criticized for hypocritically claiming to fight voter suppression while doing his utmost to make sure Democrats prevail in elections." Come come. The DNC worried about charges of hypocrisy? Yet that is the only motive suggested, and Reuters has nothing. So, handle the little matter of the Steele Dossier for Hills, and then get kicked to the curb. Why, the ingratitude!

"James Carville warns Democrats of danger looming with sinking Black turnout in 2024: 'Abysmally low' in 2022" [FOX]. "'The biggest story in my mind out of 2022 is abysmally low Black turnout,' Carville told [Charles] Blow. 'It's a problem with younger Black voters,' he continued….. Republicans have made inroads with Black and Hispanic voters in recent years. In 2020, Trump increased his share of the Black vote from 6 to 8 percent compared to 2016. Similarly, Trump increased his share of the Hispanic vote from 28 percent to 35 percent. Republicans made similar gains in the 2022 midterm elections, with Florida Gov. Ron DeSantis being the first Republican to win Miami-Dade County in 40 years."

"Democrats praise, grumble over decision for Chicago to host 2024 convention" [ABC]. "The DNC announced on Tuesday that the Windy City will hold the nominating convention, the party's first full event since 2016, after the coronavirus pandemic rendered its 2020 bash, originally slated to be held in Milwaukee, a largely online affair. Chicago beat out Atlanta and New York City to win the confab, letting Illinois lawmakers take a victory lap due to the city's progressive politics and strategic location in the hot regional battleground of the Midwest. Biden and Illinois Gov. J.B. Pritzker are largely aligned, and the state has adopted Democratic orthodoxy on both economic and hot-button social issues like abortion [and sex]. The city also has a strong union presence in its hotels, something lacking in Atlanta. And to top it all off, Pritzker, himself wildly wealthy with a deep fundraising network, personally assured national Democrats that they wouldn't go into debt if they hosted the convention in Chicago." • I thought the Democrats would pick Atlanta (see above). But I guess Pritzker's billions outweighed race.
Realignment and Legitimacy
"Lawmakers consider requiring voting machines for all in-person voting" [Nevada Independent]. From Jon Ralston. Nevertheless: "After multiple rural counties attempted to eliminate or consider eliminating the use of mechanical voting machines last year, Nevada lawmakers are considering a bill that would require such machines to be used for in-person voting. The change would primarily affect Nye County, where county officials last year transitioned away from the use of electronic voting machines amid the spread of election fraud conspiracy theories that targeted Dominion Voting Systems, a major manufacturer and provider of voting equipment nationally and in Nevada. AB242, which comes from the Joint Interim Standing Committee on Legislative Operations and Elections, would prohibit the use of paper ballots for in-person voting, instead requiring the use of voting machines for in-person voting. Voting machines used in Nevada include the Dominion electronic voting machines used in 15 counties, including Clark and Washoe counties, and mechanical ballot marking devices used in Carson City and Lander County. Assemblywoman Tracy Brown-May (D-Las Vegas) presented the bill and said the measure was intended to 'address the inadequacies in accessibility for people with disabilities to be able to cast their votes.'" • As if. If they say it's about the disabled, it's not about the disabled, exactly as with "the children."

"America's first dark money ballot line" [The Lever]. "Right now, all the public knows is that No Labels is leading a $70 million campaign to lay the groundwork for a potential 2024 "unity" ticket — which would feature one Democrat and one Republican. Democrats and media outlets have been raising alarms that the move could undermine President Joe Biden and help elect a Republican. Compared to moneyed groups' previous failed efforts to field alternate candidates, the No Labels initiative is more ambitious, secretive, and corrupt: Under the guise of bipartisan consensus, the corporate influence machine is buying its own national ballot line, funded by ultra-wealthy, anonymous donors. Thanks to a 2010 court ruling, No Labels doesn't have to disclose anything about who's funding its campaign. It's also planning to employ a top-down candidate selection process: No Labels has indicated that candidates would be chosen by a group of people handpicked by the organization, which has close ties to corporate lawmakers like Sens. Joe Manchin (D-W.Va.), Kyrsten Sinema (Ind.-Ariz.), and Susan Collins (R-Maine). Now, as No Labels pursues its own nationwide ballot line, experts say the group will likely never have to reveal to the public who's financing the effort — not even if the organization does decide to field a presidential ticket." Oh. A "government of national unity." That should do the trick. Interesting because the one distinctive competence an American political party is controlling the ballot. Worth looking into.

"Gender Pronouns & Their Use in Workplace Communications" [Sexual & Gender Minority Research Office, National Institutes of Health]. " Another important mistake to avoid is using the word 'preferred' or 'chosen' in the context of gender pronouns. Using either word suggests that gender identity is a preference or a choice, when it is neither." • Wait. Harvard says gender fluidity is a thing. NIH says it isn't. Who's right?
#COVID19
"I am in earnest — I will not equivocate — I will not excuse — I will not retreat a single inch — AND I WILL BE HEARD." –William Lloyd Garrison
Resources, United States (National): Transmission (CDC); Wastewater (CDC, Biobot; includes many counties); Variants (CDC; Walgreens); "Iowa COVID-19 Tracker" (in IA, but national data).
Lambert here: Readers, thanks for the collective effort. We are now up to 50/50 states (100%). This is really great! (It occurs to me that there are uses to which this data might be put, beyond helping people with "personal risk assessments" appropriate to their state. For example, thinking pessimistically, we might maintain the list and see which states go dark and when. We might also tabulate the properties of each site and look for differences and commonalities, for example the use of GIS (an exercise in Federalism). I do not that CA remains a little sketchy; it feels a little odd that there's no statewide site, but I've never been able to find one. Also, my working assumption was that each state would have one site. That's turned out not to be true; see e.g. ID. Trivially, it means I need to punctuate this list properly. Less trivially, there may be more local sites that should be added. NY city in NY state springs to mind, but I'm sure there are others. FL also springs to mind as a special case, because DeSantis will most probably be a Presidental candidate, and IIRC there was some foofra about their state dashboard. Thanks again!
Resources, United States (Local): AK (dashboard); AL (dashboard); AR (dashboard); AZ (dashboard); CA (dashboard; Marin); CO (dashboard; wastewater); CT (dashboard); DE (dashboard); FL (wastewater); GA (wastewater); HI (dashboard); IA (wastewater reports); ID (dashboard, Boise; dashboard, wastewater, Central Idaho; wastewater, Coeur d'Alene; dashboard, Spokane County); IL (wastewater); IN (dashboard); KS (dashboard; wastewater, Lawrence); KY (dashboard, Louisville); LA (dashboard); MA (wastewater); MD (dashboard); ME (dashboard); MI (wastewater; wastewater); MN (dashboard); MO (wastewater); MS (dashboard); MT (dashboard); NC (dashboard); ND (dashboard; wastewater); NE (dashboard); NH (wastewater); NJ (dashboard); NM (dashboard); NV (dashboard; wastewater, Southern NV); NY (dashboard); OH (dashboard); OK (dashboard); OR (dashboard); PA (dashboard); RI (dashboard); SC (dashboard); SD (dashboard); TN (dashboard); TX (dashboard); UT (wastewater); VA (dashboard); VT (dashboard); WA (dashboard; dashboard); WI (wastewater); WV (wastewater); WY (wastewater).
Resources, Canada (National): Wastewater (Government of Canada).
Resources, Canada (Provincial): ON (wastewater); QC (les eaux usées); BC, Vancouver (wastewater).
Hat tips to helpful readers: Art_DogCT, B24S, CanCyn, ChiGal, Chuck L, Festoonic, FM, FreeMarketApologist (4), Gumbo, hop2it, JB, JEHR, JF, JL Joe, John, JM (9), JW, KatieBird, LL, Michael King, KF, LaRuse, mrsyk, MT, otisyves, Petal (5), RK (2), RL, RM, Rod, square coats (11), tennesseewaltzer, Utah, Bob White (3).
* * *
Look for the Helpers
We few, we happy few:

Most people increase everyone's risk when they enter some space or facility.

A few people keep risk the same (usually by wearing a respirator).

And fewer still decrease risk by making changes to the environment around them (using HEPA filters, measuring CO2, opening windows)

— Socrates (@apmalong) April 14, 2023

Let's save some lives!
Covid Is Airborne
"Testing the Efficacy of the 'Corsi-Rosenthal' Box Fan Filter in an Active Classroom Environment" [ChemRxiv]. "We collected measurements of coarse (particles with diameters > 2.5μm) and fine (particles with diameters 0.5μm – 2.5 μm) particle number concentrations and PM2.5 (particles with diameter
Maskstravaganza
Masks should not have the look and feel of medical appliances:

Michael Jordan's 1998 NBA Finals Game 2 Air Jordan 13s fetched a record $2.2 million at auction, making them the most valuable sneakers ever sold https://t.co/GP6PLxjijg pic.twitter.com/yD7i9gU1zI

— Reuters (@Reuters) April 12, 2023

Masks/respirators should be marketed like sneakers.

A very useful thread on how to make your ear-loopy mask safer, if you must wear one:

I've seen a lot of this sort of mask wearing in the selfie trend.

Does the bridge of your nose have a corner? NO!

When you leave that crease in, you're leaving a gap that COVID can enter! See it in the profile?

But it's the shape, right? What can you do?

Here's an easy fix.🧵 pic.twitter.com/dRB257yOSi

— Sharyn Blum (@sleepyknave) April 13, 2023

Also, the replies are great. There really a lot of maskers out there, and they study up.

Where are the lawsuits:

Two weeks ago the nursing home my 86-year-old grandmother lives at celebrated dropping their masking requirement (don't worry, they now have free mints!)

Now multiple residents have COVID, including my grandmother.

What the fuck are we doing? pic.twitter.com/qinmXQ6D6q

— Matt Karolian (@mkarolian) April 14, 2023

Or, for that matter, the die-ins.
Variants
"The COVID virus has mutated so much since 2019 that some experts say it should be renamed SARS-CoV-3" [Salon]. "'We continually call on member states to maintain strong testing and sequencing in order to identify new variants but also to understand the level of SARS-CoV-2 transmission going on in their populations,' [Dr. Margaret Harris, a spokesperson for the World Health Organization (WHO)] continued. ' [but see below], which means surveillance systems need to be sensitive to pick up the early signs of another surge.'… According to the latest CDC variant tracking data, the only other variants really circulating in the U.S. are XBB.1.5's offspring: XBB.1.9 and XBB.1.5.1. Meanwhile, XBB.1.16 is spreading rapidly in India and could eventually make its way to North America. Notably, XBB was first detected in Singapore before its offspring made the jump across the Pacific, though XBB.1.5 was first detected in the U.S. and likely originated in the Northeast. All these names may sound like gobbledygook to most non-experts — and there is a reason it's so confusing. When variants of the virus mutated and evolved into new strains with significant advantages over old lineages, the WHO began giving these 'variants of concern' names from the Greek alphabet. Hence, variants like delta and gamma made headlines when they emerged and began to spread — but the WHO has yet to assign any variants a new Greek name since omicron surged in late 2021. Instead, we have this alphabet soup of named variants, all of which are technically different sub-strains of omicron. Even a minor variation in a virus' genetics can equate to a huge difference in how well immunity from vaccines and previous infections can stop them. If the virus evolves some kind of advantage — as viruses are prone to do and just as SARS-CoV-2 has done many times throughout the pandemic — another surge is not out of the question."

"The virological characteristics of XBB.1.16" (preprint) [News Medical Life Sciences]. "The SARS-CoV-2 XBB.1.16 variant is associated with a 1.27- and 1.17-fold higher effective reproductive number (Re) as compared to the XBB.1 and XBB.1.5 subvariants, respectively, thus indicating the ability of this novel Omicron variant to disseminate quickly… Overall, the current extensive exploratory analyses uncovered that the SARS-CoV-2 Omicron XBB.1.16 subvariant has immense potential to disseminate and infect people worldwide to a greater extent than XBB.1 and XBB.1.5 subvariants. Furthermore, XBB.1.16 exhibits a higher immune-evasion potential that is similar to that of XBB.1 and XBB.1.5." • The original.
Elite Malfeasance
The circle of life:

Your Government's plan for YOU:

Go round and round the reinfection cycle, and eventually fall into the middle. pic.twitter.com/GJViE46Ige

— Marvin (@MarvinH2_G2) April 14, 2023

This makes sense to me intuitively; every transition in the cycle is a torment nexus/chance for profit (like M-C-M' transactions connected in circle); and the end product is eugenicist. The whole thread is worth a read, but it has italics and Greek letters in it, so I can't make sense of it. If I get the gist, the writer has given an account of a sort of sawtooth pattern in Covid cases that will persist indefinitely. Readers?

Hospital Infection Control is at it again:

I am at a loss. There is removal of mitigations in hospitals with a nosocomial acquisition of 30%.

The C of Practice says – all nosocomial infections should be prevented…

Q: what is the goal with regard to the prevention of nosocomial of SARS2?https://t.co/UFw6T30Skl

— Dr Evonne T Curran NursD 💙🇺🇦 (@EvonneTCurran) April 11, 2023

"Study notes high rate of COVID-infected healthcare workers still caring for patients" [Center for Infectious Disease Research and Policy]. "Half of all healthcare workers (HCWs) with symptomatic COVID-19 continued to go to work, even if they were involved with direct patient care, according to the results of a study yesterday on presenteeism among HCWs in Infection Control & Hospital Epidemiology. Working while ill contributes to nosocomial transmission of respiratory viruses. Previous studies on HCWs with symptomatic influenza showed that a significant proportion—14% to 68%—still worked while sick. The new observational cohort study included all HCWs at the Veterans Affairs Boston Healthcare System who tested positive for SARS-CoV-2 infection from December 1, 2020, to September 30, 2021." • Yo, Hospital Infection Control! Is it too much to ask that our hospitals not be death traps? (Also, where are the lawsuits? Are patients being made to sign away their rights?)
* * *
Looks like "leveling off to a high plateau" across the board. (I still think "Something Awful" is coming, however. I mean, besides what we already know about.) Stay safe out there!
Case Data
BioBot wastewater data from April 13: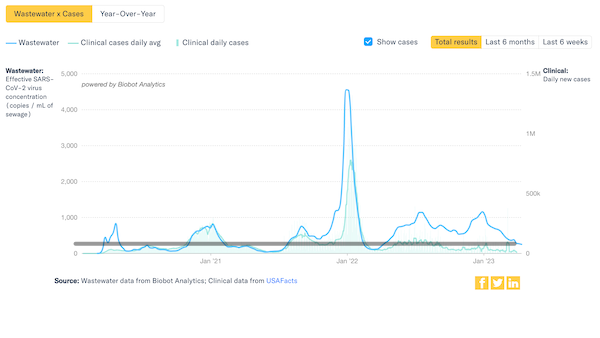 For now, I'm going to use this national wastewater data as the best proxy for case data (ignoring the clinical case data portion of this chart, which in my view "goes bad" after March 2022, for reasons as yet unexplained). At least we can spot trends, and compare current levels to equivalent past levels.
Covid Emergency Room Visits
NOT UPDATED From CDC NCIRD Surveillance, from April 8: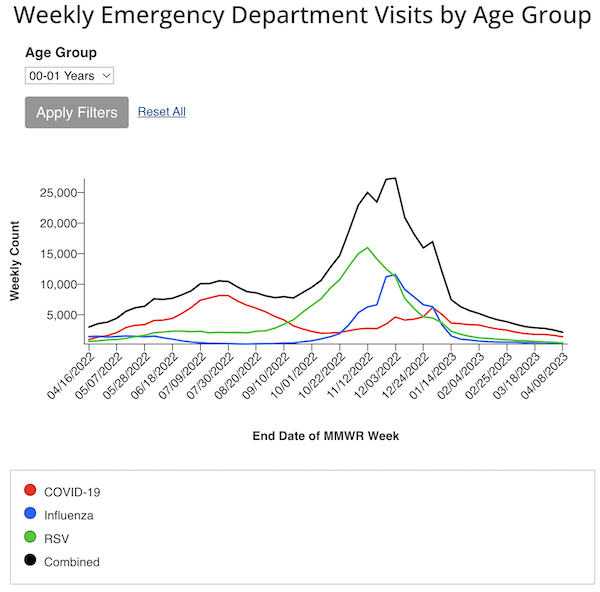 NOTE "Charts and data provided by CDC, updates Wednesday by 8am. For the past year, using a rolling 52-week period." So not the entire pandemic, FFS (the implicit message here being that Covid is "just like the flu," which is why the seasonal "rolling 52-week period" is appropriate for bothMR SUBLIMINAL I hate these people so much. Anyhow, I added a grey "Fauci line" just to show that Covid wasn't "over" when they started saying it was, and it's not over now. Notice also that this chart shows, at least for its time period, that Covid is not seasonal, even though CDC is trying to get us to believe that it is, presumably so they can piggyback on the existing institutional apparatus for injections.
Positivity
*** AND STILL *** NOT UPDATED From the Walgreen's test positivity tracker, published April 11: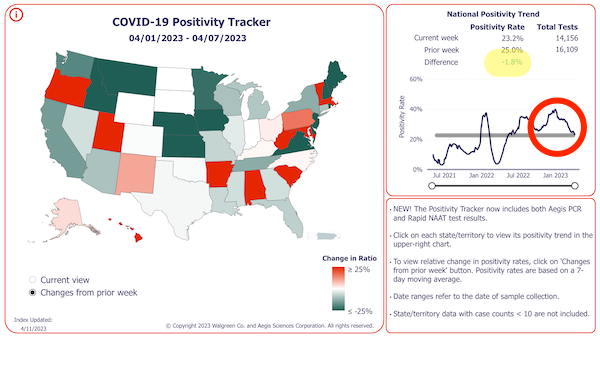 -1.8%. Below the low point of the previous valley.
Lambert here: Walgreens always updates. If they're shutting it down, I'll be disappointed… UPDATE Walgreens still offers testing, according to their website. Can any readers confirm?
Deaths
NOT UPDATED Death rate (Our World in Data):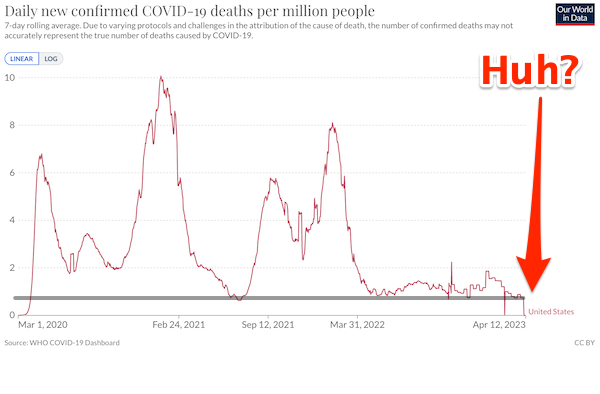 Total: 1,158,017 – 1,157,4628 = 555 (555 * 365 = 202,575 deaths per year, today's YouGenicist™ number for "living with" Covid (quite a bit higher than the minimizers would like, though they can talk themselves into anything. If the YouGenicist™ metric keeps chugging along like this, I may just have to decide this is what the powers-that-be consider "mission accomplished" for this particular tranche of death and disease).
Lambert here: WHO turned off the feed?
• From Salon, quoted elsewhere on this page:
Yet while cases and hospitalizations are trending down, roughly 1700 Americans died from COVID the week ending April 5. Those death rates are only slightly lower than they were in July 2021. Given this, how much progress have we actually made?
Very little? To be fair, some might consider the successful creation of a death cult progress. It's a funny old world.
Excess Deaths
NOT UPDATED Excess deaths (The Economist), published April 2: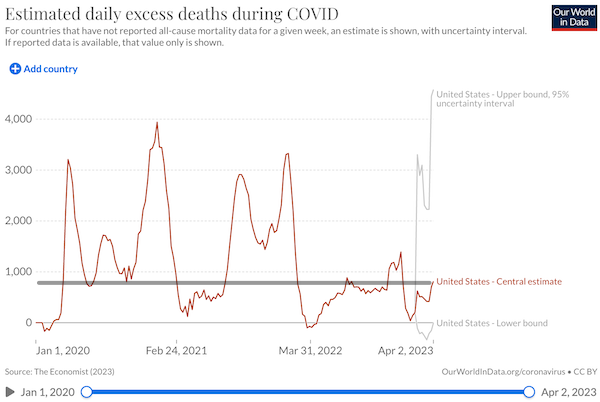 Lambert here: Big jump from the last reading in the "Central Estimate."
Lambert here: Based on a machine-learning model. Looks like a data issue, to me. I"m not sure how often this updates, and if it doesn't, I'll remove it. (The CDC has an excess estimate too, but since it ran forever with a massive typo in the Legend, I figured nobody was really looking at it, so I got rid it.
Stats Watch
Manufacturing: "United States Industrial Production MoM" [Trading Economics]. "Industrial production in the United States rose 0.4% mom in March 2023, beating market expectations of a 0.2% increase and after an upwardly revised 0.2% gain in February. The index for utilities jumped 8.4%, with advances for both electric and natural gas utilities, as the return to more seasonal weather after a mild February boosted the demand for heating. On the other hand, manufacturing output decreased 0.5%, more than forecasts of a 0.1% decrease."
Manufacturing: "United States Manufacturing Production" [Trading Economics]. "Manufacturing production in the United States fell 0.5 percent in March 2023, more than market expectations of a 0.1 percent decrease."
Capacity: "United States Capacity Utilization" [Trading Economics]. "Capacity utilization in the United States increased to a four-month high of 79.8% in March of 2023, from 79.6% in February and beating market forecasts of 79%."
Retail: "U.S. Retail Sales" [Trading Economics]. "Retail sales in the US sank 1% month-over-month in March of 2023, following a downwardly revised 0.2% fall in February, and way more than market forecasts of a 0.4% drop, in a sign cost pressures and rising interest rates are weighing on consumers' willingness to spend. Biggest declines were seen in sales at gasoline stations (-5.5%), mostly driven by lower prices…"
Tech: "Jailbreaking AI Chatbots Is Tech's New Pastime" [Bloomberg]. "Albert has become a prolific creator of the intricately phrased AI prompts known as "jailbreaks." It's a way around the litany of restrictions artificial intelligence programs have built in, stopping them from being used in harmful ways, abetting crimes or espousing hate speech. Jailbreak prompts have the ability to push powerful chatbots such as ChatGPT to sidestep the human-built guardrails governing what the bots can and can't say." • So, bullshit at scale is apparently a non-problem, perhaps even a feature. Alrighty then! (Also., "guardrails" is one of those dead metaphors that I think is problematic, though I'm not sure why.)
* * *
Finance: "Tupperware could go out of business, here's why" [ABC]. "Hitha Herzog, chief research analyst at H Squared Research, told 'Good Morning America' it's not surprising that Tupperware is struggling. 'The company has many layers of issues ranging from the way they sell their food storage products via direct sales force and branding issues where they have failed to relate to younger customers,' she said. 'But at the company's core, the structure of its loans are shaky. The company has had to renegotiate the loan agreements three times since 2022. Higher interest rates along with falling sales and revenue is a recipe for financial disaster.'"
Banks: "JPMorgan Chase profits jump 52% amid banking turmoil" [Associated Press]. "JPMorgan Chase & Co. posted a 52% jump in its first-quarter profits, helped by higher interest rates, which allowed the bank to charge customers more for loans. The bank saw deposits grow noticeably, as business and customers flocked to the banking titan after the failure of Silicon Valley Bank and Signature Bank last month. With JPMorgan's strong results, as well as solid results from Citigroup and Wells Fargo on Friday, there seem to be few signs of potential trouble in the banking system — at least among the nation's biggest, most complex financial institutions." • Wowers, thanks Jay! All things work together for good!
Tech: "Streaming services urged to clamp down on AI-generated music" [Financial Times]. "Universal Music Group has told streaming platforms, including Spotify and Apple, to block artificial intelligence services from scraping melodies and lyrics from their copyrighted songs, according to emails viewed by the Financial Times. UMG, which controls about a third of the global music market, has become increasingly concerned about AI bots using their songs to train themselves to churn out music that sounds like popular artists. AI-generated songs have been popping up on streaming services and UMG has been sending takedown requests 'left and right', said a person familiar with the matter. The company is asking streaming companies to cut off access to their music catalogue for developers using it to train AI technology." • Yes, it's always possible to make things worse, even worse than a repellent and rapacious parasite like UMG.
* * *
Today's Fear & Greed Index: 67 Greed (previous close: 65 Greed) [CNN]. One week ago: 58 (Greed). (0 is Extreme Fear; 100 is Extreme Greed). Last updated Apr 14 at 11:47 AM ET.
The Screening Room
"Plenipotentiary" [New Left Review]. "Now, after a fifteen-year hiatus, [Todd] Field has assured lasting notoriety with Tár: the story of a star classical music conductor – Lydia Tár, played by Cate Blanchett – who is working on a live recording of Mahler's Fifth with the Berlin Philharmonic until she is felled by a spectacular MeToo scandal." This passage caught my eye: "Tár is, above all, a guide to these twenty-first-century symptoms. For Lydia, their antithesis is the great American conductor Leonard Bernstein. Towards the end ofthe film, she watches one of his performances on an old VCR recording in the house where she grew up, her face covered in tears. When she was a child, it was Bernstein who inspired her to embark on the musical career that lifted her out of her modest circumstances. At that time, the subaltern classes could still look up to the most ennobling elements in Western culture. Highbrow composers were writing popular musicals and introducing TV-viewers to Wagner. Harold Rosenberg famously derided Bernstein as an embodiment of the kitsch implicit in all pop culture – yet, in a typically contemporary reversal, the kitsch of 1958 has morphed into the haute culture of 2022. Today's bourgeoisie has not only shut its gates but dynamited the fortress itself. The students in Lydia's Julliard class represent a ruling caste that grew up watching Marvel movies and Disney Plus: a cohort that can no longer honour the supposed ideals of their social stratum. To them, Beethoven is a dead white man; Bach a misogynist. In this new conjuncture, Bernstein represents a lost world – a fusion of high and low that was fleetingly possible in the post-war period and has now vanished forever." • I listened to the The Metropolitan Opera radio broadcasts, sponsored by Texaco, when I was quite young. Texaco, of course, has not vanished.
The Gallery
"How to Look at Art and Understand What You See" [JSTOR Daily]. "If you are comfortable looking at art but wish to more deeply interrogate works and your response to them, an intuitive approach might feel more grounded. If, on the other hand, you do not consider yourself someone to whom probing a work of art comes easily, a form-first approach may give you the structure and confidence to confront art head-on." • I confess to being — I think! — a formalist. A useful piece for anybody who didn't take Art History, as I never did.
Zeitgeist Watch
I saw this ad in Model Railroader: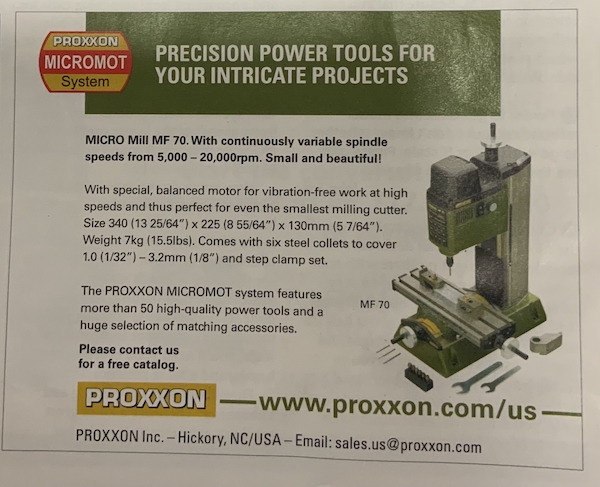 For a moment, my heart lifted, because I thought this was an American tool company; but Proxxon is German. Nevertheless, it's a pleasure to see in model railroading, which INMSNHO has swung a little bit to far in the direction of sticking everything together with a Martha Stewart hot glue gun.
"Who Is Nima Momeni—Suspect Arrested In Killing Of Cash App Founder Bob Lee" [Forbes]. "Police in San Francisco arrested a tech executive suspected of fatally stabbing Cash App founder and cryptocurrency firm executive Bob Lee earlier this month." • Of course, all the tech bros — including the Tech Bro di Tutti Tech Bros, Elon Musk — were whinging and carrying on about "crime' (i.e., the homeless). Turns out the killer suspect was one of their own. Now they've all gone silent.
News of the Wired
"Spanish climber emerges after 500 days in cave" [CBC]. "A 50-year-old Spanish extreme athlete who spent 500 days living 70 metres deep in a cave outside Granada with no contact with the outside world has told how the time flew by, and said she did not want to come out… [Beatriz Flamini] described her experience as 'excellent, unbeatable,' and said that time had flown by. 'When they came in to get me, I was asleep. I thought something had happened. I said: 'Already? Surely not.' I hadn't finished my book.' Asked if she ever thought about pressing her panic button or leaving the cave, she replied: 'Never. In fact I didn't want to come out.' Flamini spent her time underground doing exercises, painting and drawing, and knitting woolly hats. She took two GoPro cameras to document her time, and got through 60 books and 1,000 litres of water, according to her support team."
* * *
Contact information for plants: Readers, feel free to contact me at lambert [UNDERSCORE] strether [DOT] corrente [AT] yahoo [DOT] com, to (a) find out how to send me a check if you are allergic to PayPal and (b) to find out how to send me images of plants. Vegetables are fine! Fungi and coral are deemed to be honorary plants! If you want your handle to appear as a credit, please place it at the start of your mail in parentheses: (thus). Otherwise, I will anonymize by using your initials. See the previous Water Cooler (with plant) here. From Copeland: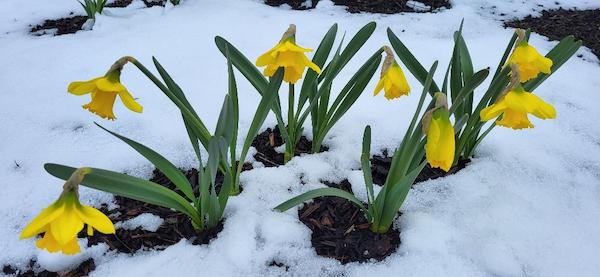 Copeland writes: "Narcissus 'Rijnveld's Early Sensation' – usually in full bloom by the third week of January in the Willamette Valley." Captures the texture of the snow when narcissus appears perfectly.
* * *
Readers: Water Cooler is a standalone entity not covered by the annual NC fundraiser. So if you see a link you especially like, or an item you wouldn't see anywhere else, please do not hesitate to express your appreciation in tangible form. Remember, a tip jar is for tipping! Regular positive feedback both makes me feel good and lets me know I'm on the right track with coverage. When I get no donations for five or ten days I get worried. More tangibly, a constant trickle of donations helps me with expenses, and I factor in that trickle when setting fundraising goals:
Here is the screen that will appear, which I have helpfully annotated: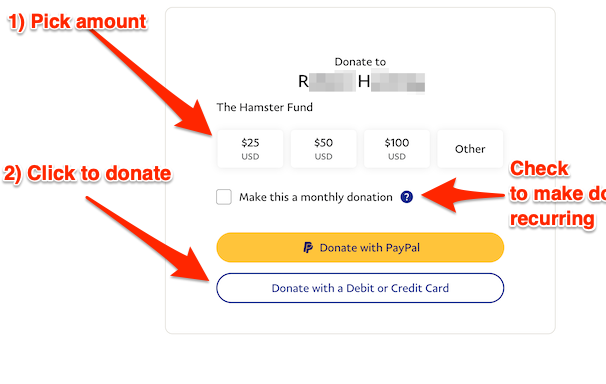 If you hate PayPal, you can email me at lambert [UNDERSCORE] strether [DOT] corrente [AT] yahoo [DOT] com, and I will give you directions on how to send a check. Thank you!