It's Valentine's Day and love is in the air. But for me, that's forever true anytime there's pizza around. For an easy yet adorable low-carb treat to show that special person or special people in your life you really care, serve up one of these delicious Low-Carb Heart Shaped Tortilla Pizzas. Perfect if you're on the keto diet or you just like eating on the cleaner side, these little pizzas really hit the spot when you're in the mood for a pie, but don't want all the calories or carbs.
We take crisped up, low-carb tortillas and top them with no sugar added tomato sauce, shredded mozzarella cheese, and heart-shaped pepperoni slices and bake until melted and bubbly for a quick and easy mini pizza everyone will love.
Note: The total carb count of these pizzas will depend on your tortillas and sauce, but they should be about 8 carbs total on average. I'm in love!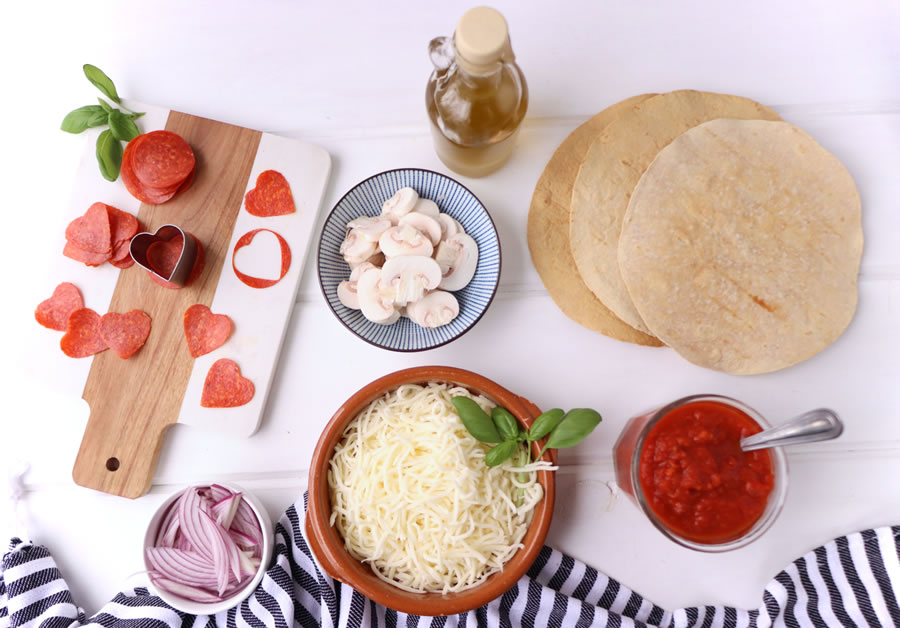 1. Get Your Low-Carb Tortillas, Cut Them Into a Heart Shape and Then Pre-Bake Them
The key to keeping the crust of this pizza low-carb is by scoring some low-carb tortillas. Just about every major grocery store now carries low-carb tortillas which can clock in anywhere from 3-6 carbs depending on the variety. You can usually find them in either the deli, Mexican food or bread aisle sections depending on your store. They're also a handy low-carb and keto-friendly pantry staple to keep around as an alternative to bread and are perfect for low-carb tacos, quesadillas, or enchiladas.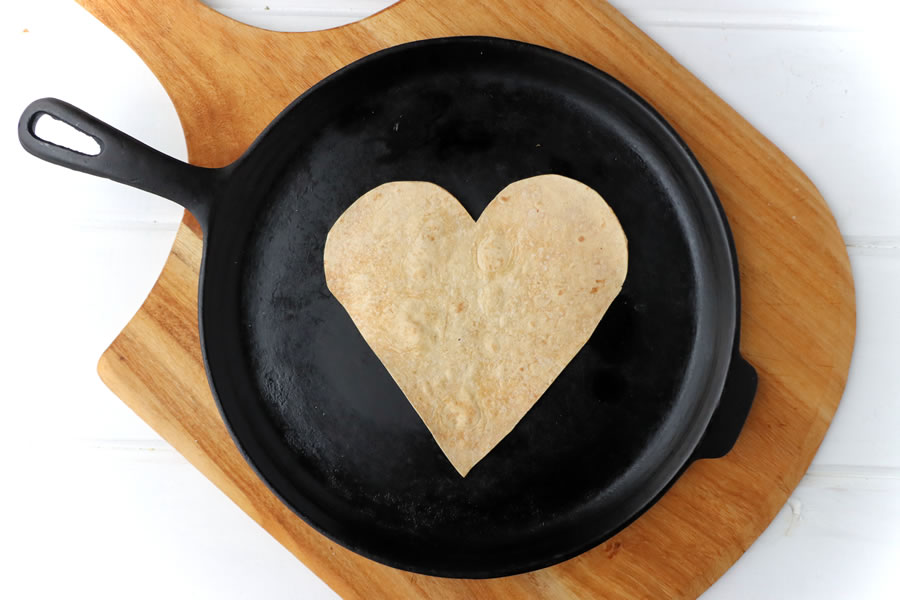 If you're uneasy about cutting a round tortilla into a heart shape it's really not very hard. Start with the bottom of the heart first and with a small sharp knife cut two slices off the tortilla creating a v-shape  The tortilla should be shaped like an ice-cream cone at this point. Then form the top of the heart by making a small inverted triangular cut at the top and then rounding out the top of the heart with your knife. Don't worry, it will be charming even if it's not perfect.
Once you're happy with your heart, crisp up the tortillas in a 325-degree oven for about 10 minutes. This will give your pizza a nice crispy crunch base. They shouldn't have any give and should be hard once you take them out of the oven. As you let them cool for a couple of minutes they'll continue to harden giving you the perfect thin and crispy low-carb crust for your pizza.
2. Make a Pizza or Tomato Sauce With No-Sugar-Added
Tomato or pizza sauce generally has more carbs than you would think. Often white sugar is added to tomato-based sauces to add flavor and cut their acidity. Look for a no-sugar-added sauce instead. Serving sizes are usually about 1/2 a cup but you'll only need a few tablespoons per tortilla pizza. So just keep that in mind when you're reading labels.  I like to also sprinkle a little parmesan cheese and drizzle a little olive oil over the sauce for extra flavor.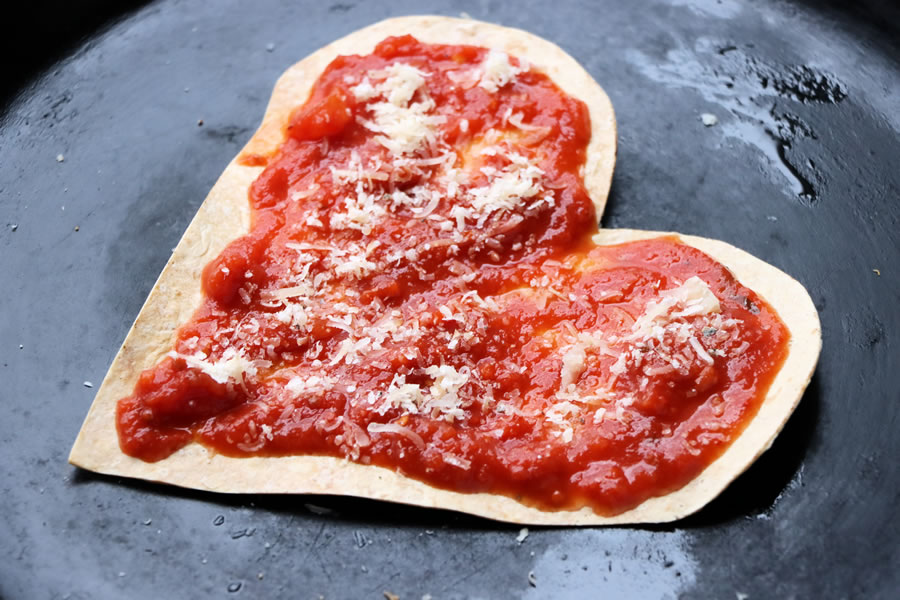 3. Show Some Love and Make Your Pepperoni Hearts
The heart-shaped pepperoni slices on this low-carb pizza are adorable and easy to do. Just use a small metal heart-shaped cookie cutter to punch out perfect heart shapes. Use the thin pre-sliced pepperoni found in small bags at the supermarket instead of the stick which will be more difficult to work with. We used regular pepperoni, but turkey or vegan veggie pepperoni would also be great.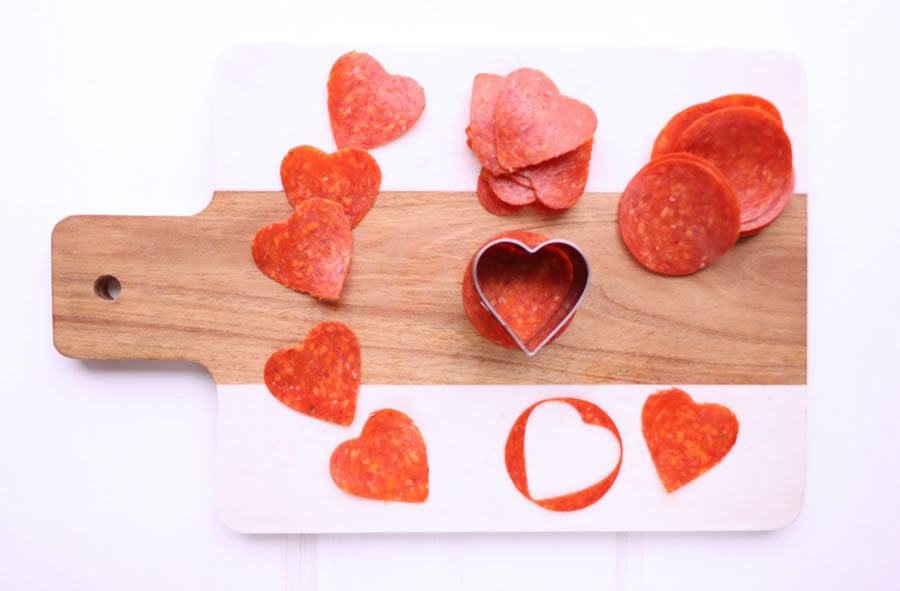 4. Don't Forget the Cheese!
We made our pizzas with whole milk mozzarella cheese. Shred your own or for an even quicker prep, you can buy pre-shredded bags of mozzarella. Some varieties at the store may include other Italian cheeses like parmesan or asiago which can add extra delicious cheesy flavor.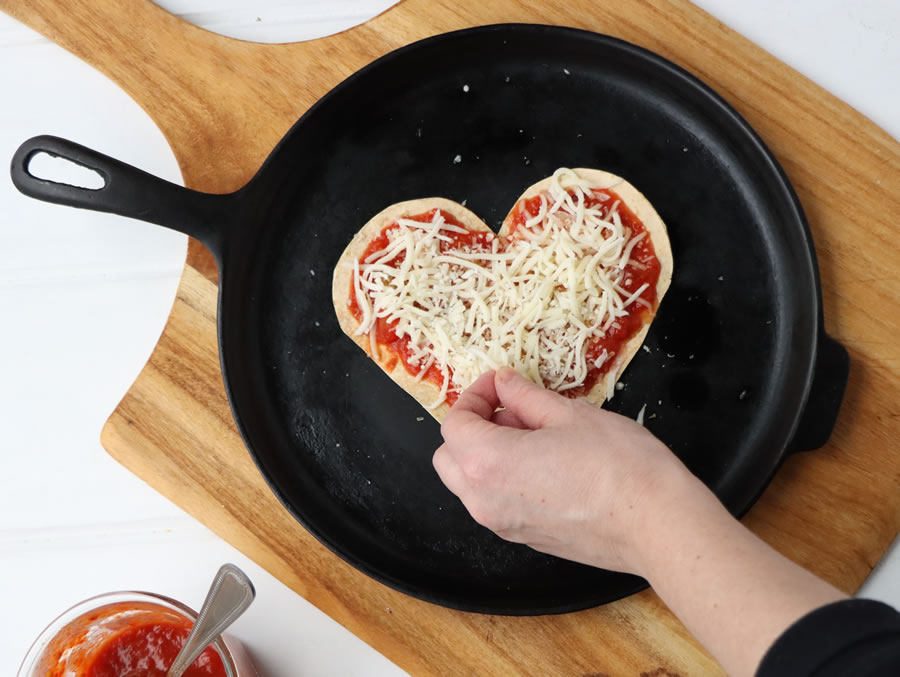 5. Add Your Pepperoni Hearts or Other Toppings
Add as many or as few toppings as you like along with your pepperoni hearts.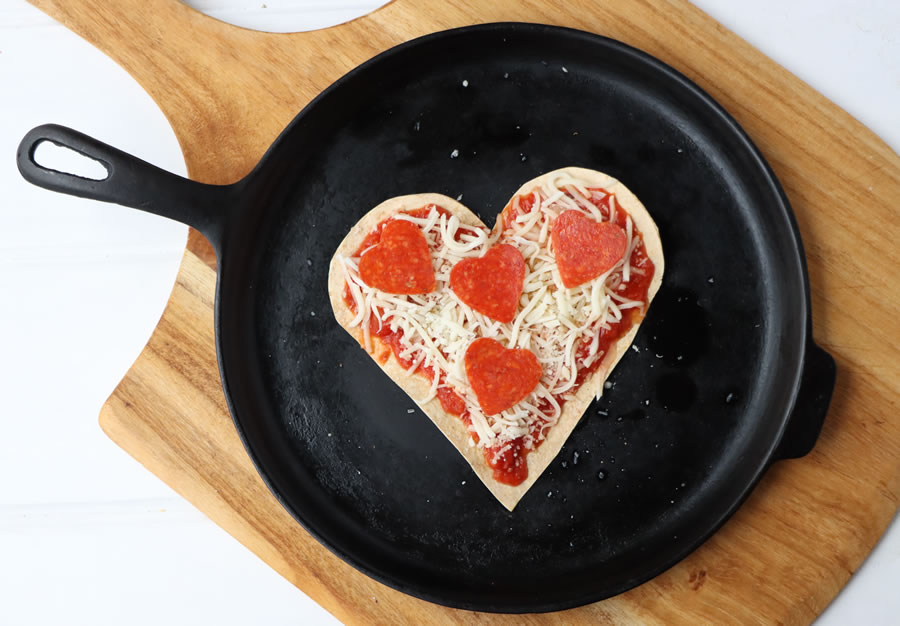 6. Get Ready To Bake!
We bake these pizzas in a 375 degree F oven for about 5 to 7 minutes or until the cheese is melty and bubbly. We baked ours on a skillet but a baking sheet will work just fine. I've made these tortillas pizzas tons of times and absolutely love them, but I've found if I don't wrap the edge of the tortillas they tend to over brown. To prevent burning simply wrap the edge of the tortilla in a small 2-inch wide strip of aluminum foil. The pizza stays absolutely perfect this way.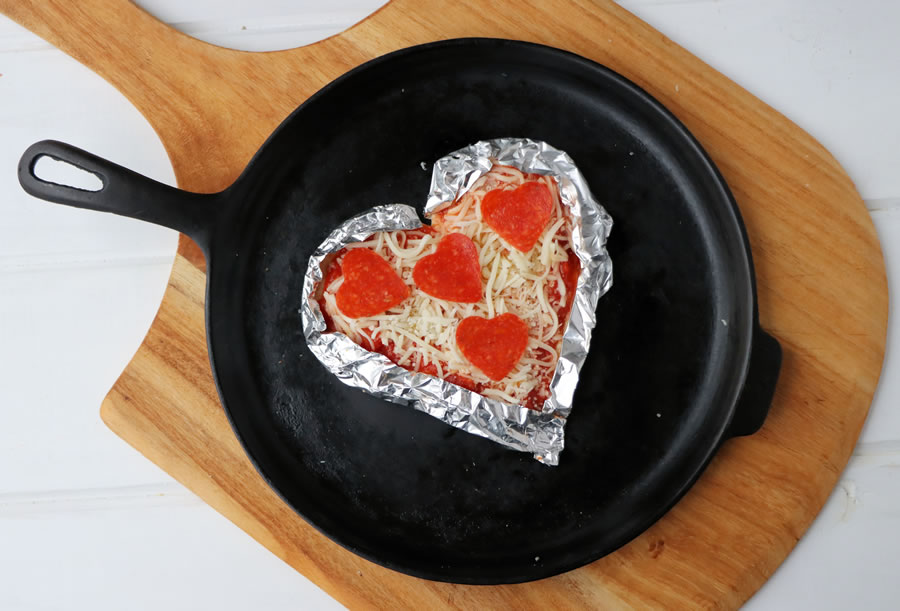 7. Enjoy Your Low-Carb Heart-Shaped Pizzas! They're Perfect for Valentine's Day!
How cute are these pizzas!?! Even though they're perfect for Valentine's Day treat they can be enjoyed all year long. Just keep spreading the love with pizza!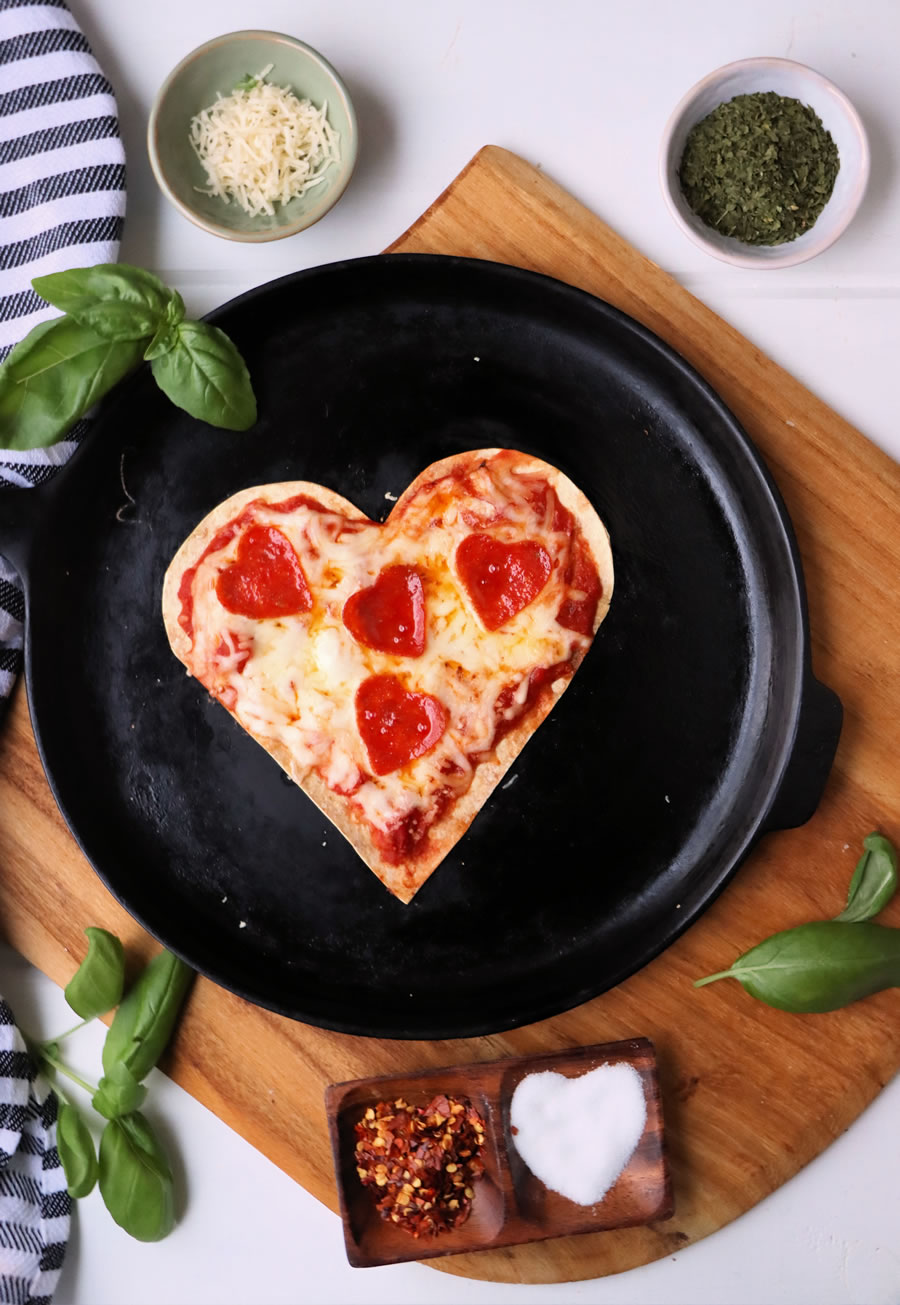 Get The Recipe!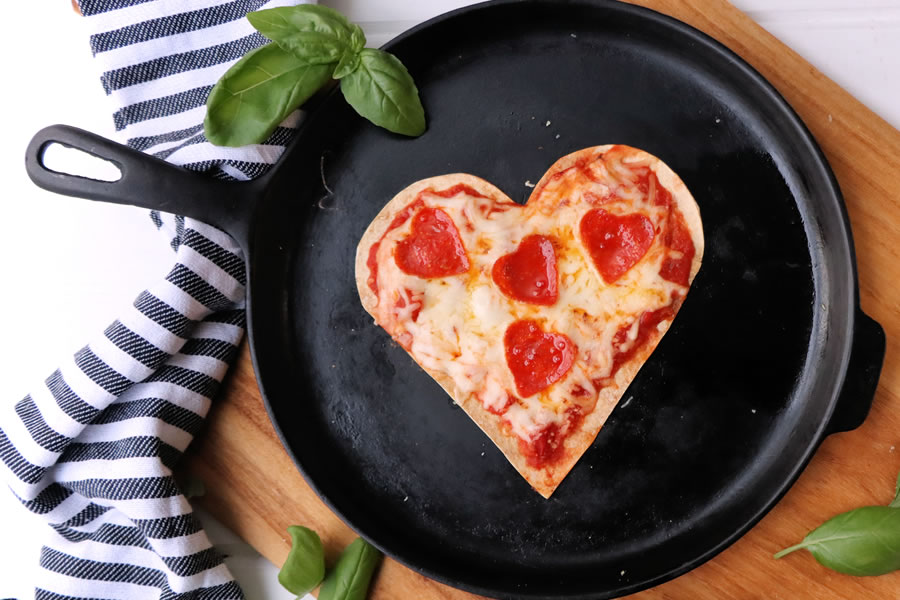 Low-Carb Heart Shaped Tortilla Pizzas
Heather LaCorte
These crisped up low-carb tortillas make the perfect base for a super thin and crispy homemade pizza. Top with pizza sauce, mozzarella cheese and your favorite meat or veggie pizza toppings.
Ingredients 
2

low-carb tortillas

1/2

cup

prepared pizza sauce, warmed

2

tsp

olive oil

1/2

cup

shredded mozzarella

8-10

pepperoni slices (regular, turkey or vegan)
Other Suggested Toppings
sliced mushrooms

onions, sliced

cooked crumbled or sliced sausage

green peppers

olives

marinated artichokes
DIRECTIONS 
PREPARING THE TORTILLAS
Cut both of the tortillas into a heart shape (optional). Using a sharp knife cut each of the bottom sides of the heart first in the shape of a v. Then cut the top indent of the heart and finish by rounding out the two top parts of the heart. Then bake the tortillas at 325°F until hard to the touch. About 10-12 minutes.

Then bake the tortillas at 325°F until hard. About 10-12 minutes. Remove from the oven and raise the temperature to 375°F. Let the tortillas cool for 2 minutes. Spoon a few tablespoons of pizza sauce on top and spread to the edge of the tortilla. If you like more crust don't spread the pizza sauce all the way to the edge.

Drizzle a little olive oil over the sauce and then sprinkle with a little parmesan cheese if you like. Follow with a handful of the shredded mozzarella evenly distributing over the sauce. Add your heart-shaped pepperoni or any other pizza toppings you'd like.

Wrap the edge of the tortilla pizzas (the crust) with a thin piece of foil about 2 inches wide to keep the edge from burning. Place the pizzas on a baking sheet, large skillet or pizza stone. Bake for 5-7 minutes or until the cheese has melted and is slightly bubbly. Remove from the oven and serve immediately. Enjoy!