Whitney Peak is no stranger to a little hocus-pocus. Not only is the Gossip Girl lead one of the stars of Hocus Pocus 2 (streaming now on Disney+), but she also knows the chameleon-like magic and fun that beauty can provide. Peak has done fluffy hair and dotted mint green eyeliner for the Met Gala, full-on '80s glam with electric purple eyeliner for the cover of Numero Netherlands, and made dramatic cat-eyes a beauty signature, onscreen and off. As an ambassador for Chanel, she works frequently with the house's makeup artist, Tyron Machhausen, and hairstylist, Naeemah Lafond, calling them her "dream team" in an Instagram post.
For her Hocus Pocus 2 New York City premiere beauty look, Macchausen explained, "We wanted to juxtapose her flowery Chanel dress with this intense smoky gunmetal eye and the bantu-knots to give it kind of a cool girl vibe." To achieve this, he used Chanel Ombre Première Laque Limited-Edition Longwear Eyeshadow in Lamé Acier and Chanel Les 4 Ombres Multi-Effect Quadra Eyeshadow in Modern Glamour to create the extended-to-the-heavens, yet soft-at-the-edges cat-eye.
For the defined, yet soft glow he gives to the skin, Mancchausen used two shades of foundation. "I always use at least two shades when I work on the foundation, as using a single color would make the face appear flat." Specifically, he used Chanel Ultra Le Teint Ultrawear All-Day Comfort Flawless Finish Foundations in BD41 and BD51. "I am really into the overall '90s feel that is back and center stage, all the way from its extreme minimalism to full supermodel glam," Macchausen says. For more on what Peak is currently feeling beauty-wise, read on.
More From ELLE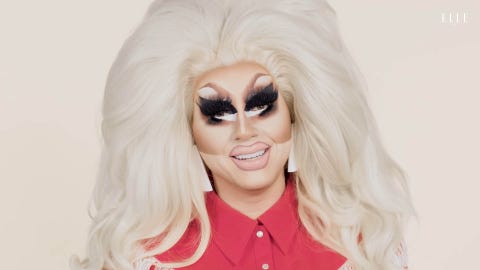 ---
What have been some of your favorite beauty moments so far?
I've been lucky to get a chance to work with many talented makeup artists, but I think everything Tyron [Machhausen], Naeemah [Lafond] and I have done together— specifically the Met Ball look with the green eyeliner and the 'fro—was so epic. We've experimented a lot every time we've worked together, from bleached brows to bold eyes and slick backs to flat-tops to neon bobs.
What were you taught about beauty growing up?
That beauty is really internal. It doesn't matter what you look like if you don't have a kind heart or treat people with the same respect you'd wish for yourself. My mom instilled this in me at a young age—especially when I started wearing makeup for dance competitions and it would bleed, to wearing it at school and feeling the need to fit in by covering up spots or straightening my hair, etc. Vanity gets you nowhere if you do not have brains and empathy to back it up.
How do you prefer to get ready for an event? What is the environment like?
I'm pretty easy in terms of music. I love to be introduced to new stuff, so I'll usually have someone else play music, unless I'm feeling something specific. I have luckily met great hairstylists and makeup artists since the beginning and have kept them constant, so it's always familiar and comfortable. Full transparency and understanding of each other's energy and vision without compromising creativity! Good energy really…that's a huge part of it for me.
Do you enjoy getting your makeup done? Some don't…
I do…it can be the best part, I feel, of attending anything where there is a lot going on. I have terrible social anxiety and have a hard time with big events, so the time in the chair beforehand, and everyone I've got around, really affects my mindset going into any environment.
How do you typically determine your beauty look for an event?
I've gotten away with leaving it up to Tyron when it comes to picking looks. I don't have too many do's and don'ts when it comes to that area, as I'm not well-versed. I simply trust and hope that it comes through. I'm also always working with easygoing artists who take my opinion into account and will not let me walk out feeling less than 100 percent.
Check out Peak's getting-ready process, below.
Kathleen Hou is the beauty director at Elle Magazine.