Posted on: September 30, 2022, 04:24h. 
Last updated on: September 30, 2022, 04:27h.
At 1 pm EDT on Sunday, a pair of 2-1 teams (the Giants and Bills) and a 1-2 team (the Jets) will represent New York. None of them have the misfortune of going up against the lone remaining unbeaten team in the NFL, the Philadelphia Eagles. After 3-plus weeks of pig skinning, we have more parity than the 50-50 US Senate. Only the Las Vegas Raiders are 0-3, although the 0-2-1 Houston Texans also remain without a win.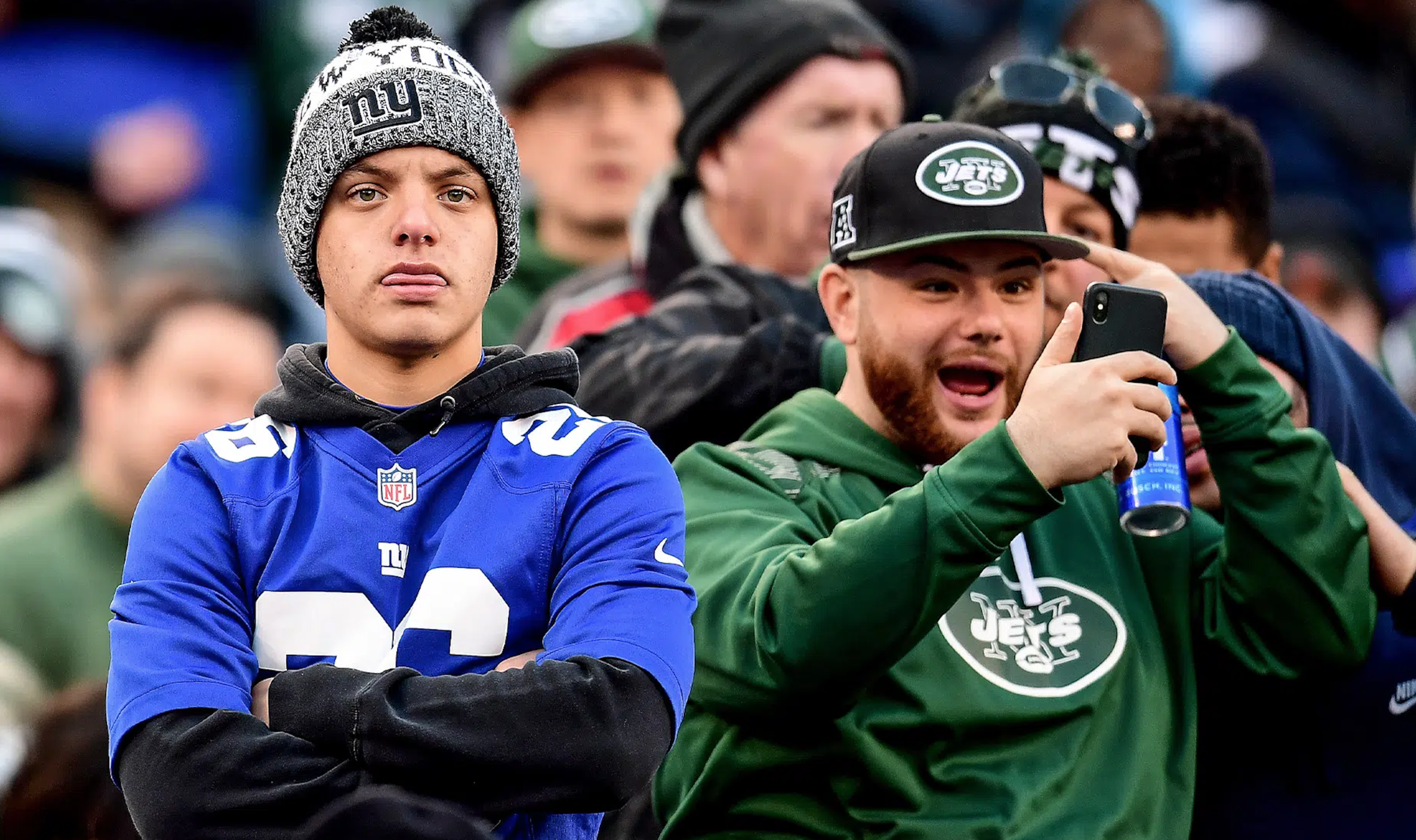 Moving forward, there's an opportunity for everyone to start to distinguish themselves. They can do so by stringing together a series of victories because as much as the oddsmakers would like us to believe that we are destined for a Super Bowl featuring Kansas City or Buffalo against Philly or Tampa Bay.
There are 14 more weeks of football to be played in which somebody- maybe even the Giants or (stop laughing) the Jets- can pull off something incredibly unlikely.
Quarterback Zach Wilson is finally back for the Jets, who can now return backup Joe Flacco to his rocking chair. For all the criticism, New York Giants running back Saquon Barkley is the guy leading the NFC in rushing yards. And quarterback Josh Allen of the Buffalo Bills will undoubtedly leapfrog fellow QBs Tua Tagovailoa and Joe Burrow for the NFL passing yardage lead, now that those two have already played their Week 4 games. Allen is just 85 yards shy of the league-leading Burrow.
The Eagles are the only remaining undefeated team in the NFL.

Since 2000, the last undefeated team in the NFL has made the Super Bowl 10 times. https://t.co/Rp3TOWJx3b

— Brandon Lee Gowton (@BrandonGowton) September 30, 2022
Flavor Of The Week
The Dolphins were the darlings of the first three weeks. But now they have a quarterback who went to the hospital last night in a game he maybe shouldn't have been playing. Quarterback Russell Wilson was supposed to put the Broncos over the top, but they have scored a mere 40 points in three games, the lowest total in the league.
So we are entering what can arguably be the beginning of the season's midpoint. The three New York teams have their relative strengths and weaknesses that will be under the microscope this weekend.
So let's break down their three games, starting with the best of the bunch … and also the only team that plays in New York, not all that far from the Anchor Bar, where Buffalo wings reputedly originated.
Yeah, we've been doing this Wing thing for a long time. We're pretty good at it. #anchorbaratx #anchorbar #originalbuffalowings #wings #buffalowings #roundrock #roundrockeats #atxeats #512eats pic.twitter.com/49S3SunOZl

— Anchor Bar – Round Rock, TX (@AnchorBarATX) September 28, 2022
Allen and the Bills are favored by 3 over the Ravens, who gave up 42 points to the Dolphins and 26 to the Patriots in Weeks 2 and 3. That made "over" bettors order extra wings and beers sometime around the midpoint of the third quarter each of the past two Sundays. The 51-point over/under is by far the largest of the week on the 15-game Sunday-Monday slate. But it should be noted that the Bills' and their opponent's point totals in their first three games were 41, 48 and 40. Also, the 21 points they allowed last week were the most they had allowed all season.
Josh Allen Has a Rubber Arm
The number we're choosing to focus more closely on is Allen's passing yardage over/under of 285.5, a number he has eclipsed in all three of his games this season. Of those totals, the most notable came when he threw for 400 yards on 63 (!) pass attempts last week against the Dolphins in a mystifying 21-19 loss. That's the game that featured a "butt punt," and a ball-possession disparity that saw the Bills run 90 plays to Miami's 39.
No wonder offensive coordinator Ken Dorsey was throwing an epic tantrum after receiver Isaiah McKenzie failed to get out of bounds to stop the clock and allow for a game-ending field goal attempt.
#Bills OC Ken Dorsey LOST IT in the coaching booth. Oh my.pic.twitter.com/x1WcoSTY1c

— Ari Meirov (@MySportsUpdate) September 25, 2022
Baltimore has allowed 353.3 passing yards per game, 54 more than anyone else. One of the nine licensed US sportsbooks should determine whether Norm Van Brocklin's 1951 record of 554 yards will fall.
Bet MGM is taking 64% of tickets on the Ravens +3, and 54%  of handle on "under" 51, which is down from an opening O/U line of 53 1/2. It is the most wagered-upon game at that sportsbook, spokesman Drew O'Dell said.
Welcome Back, Zack. Vegas Doubts You
For the Jets, quarterback Wilson is back after missing the first three games with a bone bruise and a meniscus tear in his knee from the first preseason game. His knee was repaired through arthroscopic surgery. The No. 2 overall pick in the 2021 draft has a passing yardage over/under of 206.5, the fourth-lowest of any QB scheduled to start this weekend (more on that below). Wilson threw for 207 or more yards in just five of 13 games last season, and he is facing a Steelers pass defense that allows an average of 252 passing yards per game, worse than only nine other teams.
The Steelers have the second-worst offense in terms of yards per game with 272.7, 569 of which have come on passes by Mitch Trubisky. Najee Harris is their leading rusher with 128 yards on 40 carries, and it is somewhat astonishing that 10 NFL teams are averaging fewer rushing yards than the Steelers' 90.0 per game — one of which is the Jets (84.4), whose next rushing touchdown will be their first of the season.
The over/under is just 41 1/2, and the Steelers are favored by 3 1/2. A whopping 70% of the line handle is coming in on Pittsburgh, and the under is drawing 65% of the handle. Interesting player prop: Pittsburgh wide receiver Chase Claypool, with seven rushes so far this season for 47 yards, has a rushing yardage over/under of 3 1/2. Keep that in mind if you opt for player prop parlays.
Chase Claypool O 35.5 receiving yards might be an all time player prop bad beat

He entered the final play with 41 yards

He was credited with -6 receiving yards on the play to finish with 35 yards pic.twitter.com/JLCOGrCvyw

— Barstool Sportsbook (@BSSportsbook) September 23, 2022
And finally we have the Giants, who will be facing a quarterback, Chicago's Justin Fields, who has attempted only 45 passes in his three games. He has the lowest passing yardage over/under of anyone Sunday, 148 1/2, while Daniel Jones has the second lowest: 197.5.
Fields has thrown for 121, 70, and 126 in his first three games. But it should be noted that he had passing yardage totals of 10, 60 and 68 in his first three games last season before throwing for 209 in Week 4 against Detroit. Nobody is going to confuse him with Van Brocklin, but he was the 11th overall pick of the 2021 draft out of Ohio State. Only Trevor Lawrence, Wilson, and Trey Lance went higher (they were the first three picks). Fields had at least 174 passing yards in seven of his final nine games last season.
Someday, Saquon
Barkley's rushing yardage over/under is only 79 1/2, and the Giants scheme to feature him with the hopes that he can pull off rushes like the 36-yard TD run he had Monday night against Dallas and a 68-yard burst in the opener against Tennessee. His 6.0 yards per rush ranks fifth among the top 10 rushers by total yardage, and Chicago's run defense allows 157 yards per game, tied with Seattle for second-worst in the NFL behind Houston (202.3).
Some 79% of the points spread handle at BetMGM has been coming in on the Bears, second only to Arizona's 81%, and 77% of the O/U handle has come in on the "under," trailing only the Packers-Patriots. In the latter, 90% have it finishing under 40. Also, 81% of O/U bets on Broncos-Raiders are on the under. Those are some very lopsided percentages, and you can bet the sharps are in on them.
But the bottom line is that all three "New York" teams are highly capable of winning, and a $10 three-way moneyline wager on the Bills, Jets, and Giants all winning pays $71.29 at Draft Kings and $53.82 at FanDuel. So as always, remember to shop around.
And when it comes to player props, those above stats should guide you.