By Lambert Strether of Corrente
Bird Song of the Day
White-winged Triller, Western Australia, Australia. Energetic
* * *
Politics
"But what is government itself, but the greatest of all reflections on human nature?" –James Madison, Federalist 51
"They had learned nothing, and forgotten nothing." –Charles Maurice de Talleyrand-Périgord
"Here's food for thought, had Ahab time to think; but Ahab never thinks; he only feels, feels, feels" –Herman Melville, Moby Dick
Biden Administration
"Astonished Democrats set to clear finish line with climate, tax, health care package" [The Hill]. "House Democrats of all stripes are lining up to approve the Senate's $740 billion tax-and-spending package on Friday when the lower chamber returns briefly to Washington, sending the legislation to Biden's desk and securing a huge win for the president and his party less than three months from the midterm elections. It seems likely the bill could clear the House without a single Democratic defection, whether from the left or center of the party. The universal accolades reflect, at least in part, the Democrats' astonishment that they're voting on any major part of Biden's domestic agenda at all. Just a few weeks ago, the prospects of enacting a massive climate package this year appeared to be dead, buried under the opposition of centrist senators — most notably Joe Manchin (D-W.Va.) — wary of exacerbating inflation with new federal spending. The bill's revival — a deal worked out privately between Manchin and Senate Majority Leader Charles Schumer (D-N.Y.) — has drastically expanded the Democrats' legislative accomplishments under Biden, providing them a late political boost as they head into midterm elections that are expected to shift control of the House to the Republicans. 'This is a big deal. This is historic. And I'm anxious to get it to the floor, pass it and get it to the president's desk,' Rep. Jim McGovern (D-Mass.), the chairman of the House Rules Committee, told reporters in the Capitol Wednesday night. 'People like me wanted a lot more, right? But the bottom line is ,' he continued. 'And in any other Congress, if we were to pass one of these things — one component of what is in this reconciliation bill — it would be huge.'" • The Democrats have hitherto only interpreted the world in various ways. The point, however, is to change it.

"Yellen tells IRS not to increase middle-class audits if it gets more funding" [Reuters]. "Yellen told IRS Commissioner Charles Rettig in a letter released by the Treasury Department that any new IRS personnel 'shall not be used to increase the share of small business or households below the $400,000 threshold that are audited relative to historical levels.' The IRS is a bureau of the Treasury Department. Yellen said, 'contrary to the misinformation from opponents of this legislation, small business or households earning $400,000 per year or less will not see an increase in the chances that they are audited.'"
2022
* * *

NY: "Is Money Enough?" [Ross Barkan, Political Currents]. Of course money is enough. What else is there? More: "In the final weeks of the competitive race for the open 10th Congressional District in New York City, a former prosecutor named Dan Goldman has emerged as a front-runner. Most famous for helping to impeach Trump the first time, Goldman built up a large social media following as an MSNBC analyst. He is plenty telegenic. He looks the part of a congressman. With a bevy of connections in the business, real estate, and political worlds, he has been a strong fundraiser. In addition, because he is an heir to the Levi Strauss fortune with a net worth as high as $253 million, he can self-fund. So far, he has given his campaign $1 million. It's plausible, as the August 23rd date draws closer, he will unload far more of his own cash on the race. He might have to if he actually wants to win…. In addition to Jones and Goldman, who clearly do not like each other, there are four other top contenders: City Councilwoman Carlina Rivera, Assemblywoman Yuh-Line Niou, Assemblywoman Jo Anne Simon, and former Congresswoman Elizabeth Holtzman. Many believe the biggest factor in the race will be who the editorial board of the New York Times decides to endorse. The Times is the totem for the highly educated and well-off, and that describes a good portion of the Democratic voter base there."
2024
What will be unsealed, and what will not:

That disclosure may come later, if Trump litigates the search, or to the defendant if/when someone is charged with an offense in this matter.

— Sheldon Whitehouse (@SenWhitehouse) August 12, 2022

So, in terms of evidence, we don't really know anything until the affidavit is released (or until somebody starts leaking). I'm so bored of this. (I hate the "bored of" locution — instead of "bored with" — and I use it to emphasize how bored with this I am.)

"'It Could Be Anything': Experts Tell Us What Kind of Nuclear Secrets Trump Could Steal" [Vice]. "The problem is, because of the way nuclear secrecy works in the U.S., it's possible Trump took something without realizing it was classified. Presidents have done similar things before with regards to nuclear secrets. I reached out to several nuclear weapons experts, and they all told me the same thing: They had no idea what it was, and the list of possibilities was enormous. The category of "classified documents relating to nuclear weapons" is so broad as to be meaningless…. The nuclear secrets the FBI is looking for could be innocuous, or they could be world-shattering. The possibilities are so large that there's no way to know. Historically, the consequences for stealing nuclear secrets in America are pretty dire. Early Trump lawyer and mentor Roy Cohn made his career by prosecuting Julius and Ethel Rosenberg for stealing nuclear secrets and passing them to the Soviet Union. Cohn won the case, and the Rosenbergs were executed in the electric chair." • Lol.

"Event venues (like Trump's Mar-a-Lago) are not good places to store nuclear secrets" [Philip Bump, WaPo]. "On Monday, as you are no doubt aware, the FBI executed a search warrant at Mar-a-Lago and procured a number of boxes of material from the property. It was the latest stage in a protracted effort to secure material that Trump took with him when he left office, including, it seems, classified documents. Among those, The Washington Post reported Thursday evening, been ones pertaining to nuclear weapons." • Oh. Let the walkback begin!

"The Downside for Garland in Speaking" [Andrew McCarthy, National Review]. "So here is what people are interested in: Did Trump do something hostile or uncooperative which left Garland no reasonable alternative but to seek a warrant — something worth blowing up a 230-year norm of not using hardball investigative tactics against a former president of the United States? And is Garland sure there was probable cause of a crime here that justify the issuance of a search warrant? If Garland had made no statement, we would assume affirmative answers to these questions. We would assume that he just wasn't explicitly providing such answers because (a) the DOJ does not speak publicly about investigations, and (b) he got a magistrate-judge to sign the warrant, so he can bank on the court's finding of probable cause. But he did speak. If you're going to speak, you've got to address the questions that actually matter to people. He didn't. In the meantime, Trump is speaking. He says he cooperated with the FBI and the DOJ and is stunned that, after two months of silence, they suddenly went to DEFCON 5 with a warrant to rifle through his home. When Garland speaks but does not refute, or even attempt to refute, what the former president has said publicly, it is reasonable for people to deduce that he is not in a position to rebut Trump's claims. One final, related point. The more one thinks about it, the more incredible it seems that the White House knew nothing about this. The Justice Department — in particular, those leaking on its behalf — speaks as if the issue here were the peril the nation would be in if the intelligence in Trump's possession fell into the wrong hands. That's not a law-enforcement problem; it's a national-security problem. Even if Biden were right that he must never "interfere" in the Justice Department's work (and he's constitutionally illiterate on this point because the Justice Department exercises his power as his delegate), we are not talking here about political interference in the administration of justice. We are talking about the defense of the United States from hostile forces. That is one of the president's main duties — probably his most consequential and solemn duty. So how does Garland not tell Biden? I can think of a million things they might have done short of a search warrant. But I can't think of a single scenario in which, if the facts are as government sources claim they are, Biden would not have been in the loop." • My reactionary old grandfather read the National Review. Now I am [bangs head on desk].

"Trump Hires #BillionDollarLawyer" [New York Times]. "Amid a deepening swirl of federal and state investigations, former President Donald J. Trump has hired a prominent Atlanta lawyer to represent him in a criminal inquiry into election interference in Georgia. The lawyer, Drew Findling, has represented an array of rap stars including Cardi B, Gucci Mane and Migos, and is known by the hashtag #BillionDollarLawyer. But he is also well regarded for a range of criminal defense work that he has done in Georgia, and his hiring underscores the seriousness of the investigation — as well as the potential legal jeopardy for Mr. Trump." • I have been muttering for awhile that Georgia was far more dangerous to Trump than any of the other election-related events. Looks like Trump believes this too,

* * *

"An unusual deal gave Virginia Gov. Glenn Youngkin $8.5 million in cash and tax-free status to his almost $200 million in stock, a lawsuit says" [NBC]. "In January 2020, Glenn Youngkin, now the Republican governor of Virginia, got some welcome news. A complex corporate transaction had gone through at the Carlyle Group, the powerful private equity company that Youngkin led as co-chief executive. Under the deal, approved by the Carlyle board and code-named 'Project Phoenix,' he began receiving $8.5 million in cash and exchanged his almost $200 million stake in the company for an equal amount of tax-free shares, according to court documents. … Now, that transaction is under attack by a Carlyle shareholder in Delaware Chancery Court. The suit, filed last week by the city of Pittsburgh Comprehensive Municipal Pension Trust Fund, says the $344 million deal harmed Carlyle's stockholders, who received nothing in return when they funded the payday. Meanwhile, the Carlyle insiders who received the payouts escaped a tax bill that would have exceeded $1 billion, according to the complaint, which accuses Rubenstein, Youngkin and other Carlyle officials of lining their own pockets at the expense of people like police officers and firefighters."
Republican Funhouse
"'Stop the Steal' Is a Metaphor" [The Atlantic]. "Elaine Godfrey: Tell me what connection you see between the Tea Party movement that you studied and the Trump-inspired Stop the Steal effort. Theda Skocpol: There's a definite line. Opinion polls tell us that people who participated in or sympathized with the Tea Party—some groups are still meeting—were disproportionately angry about immigration and the loss of America as they know it. They became core supporters of Trump. I'm quite certain that some organizations that were Tea Party–labeled helped organize Stop the Steal stuff. Trump has expanded the appeal of an angry, resentful ethno-nationalist politics to younger whites. But it's the same outlook."
Democrats en Déshabillé
I have moved my standing remarks on the Democrat Party ("the Democrat Party is a rotting corpse that can't bury itself") to a separate, back-dated post, to which I will periodically add material, summarizing the addition here in a "live" Water Cooler. (Hopefully, some Bourdieu.) It turns out that defining the Democrat Party is, in fact, a hard problem. I do think the paragraph that follows is on point all the way back to 2016, if not before:

The Democrat Party is the political expression of the class power of PMC, their base (lucidly explained by Thomas Frank in Listen, Liberal!). ; if the Democrat Party did not exist, the PMC would have to invent it. . ("PMC" modulo "class expatriates," of course.) Second, all the working parts of the Party reinforce each other. Leave aside characterizing the relationships between elements of the Party (ka-ching, but not entirely) those elements comprise a network — a Flex Net? An iron octagon? — of funders, vendors, apparatchiks, electeds, NGOs, and miscellaneous mercenaries, with assets in the press and the intelligence community.

Note, of course, that the class power of the PMC both expresses and is limited by other classes; oligarchs and American gentry (see 'industrial model' of Ferguson, Jorgensen, and Jie) and the working class spring to mind. Suck up, kick down.

* * *

"Beau Biden (Baby) Is My Beautiful New Baby" [Gawker]. The deck: "I want to smooch my new king." • Well, it's Gawker. Nevertheless.

"Josephine Baker Was the Star France Wanted—and the Spy It Needed" [The New Yorker] • Listen to Black women! Especially when they're spooks! (No knock on Baker; it's only that the New Yorker and its readers… have lost their minds.

"Holder Discusses Ongoing Battle for Voting Rights at Vineyard Author Series" [Vineyard Gazette]. "Ms. Smith then asked Mr. Holder if he would charge Donald Trump and his allies for their role in the Jan. 6 riot at the U.S. Capitol. To answer that question, Mr. Holder turned to Lanny Breuer, the former head of the criminal division at the DOJ, who was sitting in the crowd. 'So Lanny, would we bring this case?" Mr. Holder asked. 'We would bring it in a minute,' Mr. Breuer responded." • Lol. This classic parody video of Lanny Breuer describes his role in the Great Financial Crash very accurately:
#COVID19
I give them awards, but they keep begging for more:
"It's called the Fauci effect.. people go to medical school and go into science..because I symbolize.. integrity.. and truth"

I'll add his "I am science" quote
in the next tweet.

h/t @ITGuy1959 pic.twitter.com/6dpDYIELP5

— Dr.No (Reformed) (@DrNo_Reformed) August 11, 2022
And:
Dr Frankenvirus promoted himself from "I am Science" to "I am Truth".

No words to describe this level of destructive narcissism.

— IT Guy (@ITGuy1959) August 11, 2022
Why are these people smiling?
* * *
• Maskstravaganza:
Undercover Boss but it's CDC Director Rochelle Walensky working one (1) indoor dining shift among a large crowd of maskless patrons.

— Sarah Lerner (@SarahLerner) August 12, 2022
• Maskstravaganza:
I just wanted to let you all know that I'm no longer going to wash my hands after I wipe, unless you ask me to pic.twitter.com/IMWmuoK03N

— David Fisman (@DFisman) June 15, 2022
* * *
If you missed it, here's a post on my queasiness with CDC numbers, especially case count, which I (still) consider most important, despite what Walensky's psychos at CDC who invented "community levels" think. But these are the numbers we have.
* * *
Case Count
Case count for the United States: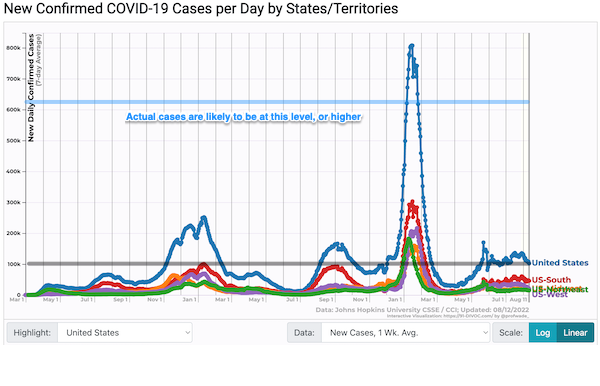 It's almost as if the West and the South dance the same stately quadrille as Texas and Florida.
Cases are undercounted, one source saying by a factor of six, Gottlieb thinking we only pick up one in seven or eight.) Hence, I take the case count and multiply it by six to approximate the real level of cases, and draw the DNC-blue "Biden Line" at that point. The previous count was ~108,700. Today, it's ~102,600 and 102,600 * 6 = a Biden line at 615,600 per day. That's rather a lot of cases per day, when you think about it. (Remember these data points are weekly averages, so daily fluctuations are smoothed out.) The black "Fauci Line" is a counter to triumphalism, since it compares current levels to past crises. At least we have confirmation that the extraordinary mass of case anecdotes we've seen have a basis in reality. However, I'm not seeing the volume of anecdotes I did on the Twitter. What are readers experiencing?
Regional case count for four weeks: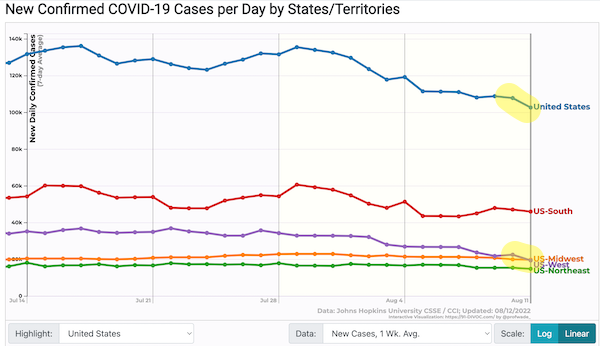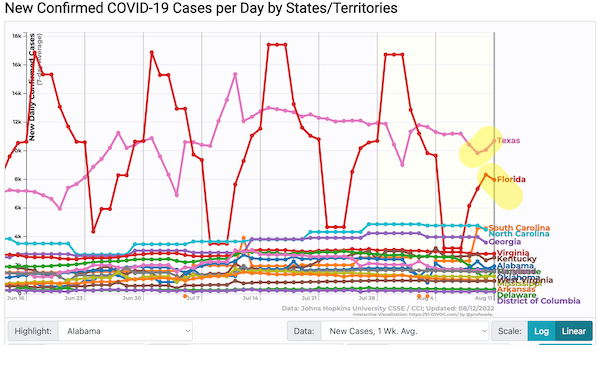 The South (minus Texas and Florida):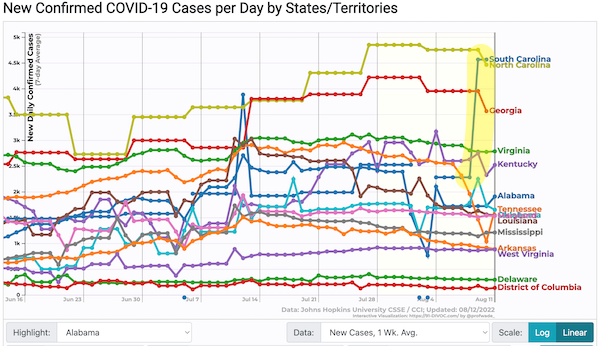 Encouraging on Georgia and North Carolina. Meanwhile, South Carolina found some cases in a drawer? I guess we'll have to wait a week to find out!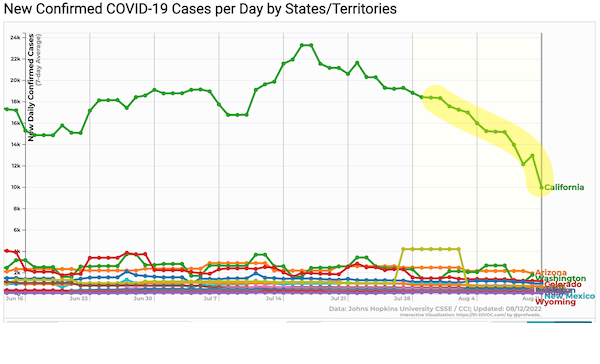 As a check on the California case data, here is San Diego wastewater as of August 10 (a big data dump today):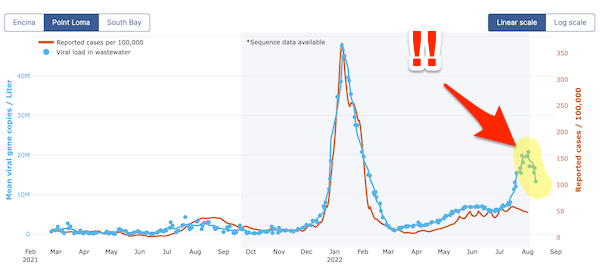 We can see that case counts tracked wastewater nicely starting back in Fenruary 2021. As of ~July 15, 2022, they diverged. Why? (The same is also true for Encina and South Bay, although the curves are shaped differently.) Do we have any California wastewater mavens who can track down whether the same is happening in other cities? (We need the case count vs. wastewater comparison, not just wastewater.) Is this an interesting catch, or just a glitch?
UPDATE New data, and the wastewater count drops (though not in alignment in cases). San Diego is both a tourist town, and close to the Mexican border (i.e., workers come from over the border). The surge begins July 4 and peaks roughly August 1. There are a number of events over that span — July Fourth Fireworks, Pride, ComicCon — I'm wondering if we could have spotted the first peak in the wild where the infected are tourists, who don't show up as cases or in hospitals? Readers, is this plausible?
NOTE To be fair, Santa Clara County covid figures are consistently down, much more in line with the case data. Ditto Los Angeles County (although CDC reports "no recent data" on its wastewater map; perhaps CDC is hooked up to this project from the California Department of Public Health, where there is no Los Angeles data charted after April 20 [bangs head on desk].) Neither have case data comparisons.
Positivity
From the Walgreen's test positivity tracker, August 9: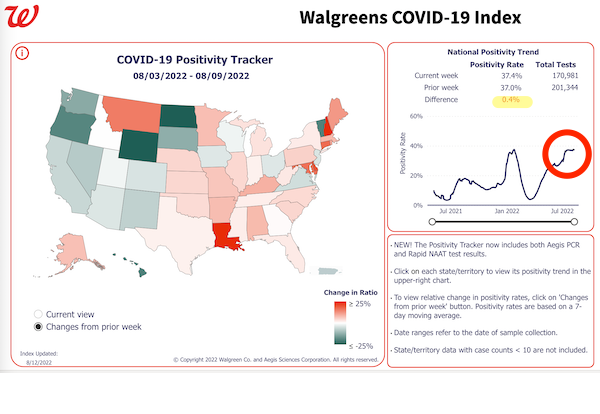 0.4%. (I wonder if there's a Keynesian Beauty Contest effect, here; that is, if people encounter a sympotomatic person, whether in their social circle or in normal activity, they are more likely to get a test, because they believe, correctly, that it's more likely they will be infected.) Starting to look like positivity has peaked, at least for Walgreen's test population.
Transmission
NOTE: I shall most certainly not be using the CDC's new "Community Level" metric. Because CDC has combined a leading indicator (cases) with a lagging one (hospitalization) their new metric is a poor warning sign of a surge, and a poor way to assess personal risk. In addition, Covid is a disease you don't want to get. Even if you are not hospitalized, you can suffer from Long Covid, vascular issues, and neurological issues. For these reasons, case counts — known to be underestimated, due to home test kits — deserve to stand alone as a number to be tracked, no matter how much the political operatives in CDC leadership would like to obfuscate it. That the "green map" (which Topol calls a "capitulation" and a "deception") is still up and being taken seriously verges on the criminal. Use the community transmission immediately below.
Here is CDC's interactive map by county set to community transmission. (This is the map CDC wants only hospitals to look at, not you.)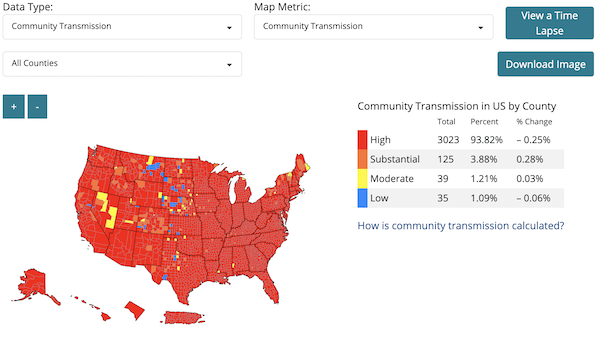 Some blue in flyover. Some orange in Maine, yellow in Nevada. Improving!
NOT UPDATED Rapid Riser data, by county (CDC), August 10: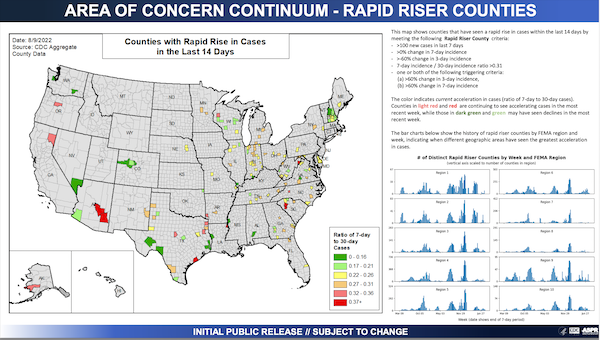 I'm almost ready to say "All is quiet." Boy howdy, does that feel weird. I suppose that if cases are indeed level, it's likely there would be few rapid risers.
Previous Rapid Riser data: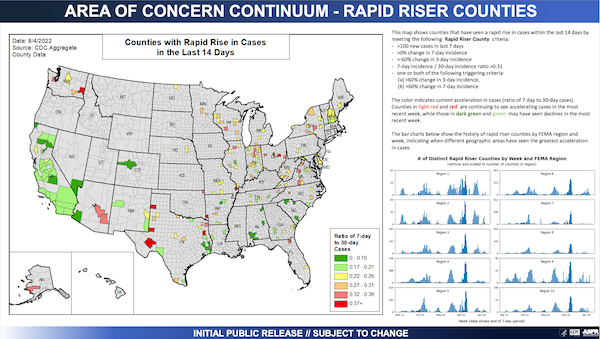 NOT UPDATED Hospitalization data, by state (CDC), August 10: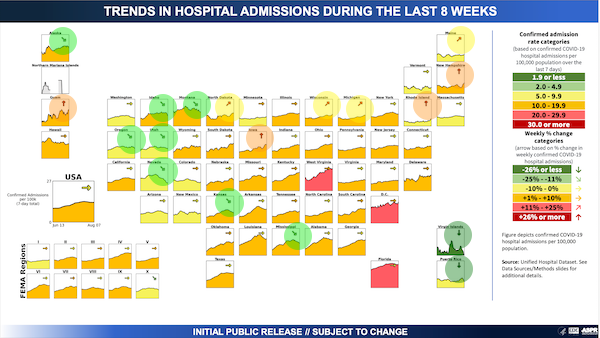 Volatile. What's up with the Northeast?
Lambert here: When the cut the frequency of these reports, they said the reports would come out Wednesday and Friday. Ah well. Enjoy performing your weekend personal risk assessments without current data.
Variants
Lambert here: It's beyond frustrating how slow the variant data is. I looked for more charts: California doesn't to a BA.4/BA.5 breakdown. New York does but it, too, is on a molasses-like two-week cycle. Does nobody in the public health establishment get a promotion for tracking variants? Are there no grants? Is there a single lab that does this work, and everybody gets the results from them? Additional sources from readers welcome [grinds teeth, bangs head on desk].
NOT UPDATED Variant data, national (Walgreens), July 30: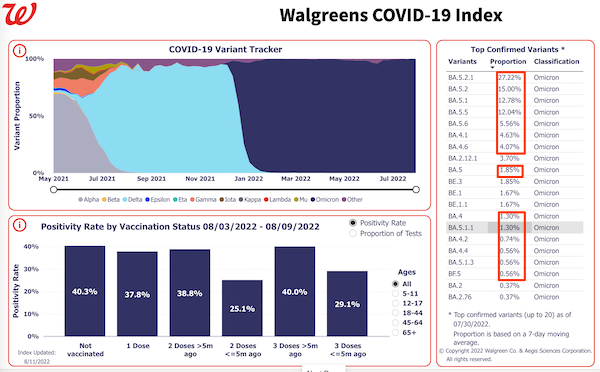 NOT UPDATED Variant data, national (CDC), July 23 (Nowcast off):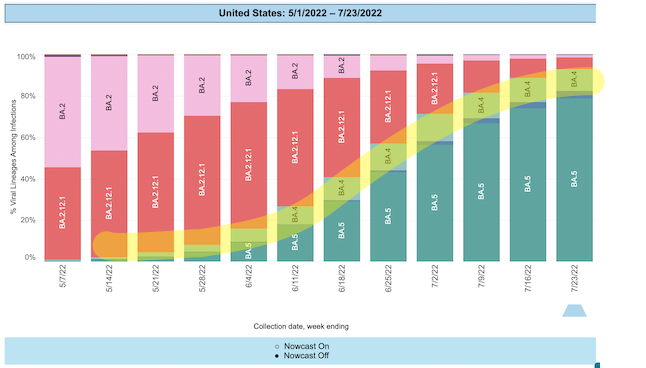 BA.5 moving along nicely.
Wastewater
Wastewater data (CDC), August 8: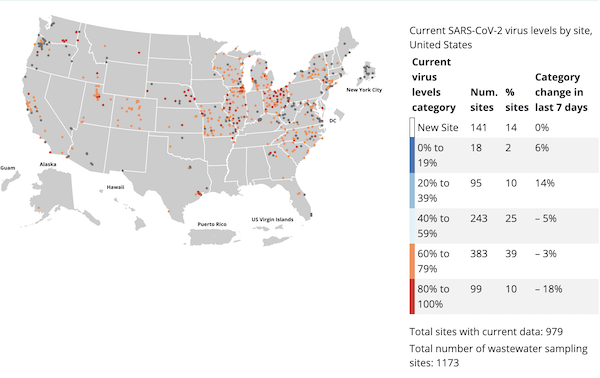 Many more orange dots, which is good news.
Lambert: I added grey. Grey, not on the legend at bottom right, is "No recent data." How is there no recent data for New York City, a major international hub and already the epicenter of at least one surge? How is there none for upstate New York, which only recently was full of rapid-riser counties? The same with West Virginia, Michigan, and Oregon. If I were the paranoid sort, I'd theorize that CDC moved in on the only accurate data source we've got, in order to corrupt and destroy it.
Lambert here: Maine also has grey dots, so its drop in transmission (CDC) although rise in positivity (Walgreens) can't be confirmed. What a PITA.
Deaths
Death rate (Our World in Data):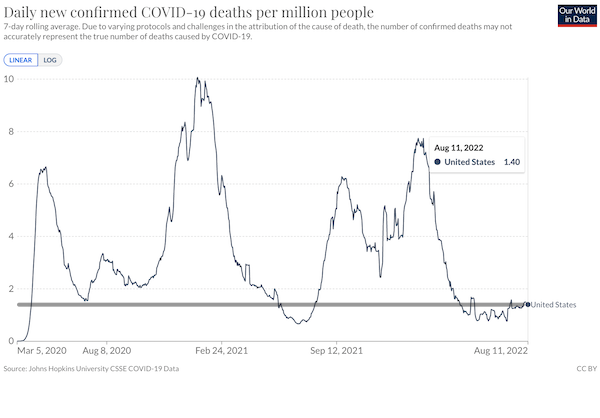 Lambert here: If in fact the drop in cases is real, as CDC seems to believe, we should start seeing deaths, which lag, drop around September 1.
Total: 1,061,346 – 1,060,755 = 591 (365 * 591 = 215,715; today's new normal. Fluctuates quite a bit, but even the low numbers are bad). I have added an anti-triumphalist black Fauci Line. It's nice that for deaths I have a simple, daily chart that just keeps chugging along, unlike everything else CDC and the White House are screwing up or letting go dark, good job.
• Alert reader Deschain asks: "Is it just me or do COVID deaths look like a cup-and-handle formation?" I don't know. Readers?
Stats Watch
There are no official statistics of interest today.
* * *
Tech: "Amazon's Roomba Deal Is Really About Mapping Your Home" [Bloomberg]. "Amazon.com Inc. hasn't just bought a maker of robot vacuum cleaners. It's acquired a mapping company. To be more precise: a company that can make maps of your home. The company announced a $1.7 billion deal on Friday for iRobot Corp., the maker of the Roomba vacuum cleaner. And yes, Amazon will make money from selling those gadgets. But the real value resides in those robots' ability to map your house. As ever with Amazon, it's all about the data. A smart home, you see, isn't actually terribly smart. It only knows that your Philips Hue lightbulbs and connected television are in your sitting room because you've told it as much. It certainly doesn't know where exactly the devices are within that room. The more it knows about a given space, the more tightly it can choreograph the way they interact with you." • I don't think it's choreography that's the point…
The Economy:
My favorite two industries to track from a job quality/productivity standpoint are goods-producing and professional/business services and those are absolutely booming and above pre-COVID levels. Compare with 2000-2010's: pic.twitter.com/sJgTMToi8E

— Conor Sen (@conorsen) August 6, 2022
* * *
Today's Fear & Greed Index: 54 Neutral (previous close: 52 Neutral) [CNN]. One week ago: 49 (Neutral). (0 is Extreme Fear; 100 is Extreme Greed). Last updated Aug 11 at 1:03 PM EDT. Mr. Market crusing on Dark Brandon?
Groves of Academe
"Inside Lockheed Martin's Sweeping Recruitment on College Campuses" [In These Times]. "To a casual observer, the Black Hawk and Sikorsky S-76 helicopters may have seemed incongruous landing next to the student union on the University of Connecticut's pastoral green campus, but this particular Thursday in September 2018 was Lockheed Martin Day, and the aircraft were the main attraction.: • "Lockheed Martin Day"?
Class Warfare
Good thread on the WASPs:
Younger righters want to enjoy the lifestyles of the decadent WASP class in 1950 without putting in the hard work that made that caste in the 1880s and 1890s

— T. Greer (@Scholars_Stage) August 12, 2022
I don't "identify as" a WASP. I am one.
They hate you. They really hate you:
This is how the elite think. I know this from school alums etc. They really do think and talk this way in private. They hate you, and they think it's good to replace you, and if it's bad for you it's because you deserve it. https://t.co/xqz4tFwxpS

— PEG (@pegobry) August 11, 2022
News of the Wired
"Have Scholars Finally Deciphered a Mysterious Ancient Script?" [Smithsonian]. "Today, only a handful of millennia-old scripts remain unreadable. Thanks to a team of European scholars led by French archaeologist Francois Desset, one of the last holdouts might finally be deciphered: Linear Elamite, an obscure system used in what is now Iran…. Elam was part of the world's first surge of cities to use written symbols to administer an increasingly complex society…. Writing systems employ a number of methods to express a spoken language. English, for example, uses Latin letters to express particular sounds, while Chinese is based on pictures, or logograms, with specific meanings…. Cuneiform and hieroglyphics use symbols denoting both sounds and logograms. But Desset argues that Linear Elamite takes an approach more like the modern alphabet. He concludes that the script draws solely on syllables, making it the oldest known writing system to do so." • Interesting.
Ever helpful:
There are two rules in life:

1) Never give out all the information.

— Prof. Feynman (@ProfFeynman) August 11, 2022
* * *
Contact information for plants: Readers, feel free to contact me at lambert [UNDERSCORE] strether [DOT] corrente [AT] yahoo [DOT] com, to (a) find out how to send me a check if you are allergic to PayPal and (b) to find out how to send me images of plants. Vegetables are fine! Fungi and coral are deemed to be honorary plants! If you want your handle to appear as a credit, please place it at the start of your mail in parentheses: (thus). Otherwise, I will anonymize by using your initials. See the previous Water Cooler (with plant) here. From RM: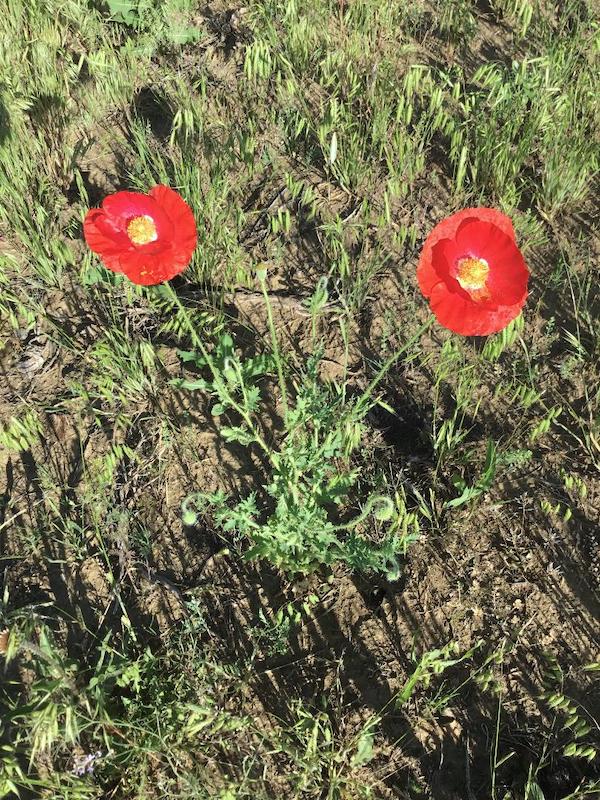 RM writes: "A couple poppies popped out this morning on my morning walk. They are so flashy and they look like they should be in town rather than where the cows graze."
* * *
Readers: Water Cooler is a standalone entity not covered by the annual NC fundraiser. So if you see a link you especially like, or an item you wouldn't see anywhere else, please do not hesitate to express your appreciation in tangible form. Remember, a tip jar is for tipping! Regular positive feedback both makes me feel good and lets me know I'm on the right track with coverage. When I get no donations for five or ten days I get worried. More tangibly, a constant trickle of donations helps me with expenses, and I factor in that trickle when setting fundraising goals:
Here is the screen that will appear, which I have helpfully annotated: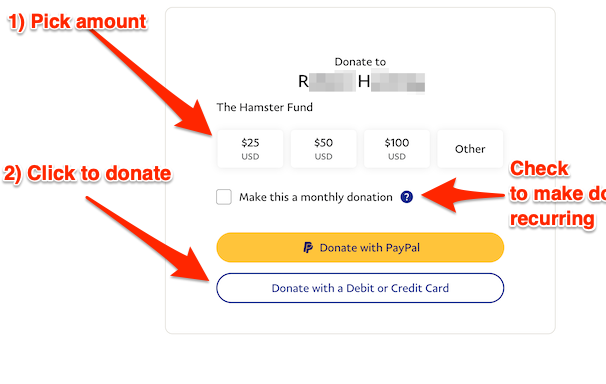 If you hate PayPal, you can email me at lambert [UNDERSCORE] strether [DOT] corrente [AT] yahoo [DOT] com, and I will give you directions on how to send a check. Thank you!