By Lambert Strether of Corrente
Bird Song of the Day
Samoan Triller, Aopo Village, Samoa. Forest sounds.
* * *
Politics
"But what is government itself, but the greatest of all reflections on human nature?" –James Madison, Federalist 51
"They had learned nothing, and forgotten nothing." –Charles Maurice de Talleyrand-Périgord
"Here's food for thought, had Ahab time to think; but Ahab never thinks; he only feels, feels, feels" –Herman Melville, Moby Dick
Capitol Seizure
"Congress left with more questions than answers on missing Jan. 6 texts" [The Hill]. "[L]awmakers remain baffled by the chain of events that led to the missing messages nearly a month after their deletion was first disclosed, including Secret Service's policy surrounding texting, and whether the department has made any effort to recover the messages." • The walls were closing in!
"Liz Cheney's Kamikaze Campaign" [The New Yorker]. "Cheney also helped shape an unmistakable feature of the January 6th committee: a set of hearings backed almost exclusively by Democrats has become about the compromises and abdications of members of the Republican Party. For months, the staff often scheduled multiple depositions a day, and Cheney was a frequent presence in the room. ('I'm sure the staff experiences her as a bit of a control freak,' a committee source told me.) Cheney pushed for more Republican witnesses, and was on a first-name basis with some of the key figures of the insurrection, including the President's chief of staff, Mark Meadows, and his [Trump's] son-in-law, Jared Kushner. She understood intuitively the ways in which power flowed in Trump's White House. Jamie Raskin, a congressman from Maryland and a select-committee member, told me that Cheney had emphasized how many in the crowd likely believed the Big Lie, and how Trump and others close to him did not. 'Liz speaks fluent Republican—it's her native tongue,; Raskin said. 'She has really helped me to decode the ideological currents informing all the different sectors of the attack.' If Cheney made the Republican world more approachable for the committee, she also made the committee feel more approachable to Republicans. "
Biden Administration
"A Complete Breakdown of the Good, the Bad, and the Ugly in the Inflation Reduction Act" [Slate]. The deck:: "It's a devil's bargain, but it had to be." More: "The Inflation Reduction Act is the Walt Whitman of federal legislation: like the great American poet, the bill contradicts itself; it is large and contains multitudes. It represents the most significant climate investment in U.S. history, but it also paves the way for a massive expansion of oil and gas drilling on federal lands and in federal waters. It includes a new minimum tax designed to ensure that large corporations pay at least 15 percent of their profits to the federal government, but it also showers corporations in tax subsidies that will push many more firms' tax rates below 15 percent (and in some cases below zero). It is disappointingly modest in its aspirations, but it will arguably be—along with the Affordable Care Act—the most ambitious piece of legislation signed by a Democratic president in more than a half century." • "Most ambitious" is not the same as ambitious," sadly.

"The maddening coverage of the Mar-a-Lago search" [Columbia Journalism Review]. Headline material uninteresting. But this is an interesting nugget: "According to Michael Scherer, Ashley Parker, and Tyler Pager, of the Post, President Biden sat last week for 'a nearly two-hour private history lesson from a group of academics.' The conversation unfolded 'as a sort of Socratic dialogue between the commander in chief and a select group of scholars, who painted the current moment as among the most perilous in modern history for democratic governance,' the Post reports. The participants included Jon Meacham, Anne Applebaum (who writes for The Atlantic), Sean Wilentz, Allida Black, and Michael Beschloss (who is NBC's presidential historian)." • Not, perhaps, the historians I would have chosen. How about Thomas Frank? And speaking of Thomas Frank, he was on CNN the other day (!):
2022
* * *

"GOP tempers expectations for Senate majority" [The Hill]. "National Republican Senatorial Campaign (NRSC) Committee Chairman Rick Scott (R-Fla.) on Sunday acknowledged that it's 'going to be a hard year.' 'We have 21 Republicans up, only 14 Democrats,' he said on CBS's 'Face the Nation.' 'The Democrats are outraising us, but we have good candidates. And I believe Joe Biden is going to be our key here.'" • Churchill? Really?

"Reassessing the Race for the Senate" [Larry Sabato's Crystal Ball]. "Republican Senate candidates in many key races generally lack any officeholding experience, just like Trump before he was elected president in 2016. This is an important factor, particularly given that the key question about 2022's Senate elections is whether unproven Republican candidates can fully capitalize on what still appears to be a promising electoral environment for their party. The value of experience is ultimately in the eye of the voter. Some may prefer a fresh face who has more of a potential to upset the status quo; others may prefer a steadier, veteran hand. From a political perspective, candidates with no elected experience may not be prepared for the meatgrinder of a major campaign, and they may not withstand the scrutiny of vetting. On the other hand, those who do have elected experience tend to be better vetted, but they can carry electoral baggage of their own, like a voting record. On balance, Democrats seem likelier to prefer experienced candidates these days than Republicans…. [Back in 2014, while Republican] candidates did not all have at least some top-level elected experience to statewide office or to the U.S. House, the vast majority did, and even those who didn't were not total outsiders."

"Democrats close the gap in two post-Roe v. Wade special elections" [WaPo]. "Democrats over-performing in the second straight special election since Roe was overturned, in Minnesota's 1st Congressional District. Similar to Nebraska's 1st District just days after the court's action, Republicans still held the conservative-leaning seat but by a smaller margin than they'd like and by a smaller margin than in 2020. In Nebraska, the GOP won by six points in a district that Trump had carried by 15 in 2020. In Minnesota, the margin is currently four points in a district Trump won by 10." • Well, a win is a win….

MN: "Rep. Ilhan Omar defeats Don Samuels in Fifth District DFL primary race" [Star-Tribune]. "Democratic Rep. Ilhan Omar narrowly defeated former Minneapolis City Council Member Don Samuels in Tuesday's Fifth District DFL primary. 'Tonight's victory is a testament to how much our district believes in the collective values we are fighting for and how much they're willing to do to help us overcome defeat,' Omar said in a statement. Omar is seeking a third term to represent the reliably blue Fifth District seat that includes Minneapolis and nearby suburbs. 'We did have the right read on the voters,' said Samuels. 'But we just couldn't pull it off in the length of time we had.'" • Handy map comparing 2022 to 2024:

There's been some whinging about Omar not buying an TV ads; but what that means is that she beat Samuels with one arm tied behind her back, and has plenty of cash in the bank for an AIPAC onslaught, if things come to that.
2024
"Relieved Trump Thought Mar-A-Lago Raid Was About All The Bodies" [The Onion]. "But good for me! If they want to haul a bunch of boxes out of that place while walking upon the shallow, unmarked graves of people I've had tortured and killed, what do I care?" • And speaking of Mar-a-Lago:

This nugget at the end of @KatzOnEarth's newsletter today ("The Racket"–highly recommend subscribing!) made me spit out my coffee: https://t.co/TnyicqhzAB pic.twitter.com/gbEQ56FLE0

— Kevin Gannon (@TheTattooedProf) August 11, 2022

""The Whole Enchilada": Pundits Wrongly Claim the Mar-a-Lago Raid Could Disqualify Trump from Future Office" [Jonathan Turley]. "The claim is that the Justice Department may be actively seeking to use a charge to block Trump as the real motivation for this raid and possible charge. There is not a hint of concern over the FBI being used to achieve such a political purpose. That is putting aside the fact that, unless there is evidence of a "willful and unlawful" effort to conceal or retain such material, the FBI could end up an enchilada short of a combination plate for prosecution…. There are constitutional ways to impeach a president or to bar a former president from future office. The mishandling of official records is not one of them. … There is ample reason to doubt that the presidency would be deemed barred by statute in this fashion. What would not be in doubt is how such novel claim of disqualification would be received by millions of citizens already skeptical of the motivations of both the Biden Administration and specifically the FBI."

* * *

"10 House Republicans impeached Trump. Here's where they stand now" [The Hill]. ? = to come; Q = Quit; W = Win; L = Lose. Cheney, WY (?); Gonzalez, OH (Q); Beutler, WA (L); Katko, NY (Q); Kinzinger, IL (Q); Meijer, MI (L), Newhouse, WA (W); Rice, SC (L); Upton, MI (Q); Valadao, CA, (?). Quits: 4. Losses: 3. Wins: 1. To come: 2. So, I'd call that domination, but in fact the majority of Anti-Trumpers just left the field. That's not really the same as a winning streak, though 3 to 1 is a good record.

"Opinion Trump's primary winning streak shows he's still king of the GOP" [WaPo]. "Trump looked like he was on the ropes earlier this year. His early prominent endorsees, such as Sean Parnell in Pennsylvania and Mo Brooks in Alabama, faltered. Others were struggling to raise money, and his high-profile attempt to take down his arch nemesis, Georgia Gov. Brian Kemp, lost steam. It looked like Trump's hold over the GOP was finally beginning to fade. That's when he did a characteristically Trumpy thing: He gambled. He conferred his endorsement on candidates who were either behind in the polls or running against strong, well-financed establishment-backed Republicans. If these contests had gone south, Trump would have started to hear even more discontented rumblings. Instead, most of Trump's gambles have paid off. J.D. Vance and Mehmet Oz came from behind to win the senate primaries in Ohio and Pennsylvania, respectively, and Kari Lake and Blake Masters led a Trump-endorsed slate to victory in Arizona. His candidates won in House races, too. John Gibbs and Joe Kent won narrowly against two pro-impeachment Republicans in Michigan and Washington, while Dan Cox won Maryland's gubernatorial race against the candidate endorsed by outgoing Republican Gov. Larry Hogan."

* * *

"Will Joe Biden Run in 2024? If He Does, It's a Failure of Vision By the Democratic Party" [Teen Vogue]. "Age is not an independent variable, unworthy of voter scrutiny or concern. It is inseparable from Biden's ideology, legislative approach, and reelection strategy. Old age is also the defining characteristics of the current Democratic Party. While this Congress is the oldest, on average, of any Congress in two decades, House Democrats claim almost twice as many members at or over the age of 65 as House Republicans. The top three Democrats in the House — Nancy Pelosi, Steny Hoyer, and Jim Clyburn — are among the oldest leaders in Congress. Their leadership is one of the reasons why Democrats are still stuck in the second half of the 20th century, clinging desperately to bygone coalitions and governance models. The septuagenarians of the Democratic Party have essentially brought flowers and speeches to a knife fight. While Republicans cheer on the destruction of Roe v. Wade, Democrats recite poems and criticize their own base. As white Christian nationalism becomes the defining feature of the political right, Democrats extol the virtues of bipartisanship, patience, and moderation. We live in a country where the people who are charged with responding to our escalating political crises are also the least likely to live with the long-term consequences. So, yes, age matters." • And then… we transition right into Rebecca Traister and Jamelle Bouie….
Republican Funhouse
"How the Claremont Institute Became a Nerve Center of the American Right" [New York Times]. "Much of the scholarly work at the Claremont Institute stems from the belief that the American founding is the culmination of centuries of Western political thought. But, thanks to a century of liberalism, the principle of self-governance has been replaced with a permanent class of unelected experts: the regulatory bureaucracy otherwise known as the administrative state. Members of Claremont wish to see the right take control of all three branches of government for a generation, dissolve certain federal agencies — break up the C.I.A., get rid of the Department of Education, shrink the Equal Employment Opportunity Commission — and also stop, as Anton wrote in 'Flight 93,' the 'ceaseless importation of Third World foreigners with no tradition of, taste for or experience in liberty.'" • Hmm. Ah well, The Democrats don't have anything like Claremont, so they'll have to make do with being the dominant faction in the press and the intelligence community….
Democrats en Déshabillé
I have moved my standing remarks on the Democrat Party ("the Democrat Party is a rotting corpse that can't bury itself") to a separate, back-dated post, to which I will periodically add material, summarizing the addition here in a "live" Water Cooler. (Hopefully, some Bourdieu.) It turns out that defining the Democrat Party is, in fact, a hard problem. I do think the paragraph that follows is on point all the way back to 2016, if not before:

The Democrat Party is the political expression of the class power of PMC, their base (lucidly explained by Thomas Frank in Listen, Liberal!). ; if the Democrat Party did not exist, the PMC would have to invent it. . ("PMC" modulo "class expatriates," of course.) Second, all the working parts of the Party reinforce each other. Leave aside characterizing the relationships between elements of the Party (ka-ching, but not entirely) those elements comprise a network — a Flex Net? An iron octagon? — of funders, vendors, apparatchiks, electeds, NGOs, and miscellaneous mercenaries, with assets in the press and the intelligence community.

Note, of course, that the class power of the PMC both expresses and is limited by other classes; oligarchs and American gentry (see 'industrial model' of Ferguson, Jorgensen, and Jie) and the working class spring to mind. Suck up, kick down.

* * *
Realignment and Legitimacy
Touches the heart:

Three mid-30's bros at St Vincent Wine Bar:

"When I die, I want my friends to scatter my ashes at the three places that mean the most to me: the Potomac, the Thames in London, and Long Island Sound, where I first learned to sail."

— Overheard District (@OverheardWDC) August 10, 2022

"Forget civil war. Think ongoing yearslong insurgency" [The Editorial Board]. "On the one hand, future violence will be part of a pattern of regular though intermittent violence that has been with us for years. On the other hand, it won't be a civil war, as such. It will be violence of the lone wolf variety that, again, has been with us for years. Takeaway: It's not a civil war. It's an insurgency – like wildcat terrorists planting roadside bombs to kill Iraqis and otherwise throw the Iraqi government into chaos. The Republican insurgency has been building for decades, first outside the party, then from the inside. It reacted and grew after Sept. 11. It reacted and grew after 2008. It reacted and grew after the Republican Party welcomed efforts by the Russian government to contribute to a long-term insurgent effort to 'take our country back' by sabotaging Trump's campaign opponent. And by the time Trump called on them to attack, they had been standing back and standing by long before Trump asked them to." • Clearly, we need a COIN operation on the right that works as well as NGOs do on the left.
#COVID19
Be careful to perform your personal risk assessment:
Before defecating in the drinking water, you may choose to test yourself for cholera with our DowsingRodTest™. This test can be self administered in only a few minutes, and has a sensitivity and specificity of 50%! #1854CholeraEpidemic #YouDoPoo

— Neoliberal John Snow (@NeoliberalSnow) August 11, 2022
* * *
If you missed it, here's a post on my queasiness with CDC numbers, especially case count, which I (still) consider most important, despite what Walensky's psychos at CDC who invented "community levels" think. But these are the numbers we have.
* * *
Case Count
Case count for the United States:
It's almost as if the West and the South dance the same stately quadrille as Texas and Florida.
Cases are undercounted, one source saying by a factor of six, Gottlieb thinking we only pick up one in seven or eight.) Hence, I take the case count and multiply it by six to approximate the real level of cases, and draw the DNC-blue "Biden Line" at that point. The previous count was ~107,500. Today, it's ~ 108,700 and 108,700 * 6 = a Biden line at 652,200 per day. That's rather a lot of cases per day, when you think about it. (Remember these data points are weekly averages, so daily fluctuations are smoothed out.) The black "Fauci Line" is a counter to triumphalism, since it compares current levels to past crises. At least we have confirmation that the extraordinary mass of case anecdotes we've seen have a basis in reality. However, I'm not seeing the volume of anecdotes I did on the Twitter. What are readers experiencing?
Regional case count for four weeks: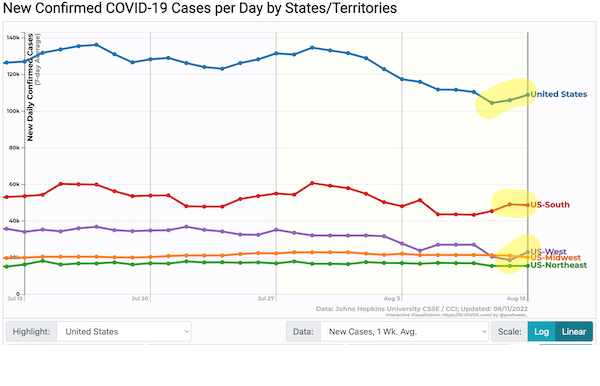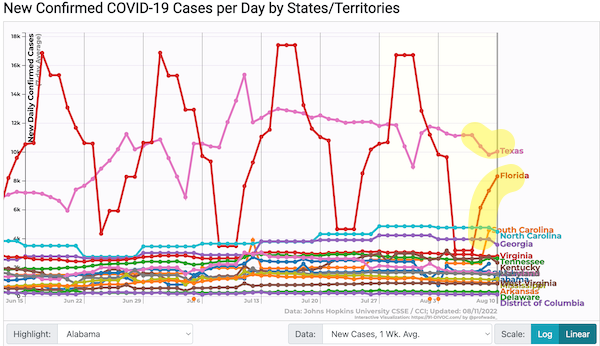 The South (minus Texas and Florida):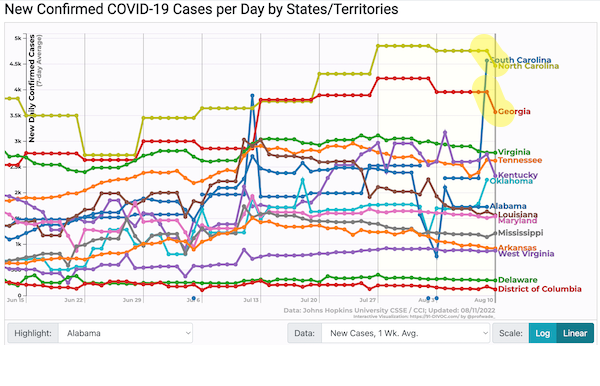 Encouraging on Georgia and North Carolina. Meanwhile, South Carolina found some cases in a drawer?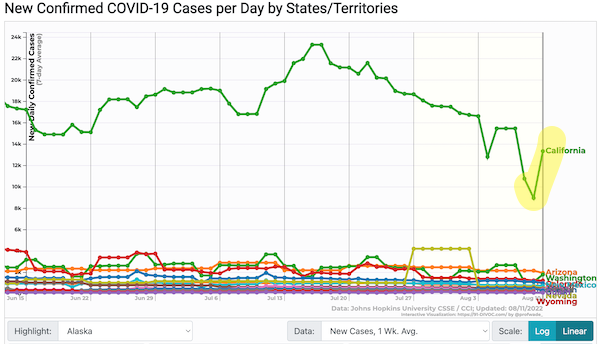 As a check on the California case data, here is San Diego wastewater as of August 2: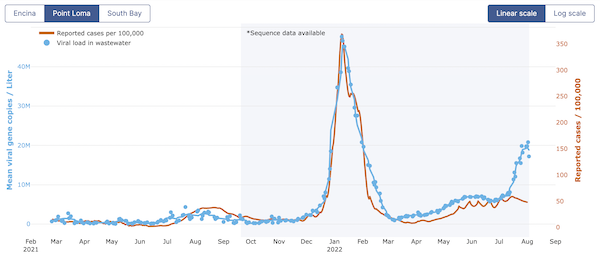 We can see that case counts tracked wastewater nicely starting back in Fenruary 2021. As of ~July 15, 2022, they diverged. Why? (The same is also true for Encina and South Bay, although the curves are shaped differently.) Do we have any California wastewater mavens who can track down whether the same is happening in other cities? (We need the case count vs. wastewater comparison, not just wastewater.) Is this an interesting catch, or just a glitch?
UPDATE To be fair, Santa Clara County covid figures are consistently down, much more in line with the case data. Ditto Los Angeles County (although CDC reports "no recent data" on its wastewater map; perhaps CDC is hooked up to this project from the California Department of Public Health, where there is no Los Angeles data charted after April 20 [bangs head on desk].) Neither have case data comparisons.
Positivity
From the Walgreen's test positivity tracker, August 9: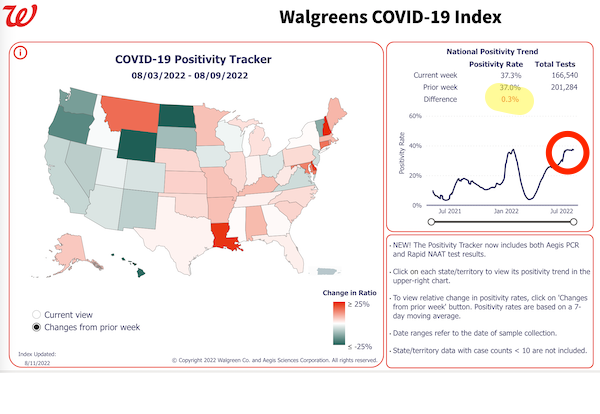 0.3%. (I wonder if there's a Keynesian Beauty Contest effect, here; that is, if people encounter a sympotomatic person, whether in their social circle or in normal activity, they are more likely to get a test, because they believe, correctly, that it's more likely they will be infected.) Starting to look like positivity has peaked, at least for Walgreen's test population.
Transmission
NOTE: I shall most certainly not be using the CDC's new "Community Level" metric. Because CDC has combined a leading indicator (cases) with a lagging one (hospitalization) their new metric is a poor warning sign of a surge, and a poor way to assess personal risk. In addition, Covid is a disease you don't want to get. Even if you are not hospitalized, you can suffer from Long Covid, vascular issues, and neurological issues. For these reasons, case counts — known to be underestimated, due to home test kits — deserve to stand alone as a number to be tracked, no matter how much the political operatives in CDC leadership would like to obfuscate it. That the "green map" (which Topol calls a "capitulation" and a "deception") is still up and being taken seriously verges on the criminal. Use the community transmission immediately below.
Here is CDC's interactive map by county set to community transmission. (This is the map CDC wants only hospitals to look at, not you.)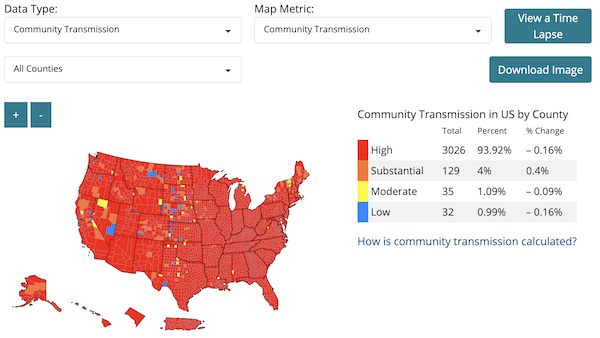 Some blue in flyover.
Rapid Riser data, by county (CDC), August 10: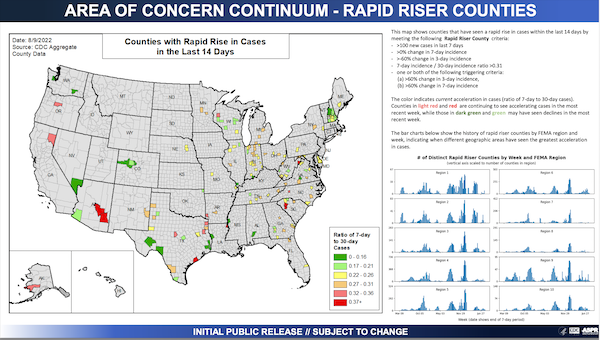 I'm almost ready to say "All is quiet." Boy howdy, does that feel weird. I suppose that if cases are indeed level, it's likely there would be few rapid risers.
Previous Rapid Riser data: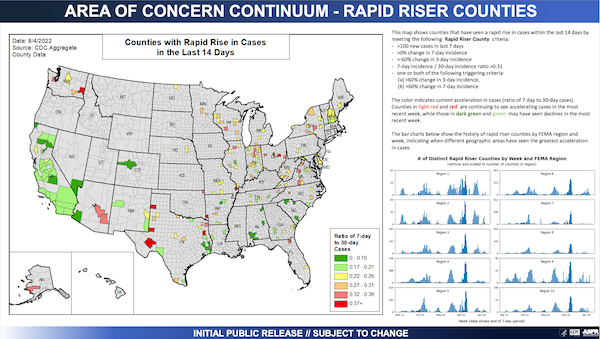 Hospitalization data, by state (CDC), August 10: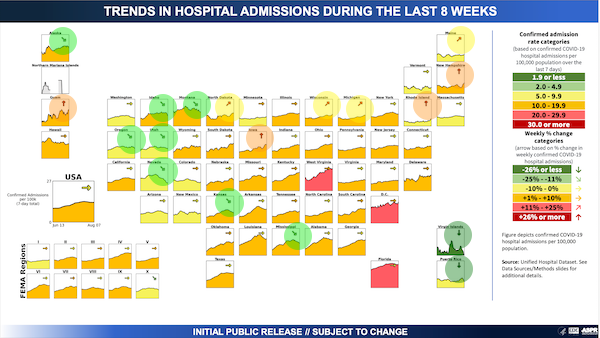 Volatile. What's up with the Northeast?
Variants
Lambert here: It's beyond frustrating how slow the variant data is. I looked for more charts: California doesn't to a BA.4/BA.5 breakdown. New York does but it, too, is on a molasses-like two-week cycle. Does nobody in the public health establishment get a promotion for tracking variants? Are there no grants? Is there a single lab that does this work, and everybody gets the results from them? Additional sources from readers welcome [grinds teeth, bangs head on desk].
Variant data, national (Walgreens), July 30: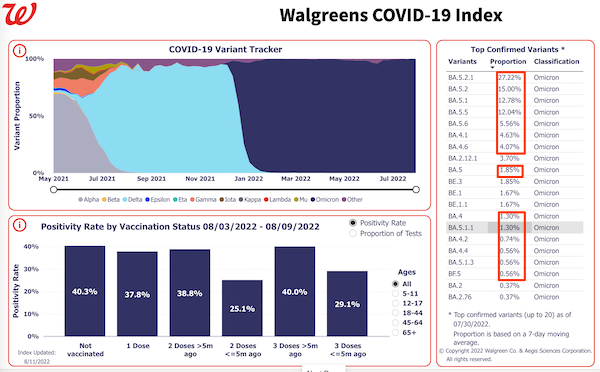 NOT UPDATED Variant data, national (CDC), July 23 (Nowcast off):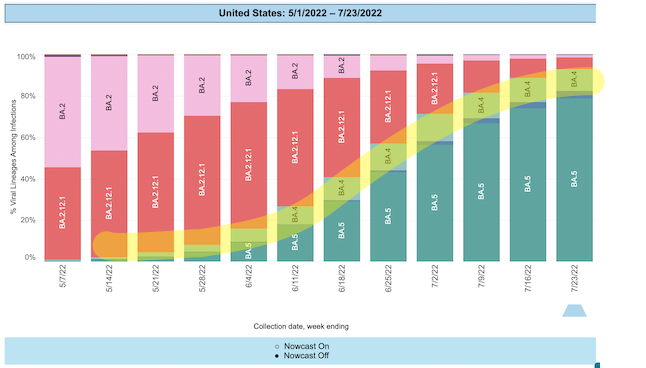 BA.5 moving along nicely.
Wastewater
Wastewater data (CDC), August 6: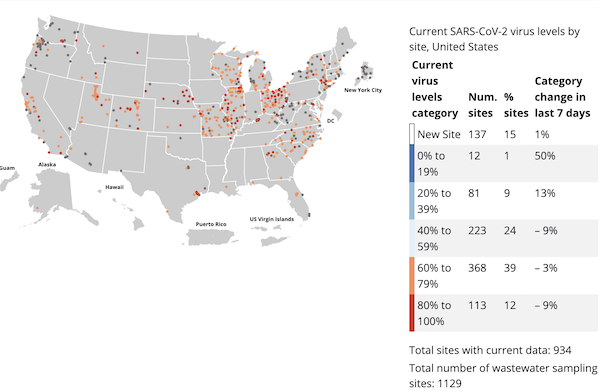 Red dots improved.
Lambert: I added grey. Grey, not on the legend at bottom right, is "No recent data." How is there no recent data for New York City, a major international hub and already the epicenter of at least one surge? How is there none for upstate New York, which only recently was full of rapid-riser counties? The same with West Virginia, Michigan, and Oregon. If I were the paranoid sort, I'd theorize that CDC moved in on the only accurate data source we've got, in order to corrupt and destroy it.
Deaths
Death rate (Our World in Data):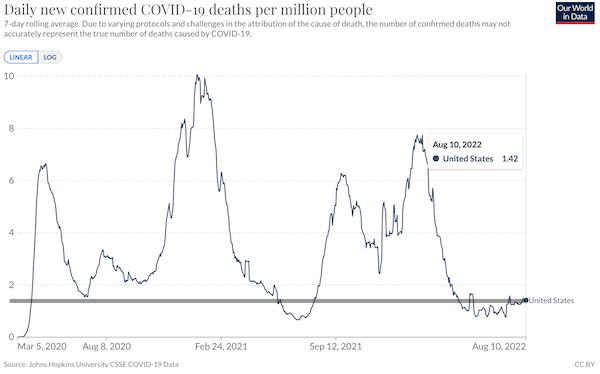 Total: 1,060,755 – 1,059,641 = 1114 (365 * 1114 = 406,610; the new normal. Fluctuates quite a bit, but even the low numbers are bad). I have added an anti-triumphalist black Fauci Line. It's nice that for deaths I have a simple, daily chart that just keeps chugging along, unlike everything else CDC and the White House are screwing up or letting go dark, good job.
Stats Watch
Employment Situation: "United States Initial Jobless Claims" [Trading Economics]. "The number of Americans filing new claims for unemployment benefits rose by 14 thousand to 262,000 the week that ended August 6th, slightly less than market expectations of 263,000 but hitting the highest since November."
Inflation: "United States Producer Price Inflation MoM" [Trading Economics]. "Producer prices in the US unexpectedly fell 0.5% month-over-month in July of 2022, following a downwardly revised 1% rise in June and beating market forecasts of a 0.2% increase. It is the first decline in the PPI in over two years, mostly due to a 16.7% drop in gasoline prices. Also, the cost of diesel fuel, gas fuels, oilseeds, iron and steel scrap, and grains moved lower."
* * *
The Bezzle:
#AsSeenInPrint Six of the world's most revered NFT artists come together in a physical exhibition in Stockholm, showcasing the best in digital renders and built environments.

Read the feature in our current issue. Shop now: https://t.co/DFnpOZLh66

Image: @sixnfive pic.twitter.com/YFYzWqviMt

— Aesthetica Magazine (@AestheticaMag) August 11, 2022
"Revered NFT artists." BWA-HA-HA-HA-HA-HA!!!!!
* * *
Today's Fear & Greed Index: 53 Neutral (previous close: 51 Neutral) [CNN]. One week ago: 47 (Neutral). (0 is Extreme Fear; 100 is Extreme Greed). Last updated Aug 11 at 1:03 PM EDT. Mr. Market crusing on Dark Brandon?
Black Injustice Tipping Point
It seems that irony is not a strong suit of textbook writers for Christian home-schooling:
👀

A student exercise on American slavery from Doug Wilson's classical Christian curriculum, "Omnibus III: Reformation to the Present." This was published by Veritas Press in 2006 and is used by evangelical homeschoolers and classical Christian educators. pic.twitter.com/LJJLUoxDXl

— R.L. Stollar (@RLStollar) October 7, 2021
Class Warfare
"With less than 1 week left before emergency arbitration board issues ruling, US train dispatchers vote near-unanimously to authorize strike action" [WSWS]. "It is doubly significant that train dispatchers have voted to authorize a strike. These workers are responsible for setting the schedules for conductors and engineers, but their own numbers have likewise been decimated in recent years. Railroaders report that individual dispatch offices are responsible for vast swaths of the country, putting them in impossible situations and leading to chaotic and irrational scheduling."
News of the Wired
"Geometric Analysis Reveals How Birds Mastered Flight" [Quanta]. "Evolution has created a far more complicated flying device than we have ever been able to engineer," said Samik Bhattacharya, an assistant professor in the experimental fluid mechanics lab at the University of Central Florida.
* * *
Contact information for plants
: Readers, feel free to contact me at lambert [UNDERSCORE] strether [DOT] corrente [AT] yahoo [DOT] com, to (a) find out how to send me a check if you are allergic to PayPal and (b) to find out how to send me images of plants. Vegetables are fine! Fungi and coral are deemed to be honorary plants! If you want your handle to appear as a credit, please place it at the start of your mail in parentheses: (thus). Otherwise, I will anonymize by using your initials. See the previous Water Cooler (with plant)
here
. From SV: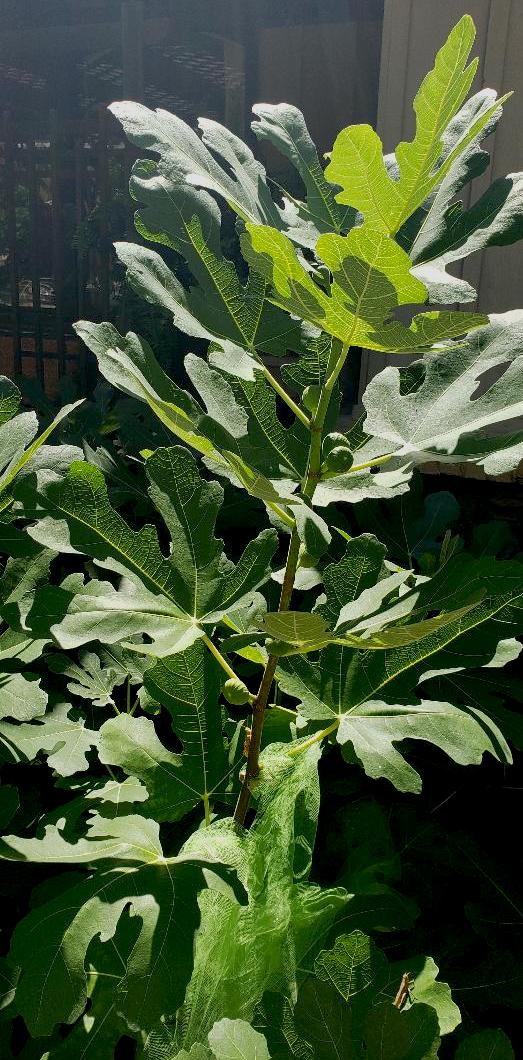 SV writes: "Spectacular year for Figs here in the Ozarks. I've a dozen trees but nothing like this in 20 years. Winter must have been milder than originally thought."
* * *
Readers: Water Cooler is a standalone entity not covered by the annual NC fundraiser. So if you see a link you especially like, or an item you wouldn't see anywhere else, please do not hesitate to express your appreciation in tangible form. Remember, a tip jar is for tipping! Regular positive feedback both makes me feel good and lets me know I'm on the right track with coverage. When I get no donations for five or ten days I get worried. More tangibly, a constant trickle of donations helps me with expenses, and I factor in that trickle when setting fundraising goals:
Here is the screen that will appear, which I have helpfully annotated: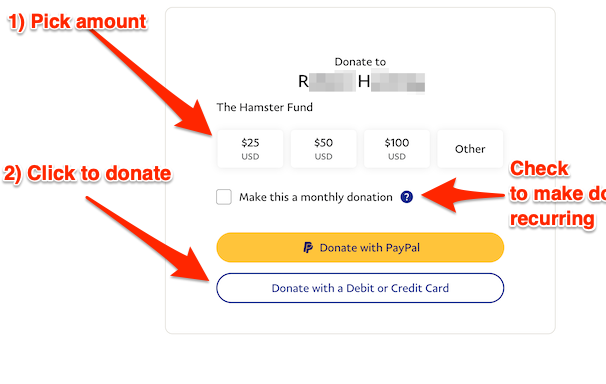 If you hate PayPal, you can email me at lambert [UNDERSCORE] strether [DOT] corrente [AT] yahoo [DOT] com, and I will give you directions on how to send a check. Thank you!