"Oh, let's make you look different!" says Haze Khadra. Perched on a marble counter, the Palestinian DJ/beauty entrepreneur/street-style star is using my face as a makeup-tester palette. Three small chess piece–like lipsticks are in her hands; she moves them strategically across my lips. Her eyes glint between green and yellow, like a cat's. "We try to keep our bubble very close," says her identical twin, Simi, a few weeks later. She's calling me from Beverly Hills, her voice hoarse from a weekend at Coachella. "There's public and there's private….When the lines blur between the two, that's when people start to have anxiety….[Before fame], I never had any issues."
"Before" begins on March 31, 1993, when Sama and Haya Abu Khadra were born in Saudi Arabia. (Simi and Haze were childhood nicknames, and—"for branding"—became their legal names, too.) Their mother, Rula, operated a fashion boutique in Riyadh, and by the time the twins were 14, they were tagging along with her to Paris Fashion Week. A few seasons and college semesters later, "we got to be in [Chanel's] The Little Black Jacket book, which was cool," Simi says. "But I was in the middle of finals when we had to go to Paris and shoot it. That was a whole drama."
Still, the twins graduated with honors. "Then we went to Coachella," Haze says, laughing. A friend asked them to deejay a party at the last minute, and they caught the eye of a major music manager. Instagram followers and fame followed, along with a ringlet-to-ring-light transition in the twins' aesthetic. In February, TMZ posted a video of The Weeknd appearing to kiss Simi. (Through their publicists, the twins would not discuss their love lives.) I do manage to ask how the sisters have cultivated so many famous friendships. Storm Reid and Tommy Genesis have been seen wearing their brand. Haze answers serenely, "It's just the times we live in, if that makes sense."
More From ELLE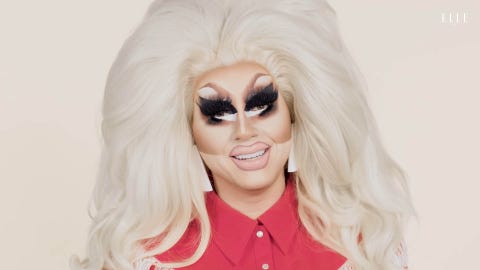 SimiHaze Beauty was born when the duo got tired of smooshing lipsticks together to create their desired formula. "Plus, we'd been putting stickers on our faces forever, because it's fun," Haze says. "But when we realized stickers could be eye makeup, it was this amazing epiphany." The brand's Eye Play Dance Packs and Eye Play Glitter Packs have sold out three times, and crashed the line's website before this year's Coachella.
The duo also created their first avatars—figures in neon catsuits with the cartoon eyes of a manga dream girl. "Don't you ever ask what's really real?" muses Haze when I ask about the twins' new interest in the metaverse. "Sometimes we feel like we're just floating in space."
"Some people don't think we're real people, anyway," sighs Simi, referencing the virtual hate mail lobbed by internet denizens. "When people meet us, they're like, 'Oh, okay, they're actually not monsters but really nice.'" There's a real sadness in Simi's voice here, along with an unspoken truth: In the ultramodern age, fame with a side of hate is the new definition of women "having it all." And it has a cost. In this case, it's a SimiHaze Beauty lip balm that goes for $28.
This article appears in the August 2022 issue of ELLE.
"Her beauty and her brain go not together." —William Shakespeare