Do you want to snuggle into your sleeping bag and listen to the waves crashing onto the shore – or maybe just gently lapping the sand? Toast marshmallows on a driftwood fire and watch the sun set over the Pacific Ocean?
Well, you may want to consider beach camping!
The California coast boasts some of the best seaside camping destinations in the world!
Tent camping in sandy areas is even more comfortable than sleeping in heavily wooded areas. Plus watching the sunset over the Pacific Ocean is almost surreal. 
California is full of natural beauty along its vast and very different coastline with wide sandy beaches and craggy rock faces. You can sunbathe by the shore, hike through sand dunes, surf waves, set up a picnic table and enjoy a bite with scenic ocean views.
Beachfront RV or tent camping provides budget-friendly and versatile accommodations to explore the area's fantastic beaches and nearby cities or towns too. 
Below is a list of several beautiful California beaches that are perfect for coastal camping including RV sites, plus a few essential things to know before your trip – including how to reserve campsites at state parks ahead of time.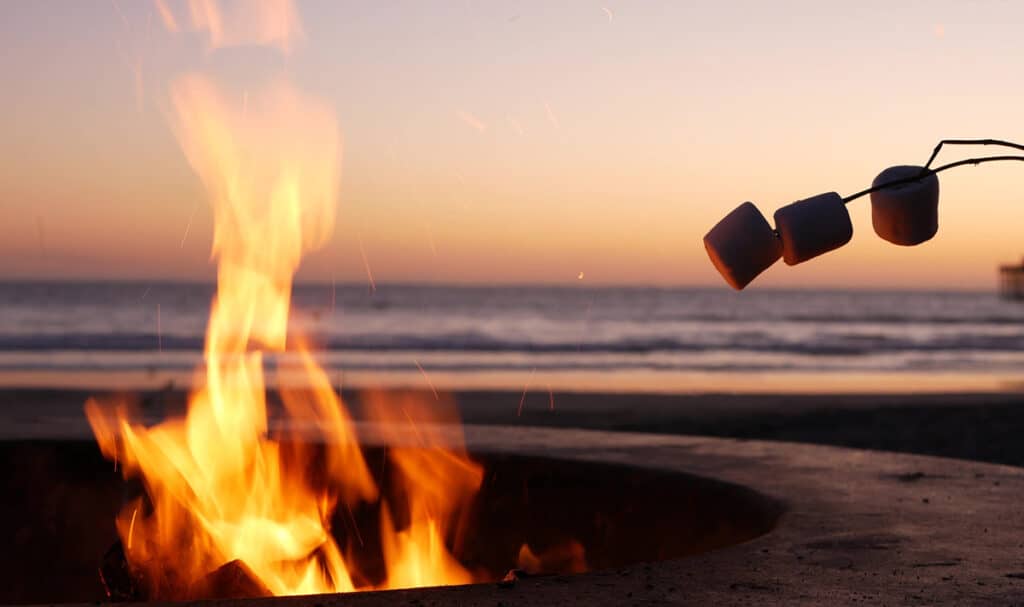 Things to know before you go beach camping
Avoid High Tides 
Remember, coastal camping is different from wilderness camping, particularly when it comes to terrain. Make sure you know where the high tide line is to avoid pitching your tent too close to the sea – unless you want yourself and your belongings swept out into the ocean overnight!
You can track the tides from your phone with the help of the Tides Near Me mobile app. 
Book your Campsite ahead of time
Over 280 outdoor parks are situated across the state, so this system is perfect for keeping track of upcoming accommodations.
It might even pay to reserve your campsite up to six months in advance since they tend to fill up quickly. The website also features tons of helpful information and expert tips you'll enjoy. 
You can claim a spot at any of the seaside parks and campgrounds featured on this list using Reserve California.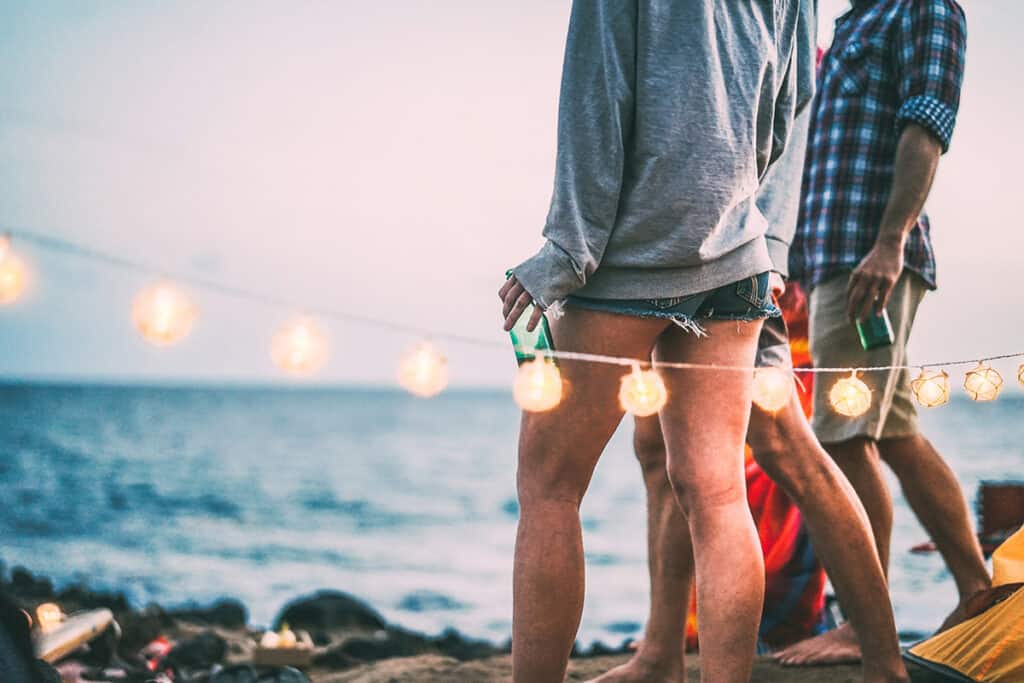 Come Prepared!
Like a good Girl Guide, you will need to be prepared and will likely need a few different supplies for beach camping outside of the woods, lake camping gear.
It may be a good idea to pack portable air dusters and outdoor blankets to prevent excess sand from reaching your tent. Furthermore, sneaky sand fleas hide beneath many of California's beaches, so that large tarp or plastic sheet will be super handy.
Remember to pack close-toed shoes to walk so that you can walk around the beach at night without any worries. 
Keep the Beaches Clean 
California is a prime destination for outdoor adventure trips, thanks to the region's numerous scenic state parks. But to keep it sustainable, visitors must do their part to keep these areas clean for wildlife and others.
Of course you know this, but take a little plastic bag for your trash, whether hiking along a waterfront trail or sunbathing near your campsite, to take it home.
Remember: Take only photos, leave only footprints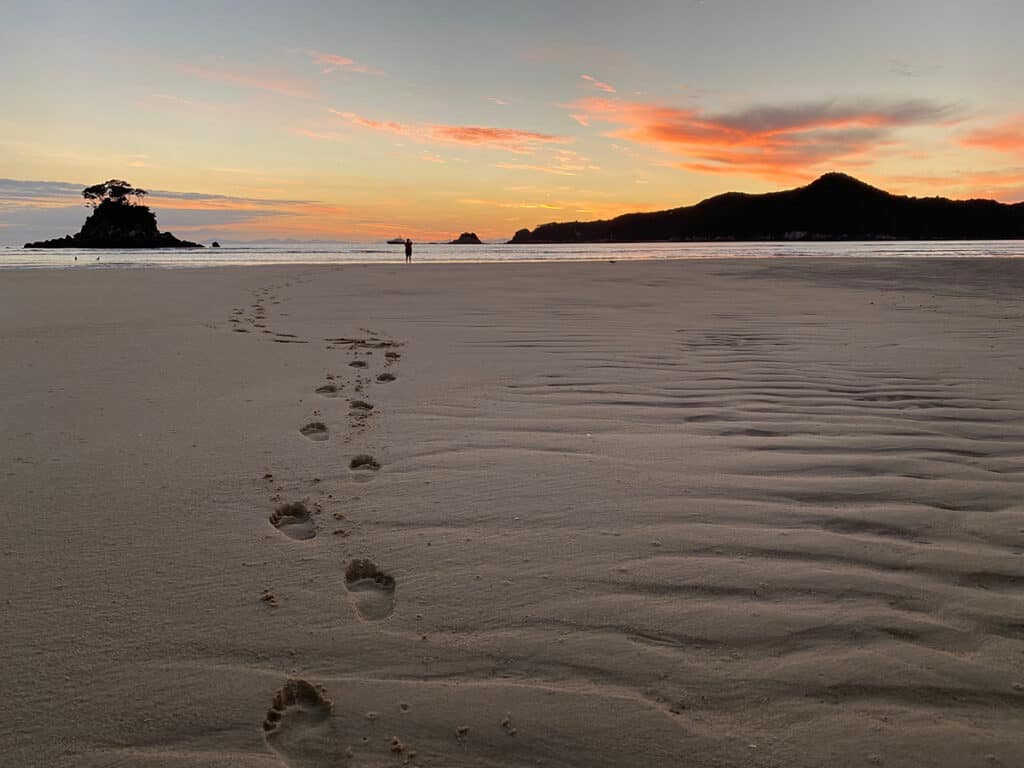 Are you using Firefox? Did you know you can save these blog posts to your Pocket to read later!
Best places for beach camping in California
Huntington Beach
Huntington Beach is paradise for surfers (hence its nickname Surf City USA) and a prime spot to catch sick waves. It has a rich history, primarily rooted in surf culture that was introduced by Hawaiian travelers in 1885.
The coastal city is nestled between other noteworthy beach destinations like Long Beach and Newport Beach, which are easily accessible by car or bicycle.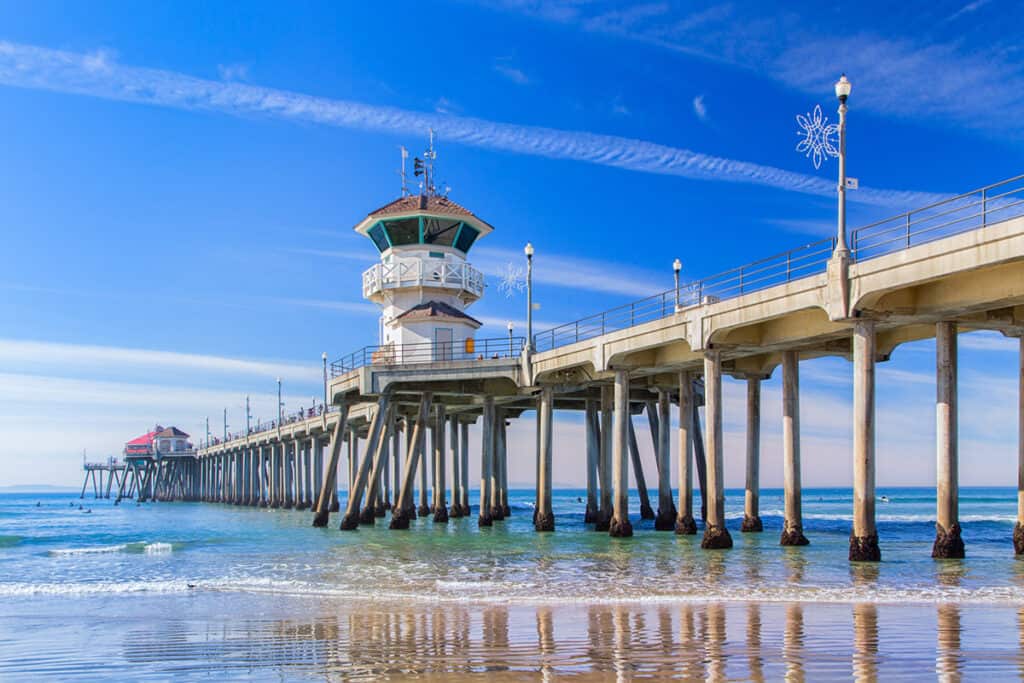 Surf City has much to offer tourists with its numerous attractions, restaurants, and lively nightlife scene right there on the beachfront main street.
You are sure to find some out-of-this-world seafood dishes near the pier, especially at Dukes or Sandy's Beach Shack. Downtown Huntington Beach also boasts a terrific dining scene featuring various cuisines.
A few other must-see sights in the area include the Bolsa Chica Ecological Reserve, International Surfing Museum, and of course, the landmark Huntington Beach Pier. 
There are quite a few oceanfront camping options available in Huntington Beach, especially for R.V. travelers.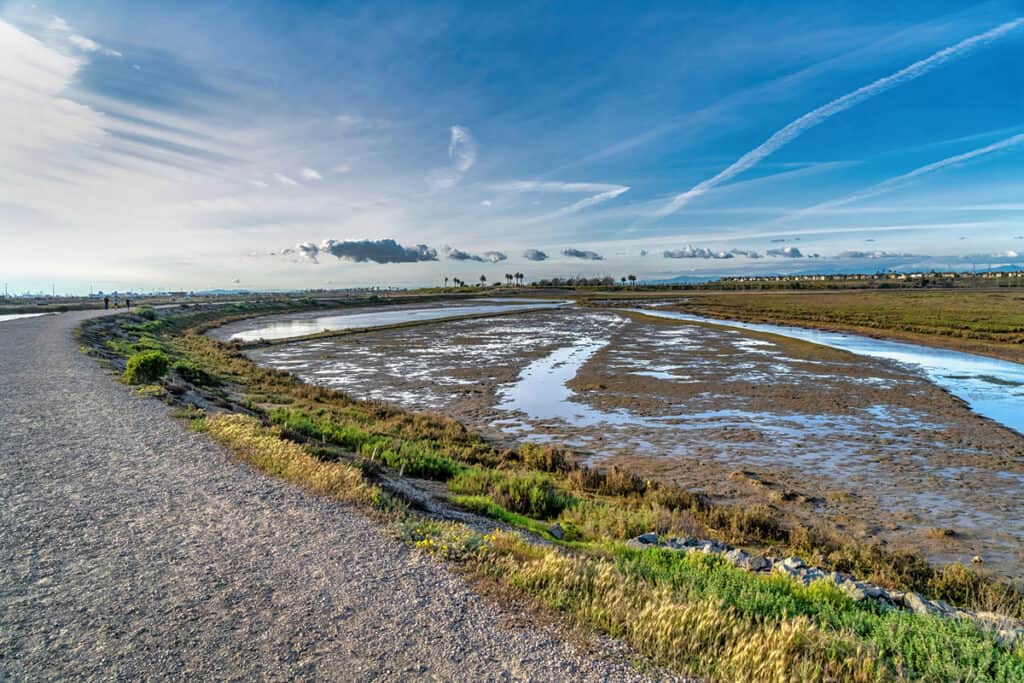 The Bolsa Chica State Beach Campground offers full R.V. hookup access, communal fire rigs, and operational restrooms with showers.
Another popular campground in the area is Sunset Vista R.V. Campground, which offers similar amenities. It is also a great spot for an oceanfront bonfire. Tent camping is unfortunately not permitted at either facility. 
Read more: Huntington Beach also features as one of these fabulous 12 day trips from Los Angeles!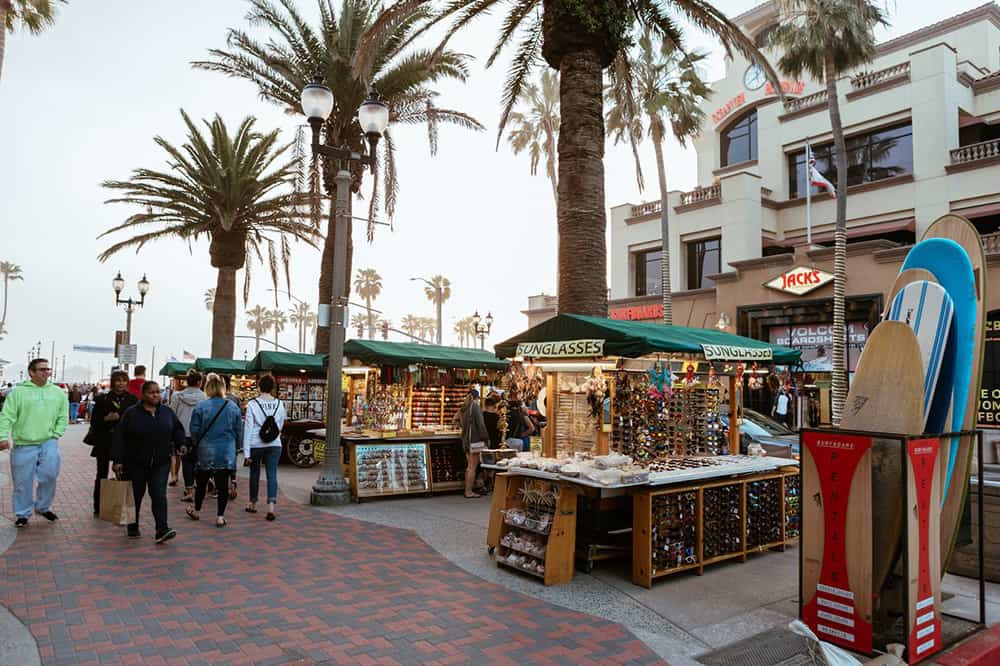 Silver Strand State Beach
Lovely Silver Strand State Beach in Oxnard is beloved by Ventura County locals and tourists alike.
If you're looking for beach camping San Diego sites, Silver Strand State Beach runs along a sandy barrier off San Diego and boasts a peaceful atmosphere and is extremely well-kept. You may also see a couple adorable California Sea Lions lounging around the rockier shore fronts.It is the dream setting for a romantic sunset picnic by the water.
Afterward, you may want to grab dinner at Sea Fresh Channel Islands to enjoy a couple of freshly shucked West Coast oysters.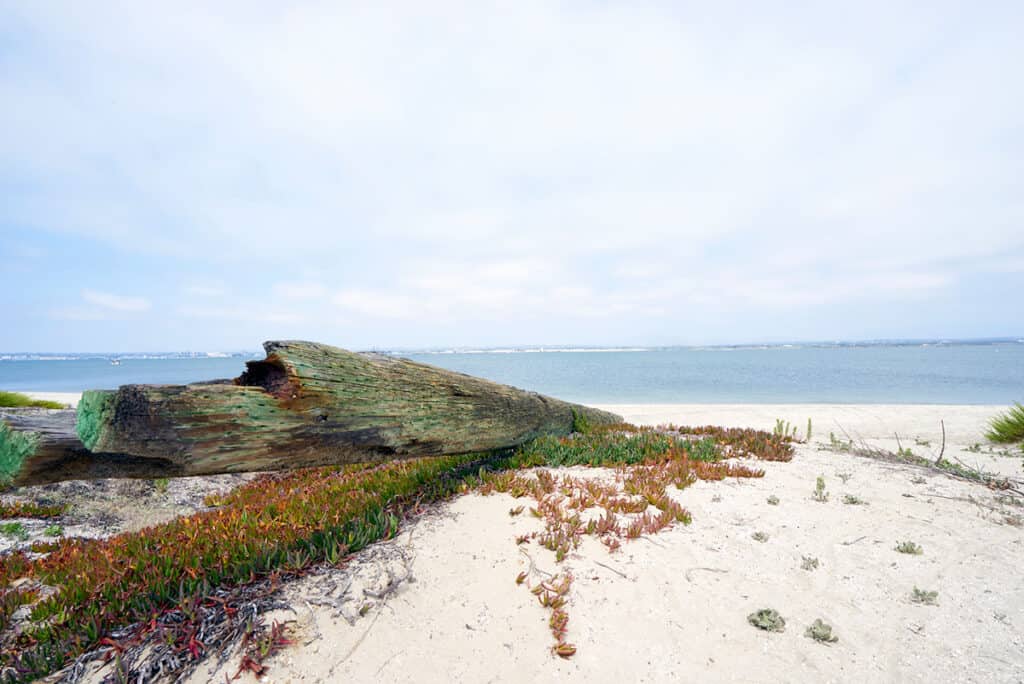 Silver Strand State Beach's campground is only accessible for R.V. and trailer travel. There are specific requirements your vehicle must maintain to visit, including a portable toilet and a built-in sink with an enclosed drainage system.
Each entire RV hookup campsite contains a picnic table and fire ring. Guests also have access to restrooms with flushable toilets. Although, if camping is not your thing, check out Loews Hotel of Coronado for their special beach setup package!
San Elijio State Beach
Nature lovers will appreciate all that San Elijio State Beach, in Encinitas San Diego, has to offer.
The beach is well-maintained to ensure the safety and preservation of its surrounding ecosystem. Various wildflower species are dispersed around the coast, including the California brittlebush and Coastal prickly pear. In addition, you will find many animals around the shore and hiking trails.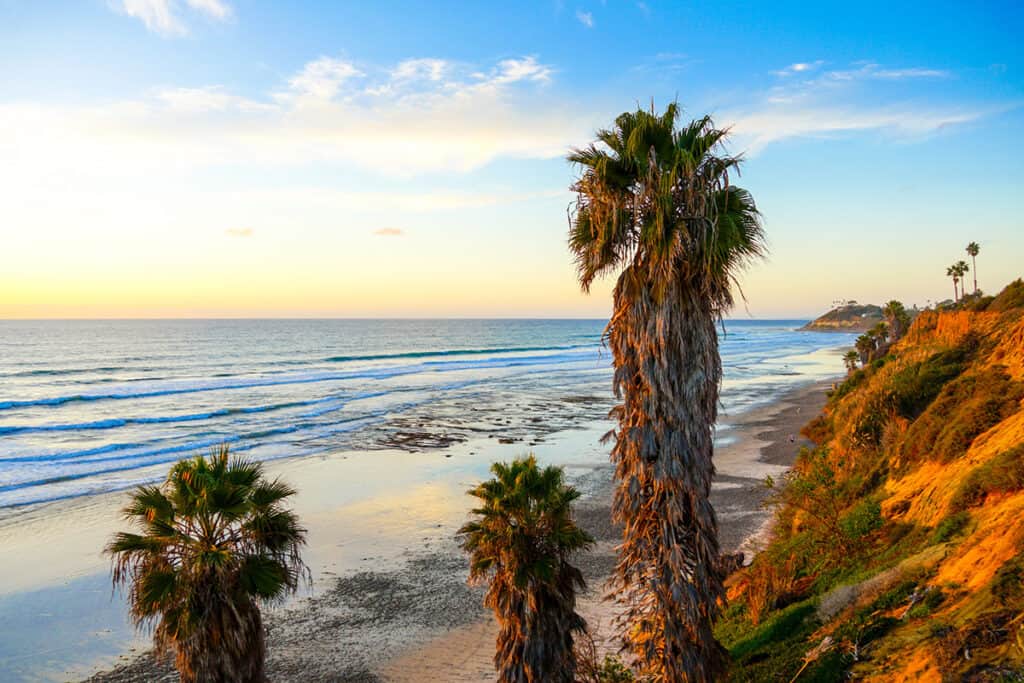 Be sure to stop by Annie's Canyon Trail for a memorable scenic hike that takes you through a beautiful sandstone slot canyon.
You may want to go snorkeling or scuba diving at Cardiff State Beach to see colorful coral and marine life up close. Experienced divers can swim down to underwater sea caves.
A fantastic nature preserve is about six minutes away from the state beach called San Elijo State Beach Lagoon Ecological Reserve and Nature Center.
You can view colorful plants and wildlife, such as coyotes, mule deer, and Southern Pacific Rattlesnakes. Although, you may not want to get too close to the latter. 
San Elijio State Beach Campground has around 170 oceanfront campsites with easy access to the beach. These sites offer full hookups, fire pits, picnic tables, and barbecue access. In addition, there is an amphitheater, gift shop, snack bar, and operational restrooms with flush toilets.
Dogs are allowed on the grounds and kept on a leash when outside. However, they are not allowed to enter the sandy state beach. 
Read more: You will love my post on 13 great things to do in San Diego if you're to be camping down this way.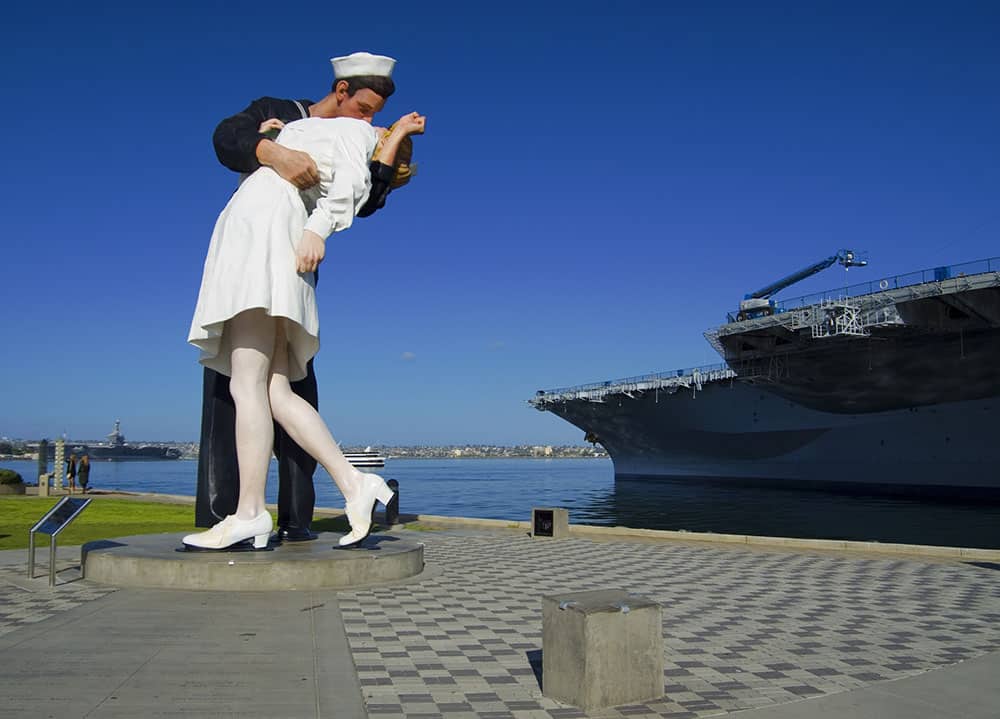 Crystal Cove Camping
This Southern California seaside state park is home to one of the most breathtaking beaches in the state. 
Like many others near Laguna Beach, Crystal Cove State Park has glistening clear blue water, several cliffs, and an abundant wildlife population.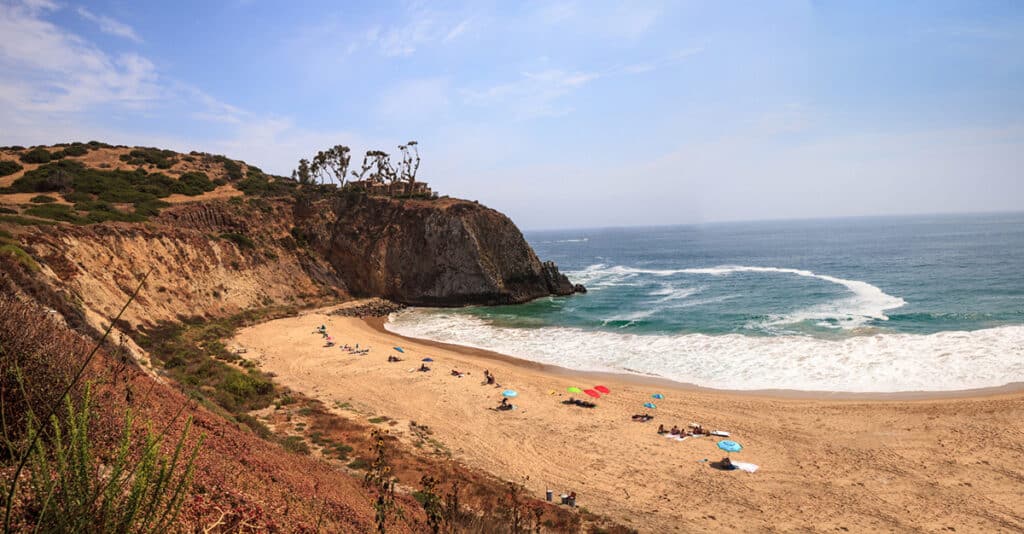 The beach is popular among water sport enthusiasts, especially kayakers, surfers, paddle boarders, and fishermen. Lastly, you cannot visit the state park without stopping by the famous Crystal Cove Shake Shack.
They have so many tasty diner-style food options and next-level ice cream shakes that come in various unique flavors. Overnight accommodations are available at Moro Campground inside the state park.
There are 57 campsites available, including 27 full hookup sites for R.V.s and trailers. All of the remaining sites are reserved for tent camping.
Visitors also have access to picnic tables and fully operating bathrooms. Cottage rentals are also offered in the Crystal Cove Historic District, a portion of the park with 46 coastal-inspired homes constructed as part of a late 1930s seaside colony.
All the cottages are colorful cozy and make a stellar backdrop for photographs. It is a stellar option for those looking to camp near the ocean without the commitment of sleeping outdoors. You can find more information about how to book a cottage or standard campsite via Reserve California.
Read more: Laguna Beach features as one of these fabulous 12 day trips from LA!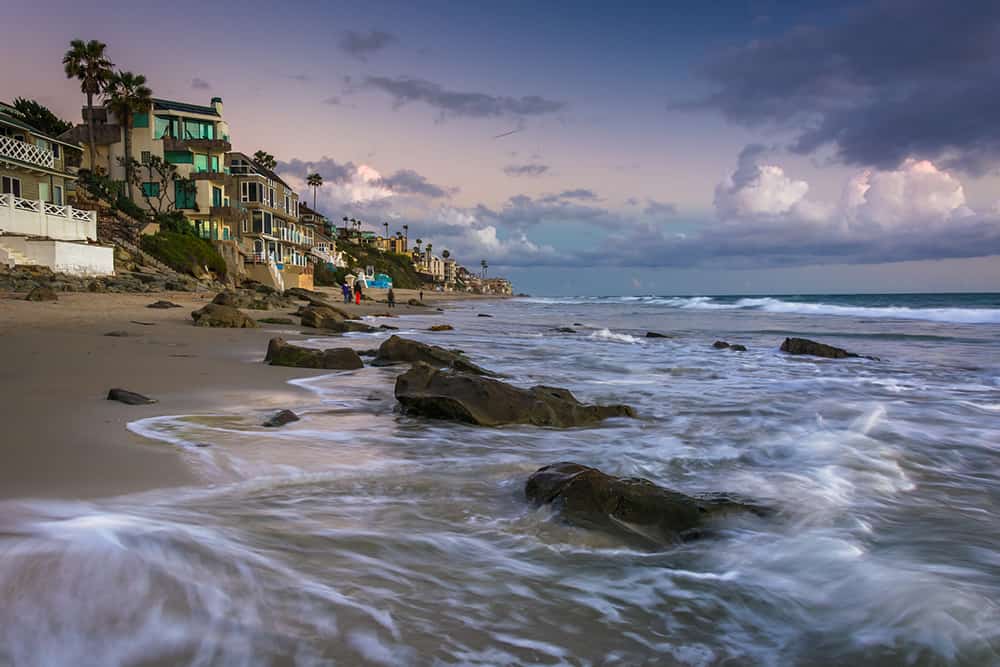 San Clemente State Beach
This fabulous beach is one of the most popular tourist destinations in California.
You'll find several intriguing sandstone crag formations throughout San Clemente State Beach to view and photograph. It is a terrific destination for outdoor activities like boating, fishing, hiking, surfing, and paddleboarding. 
I also recommend exploring the San Clemente Pier, which has many bars, eateries, and gift shops.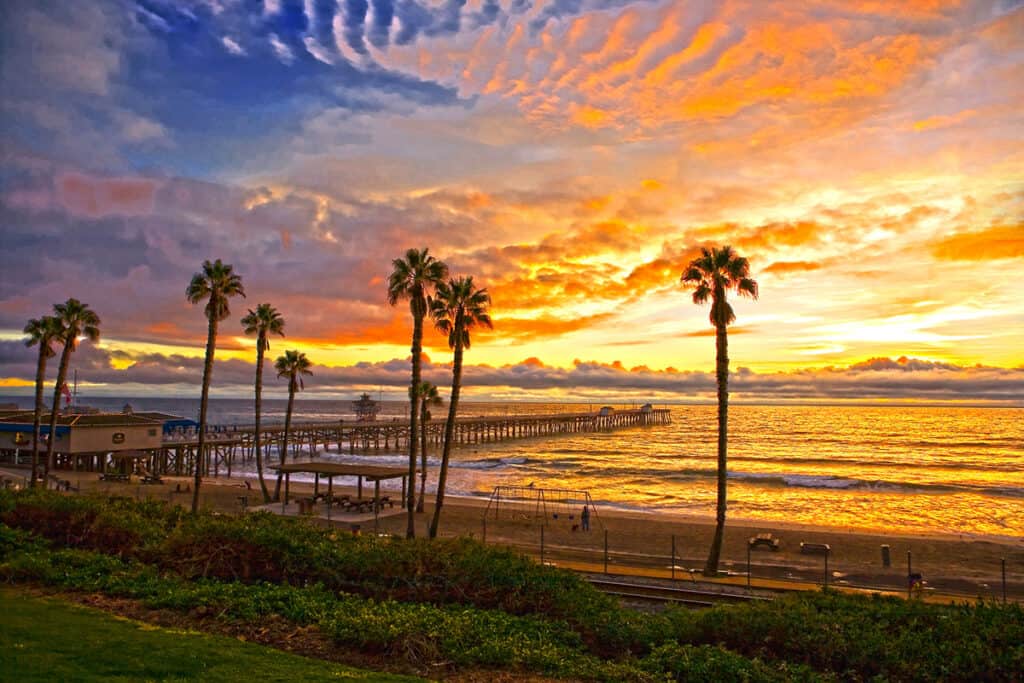 Some other popular attractions in the area include the Casa Romantica Cultural Center and Gardens, Sea Summit Trail, and Surfing Heritage and Cultural Center.
Experience San Clemente State Beach firsthand by making a reservation for an overnight trip. The campground features 160 sites, including approximately 72 with full R.V. hook up.
Each location offers guests an outdoor grill, picnic table, and fire ring. Plus, there are two hiking trails at the campground that will lead you directly to the beautiful San Clemente State Beach.
Pismo Beach Camping
The stunning Pismo State Beach is an ideal beach camping destination in California's Central Coast. There are plenty of family-friendly activities near the beach, from the playground at Dinosaur Caves Park to riding an ATV through the mind-blowing Oceano Dunes.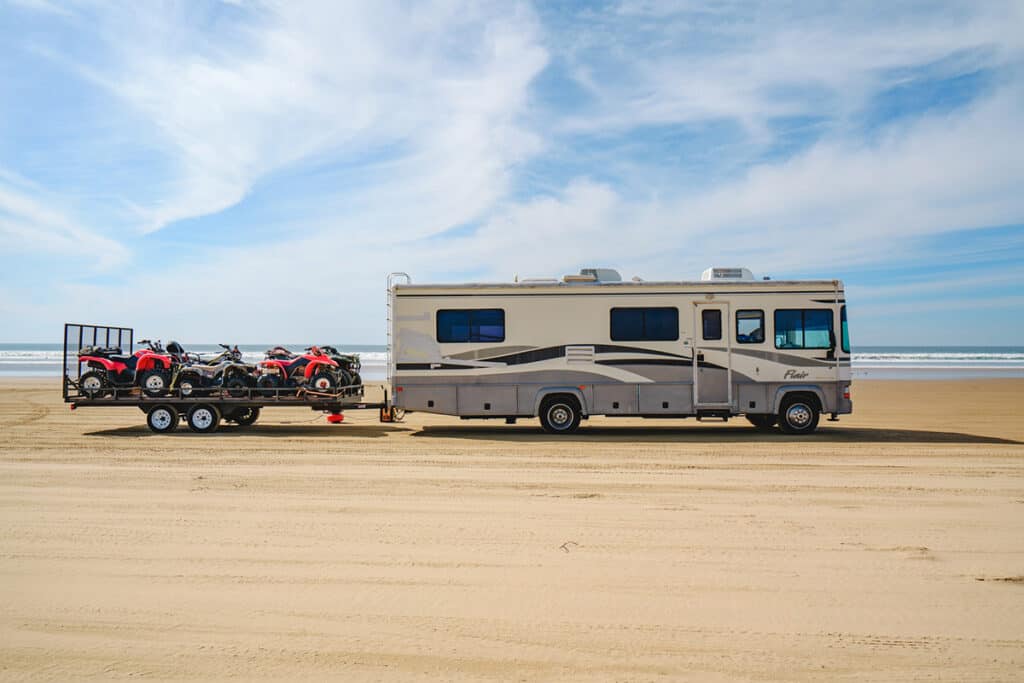 The spectacular Monarch Butterfly Grove is only a 3-minute drive away from the beach. Many butterflies flock to the area to escape harsh East Coast winters.
The Pismo Beach location hosts the largest colony that makes themselves right at home in the grove of Eucalyptus Trees. You can also view these butterflies in other parts of the state, including the Natural Bridges State Beach in Santa Cruz. 
I suggest reserving a spot at North Beach Campground located in the heart of Pismo State Beach. The coastal campsites have everything you need for a successful stay, such as outdoor grills, food storage lockers, communal fire pits, and picnic tables.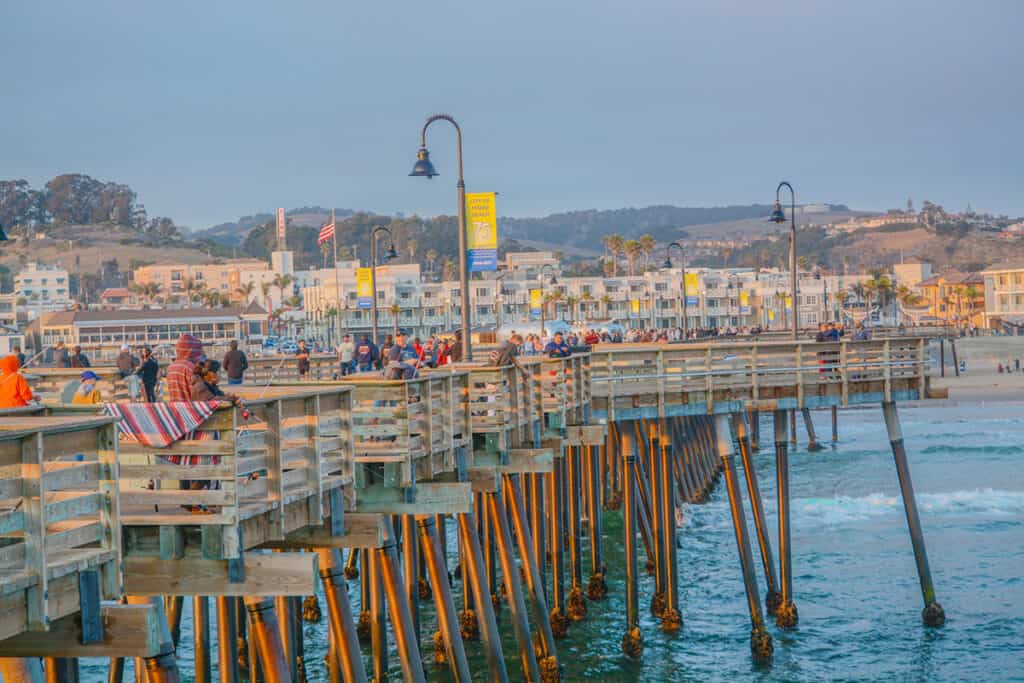 There are also restrooms with showers and flushing toilets on site. Park officials request that campers purchase firewood from the hosts or kiosks rather than gathering wood from around the park. It is another measure that the state government takes to ensure California's beaches stay pristine. 
Refugio State Beach
Refugio State Beach is a beautiful, laid-back destination complete with spectacular date palm trees lining the shores.
Even though the palms are not native to the area, they contribute to the beach's overall atmosphere. You will also find a nearby local gift shop where you can pick up souvenirs to remember your trip.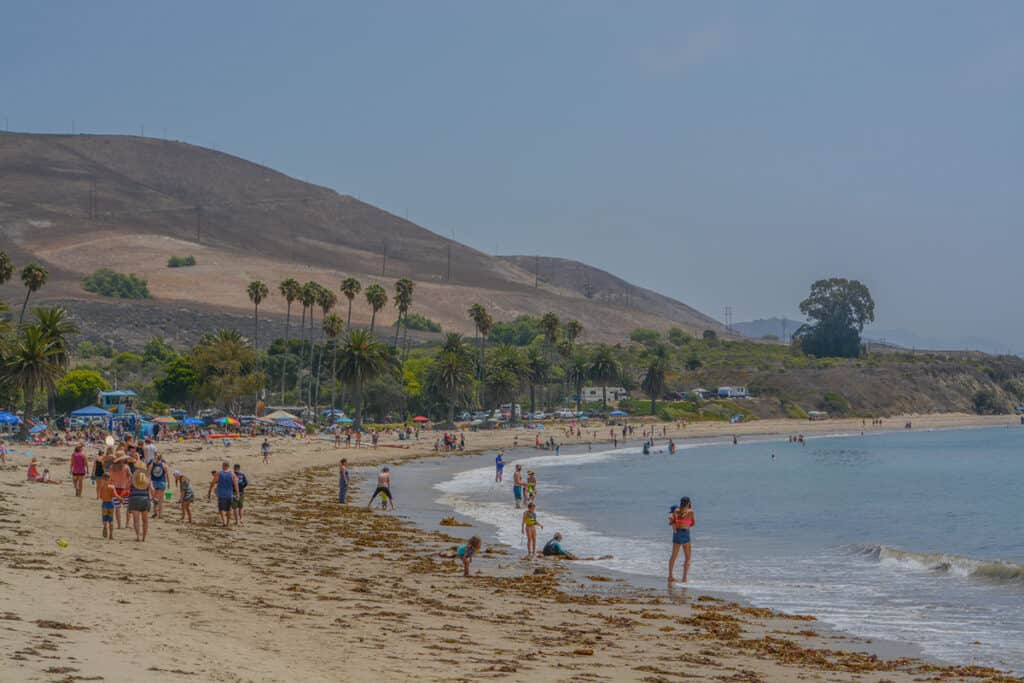 The beach is also only about a 30-minute drive to Santa Barbara. Thus, I totally recommend adding the prettiest city in California to your trip itinerary.
And there is so much to do in Santa Barbara, including sipping on wine at one of the region's numerous vineyards, shopping on State Street, and eating out in the Funk Zone – as well as that beach!
There are 66 campsites available at Refugio State Beach's campground. Both RV and tent camping are permitted. Picnic tables, fire pits, hot showers, and flushable R.V. hookups are available.
Unlike some of the other campsites on this list, Refugio State Beach Campground offers guests wireless internet access. It is also pet-friendly, so your fur babies are more than welcome to join you on your coastal camping trip!
Read more: Santa Barbara is one of my most recommended stops on this fab Pacific Coast Highway roadtrip. This itinerary starts in Los Angeles and ends in San Francisco in 5 fun days.
Pfeiffer Big Sur Campground
Recommended by Candice of CS Ginger
One of the best places to go beach camping in northern California is at Pfeiffer Big Sur Campground in Big Sur.
This is a beautiful part of California, just minutes away from the beautiful coast and there are plenty of fun things to do in Big Sur.
The campground is surrounded by beautiful redwood and sycamore trees as well and stunning coastal views from Pfeiffer Big Sur State Park.
There is a nearby 80-foot waterfall that makes for a really fun hike. If you want to be close to the Big Sur River, sites 171-189 are the best spots. 
There are 189 RV and tent sites in the campground along the Big Sur River as well as one cabin for rent.
This is a very popular place for camping so it is a good idea to make your reservation as early as you can. Reservations can fill up six months ahead of time, even in the colder months. 
If you are just passing through for the evening and need a place to stay, there is an en-route overnight parking area. It is for self-contained RVs only and the hours you can stay are from 5:00 pm to 9:00 am.
They also have specified spots for hiking and biking. There are hot showers and a dump station in the park as well as campfire programs offered on the weekends during the busy season.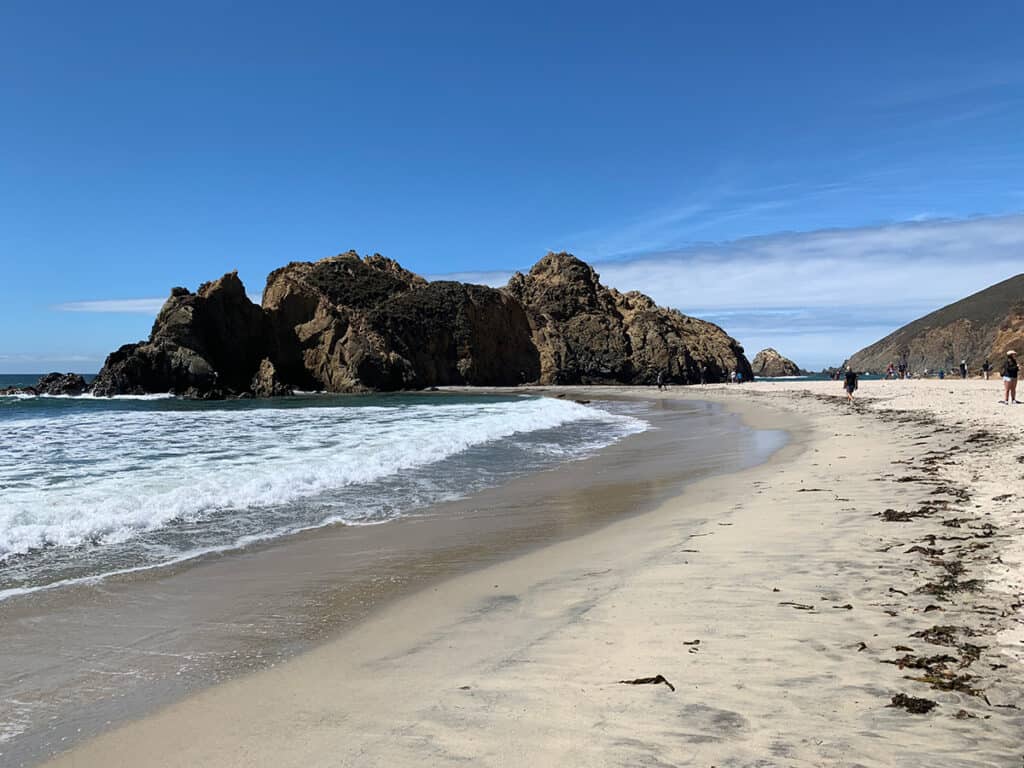 Wildcat Campground
Recommended by Mikaela of Voyageur Tripper
One of the best beach campsites near San Francisco is Wildcat Campground, a backpacking trip in Point Reyes National Seashore.
It's positioned on a flat, grassy piece of land just steps away from the beach, so you can hear the Pacific Ocean from your tent.
The big draw to Wildcat is its proximity to Almere Falls, the most popular attraction in Point Reyes. Almere Falls is one of only two tidal falls (waterfalls that empty directly into the ocean). Its cascading layers and 40 ft drop are beautiful.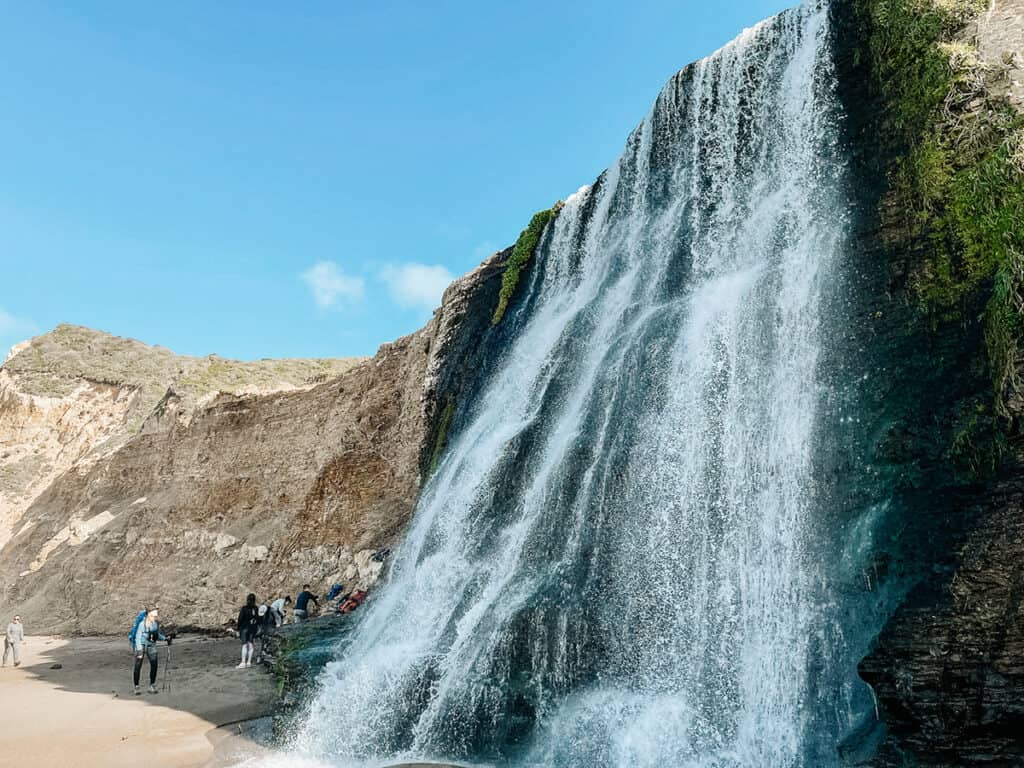 This is a hike-in camp, meaning there are no cars or RVs; there also aren't any cabins or roofed accommodations. You'll need to carry all of your gear to the campsite.
From the closest trailhead, this journey is about 5 miles. The trail is easy to follow, but uneven in parts and should be done by those with prior hiking experience.
The campground is equipped with a vault toilet and bear lockers. While basic, the beauty of a hike-in campsite is you'll be away from large groups of people and all manner of technology.
The campground has only eight campsites, but has an excellent view of the sunsets and stars.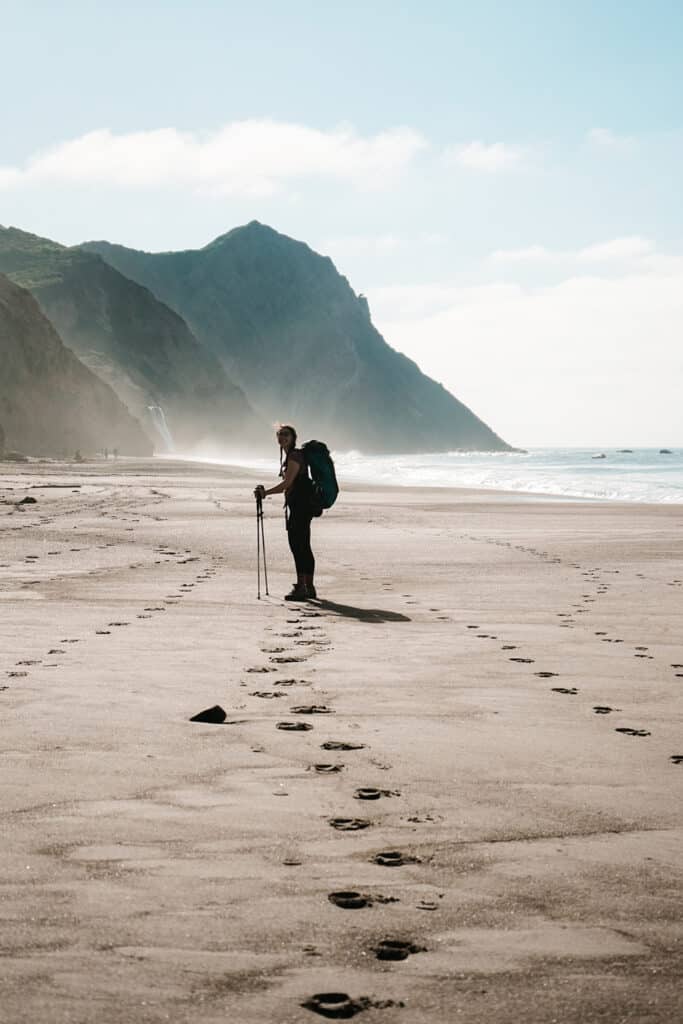 Doran Beach
This serene beach in Bodega Bay is a must-visit for families and couples seeking a relaxing oceanfront camping trip. It boasts several scenic hiking trails, paddleboarding, and bird-watching opportunities. 
Fun Fact: the area was actually the inspiration and setting for Alfred Hitchcock's 1960s horror film, The Birds!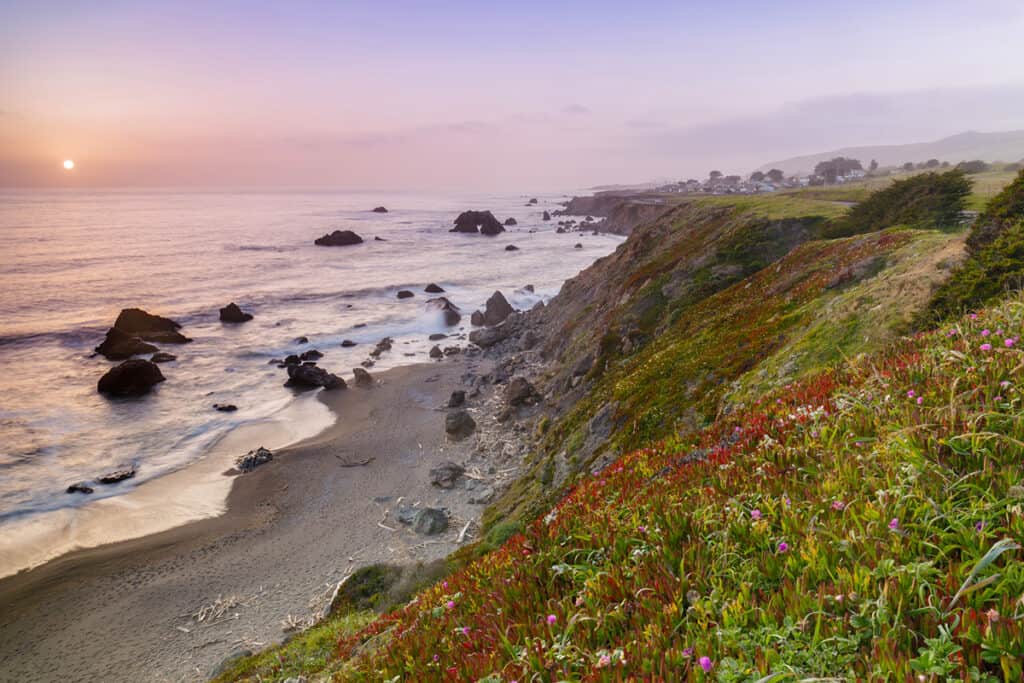 Doran Beach is also right in the middle of Sonoma Valley's iconic wine country. We recommend checking out a few wineries during your stay, like nearby Sonoma Coast Vineyards. It is an exciting daytime activity, especially after watching the sunrise above the beautiful sandy shores. 
You may camp in Doran Regional Park, which is conveniently bordered by the beach and Bodega Harbor. The park offers over 120 tent and R.V. campsites in four campgrounds: Cove, Gull, Shell, and Jetty.
Although, keep in mind that R.V. hookups are not available on the premises. Each site features a designated tent area, picnic table, and fire ring.
There are also restrooms equipped with flushable toilets, outlets, and showers. Showers are coin-operated and cost approximately $2 per five minutes.
The park is pet-friendly, but dogs must be kept on a leash at all times at the beach and campground. 
Read more: You might also like my post on lovely things to do in Sonoma >