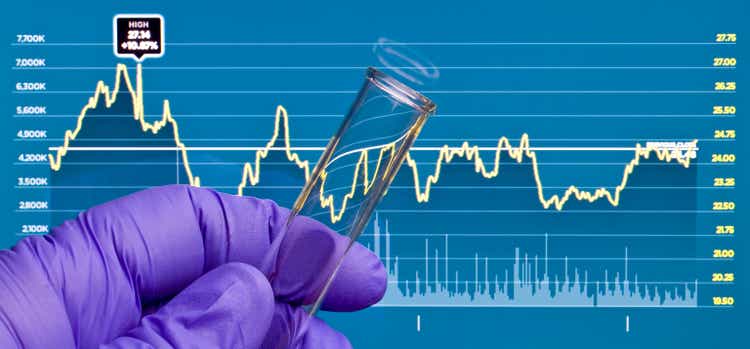 The biotech industry for the first half of the year had seen better six-month periods in the past, but the situation appears to have changed beginning in July.
From Jan. 1 to June 20, 2022, the SPDR S&P Biotech ETF (XBI) and iShares Nasdaq Biotechnology ETF (IBB) had returns of, -35% and -23%, respectively. However, from July 1 to August 5, the returns were, respectively, 10% and 6%.
Part of the reason for the upswing were strong quarterly results that were released in July and the start of August for many of the top biotechs. For example, Amgen (NASDAQ:AMGN) beat on the top and bottom lines, Gilead Sciences (NASDAQ:GILD) also had beats and raised its full-year guidance, and Moderna (NASDAQ:MRNA) not only had beats, but also announced a $3B stock buyback.
The biotechs with the biggest first half returns were Lantheus Holdings (LNTH) 129%, Veru (VERU) 92%, and Vertex Pharmaceuticals (VRTX) 28%.
Although many biotech companies are still down so far in 2022, that could change as management for many companies provided a sanguine outlook for the remainder of the year, including some guidance raises.
Although jitters related to the COVID-19 pandemic remain, they appear to be less of a concern. And for some companies — notably Moderna (MRNA), BioNTech (BNTX), and Novavax (NVAX) — COVID will be a boon for business. Incidentally, those three companies were among the worst biotech performers in H1 2022, with returns of, respectively, -44%, -42%, and -64%.
Another more recent public health concern — monkeypox — is likely to boost the fortunes of other players. This includes Bavarian Nordic (OTCPK:BVNKF) (OTCPK:BVNRY), the maker of the monkeypox vaccine Jynneos and SIGA Technologies (SIGA), which manufactures the smallpox antiviral Tpoxx (tecovirimat).
Although M&A activity in the industry in the first half of the year was modest, it looks likely to pick up, a prospect that could raise fortunes of some companies. The biggest deal then was the announcement in May of Pfizer's (NYSE:PFE) acquisition of Biohaven Pharmaceutical (BHVN) for ~$12B.
A recent PwC report found that through June 10, the $61.7B in life sciences and pharma deal year to date was a 57% decline from the the same period in 2021.
However, PwC sees more dealmaking in the back half of the year. "Increased scrutiny from the [FTC] around larger deals could mean that 2022 will be a year of bolt-on transactions in the $5 to $15 billion range as pharma companies take multiple shots on goal in order to make up for revenues lost to generic competition in the remainder of the decade."
The professional services firm added that large pharma is likely looking at earlier stage companies in an attempt to fill pipeline gaps that could start in 2024. "After some of the transformational deals that took place in 2021, expect pharma and life sciences companies to look for strategies to unlock value quickly."
Already, the second half of the year has seen a handful of large deals with some of them coming from large biotechs. On Thursday, Amgen (AMGN) announced a $3.7B deal to buy autoimmune disorders drugs biotech ChemoCentryx (CCXI). The same day, Gilead (GILD) said it would buy privately held biotech MiroBio for $405M.
In a bid to bolster its presence in diabetes, Vertex in July said it would acquire privately held biotech ViaCyte for $320M.
The biggest deal so far in the second half may be imminent. On Aug. 5, The Wall Street Journal reported that Pfizer (PFE) was in late-stage talks to buy Global Blood Therapeutics (GBT) for ~$5B.