By Lambert Strether of Corrente
Bird Song of the Day
Galapagos Martin, Galápagos, Ecuador. This recording is deservedly marked down because it's mostly the sound of waves on the rocky shore, although the birds are audible from "a rock ledge about 20 feet above the water." But I like that the recording was done on the Galápagos Island, and I really like the sound of the ocean.
* * *
Politics
"But what is government itself, but the greatest of all reflections on human nature?" –James Madison, Federalist 51
"They had learned nothing, and forgotten nothing." –Charles Maurice de Talleyrand-Périgord
"When the going gets weird, the weird turn pro." –Hunter Thompson
Capitol Seizure
"First on CNN: Jan. 6 text messages wiped from phones of key Trump Pentagon officials" [CNN]. "The Defense Department wiped the phones of top departing DOD and Army officials at the end of the Trump administration, deleting any texts from key witnesses to events surrounding the January 6, 2021, attack on the US Capitol, according to court filings…. 'DOD and Army conveyed to Plaintiff that when an employee separates from DOD or Army he or she turns in the government-issued phone, and the phone is wiped,' the government said in the filing. 'For those custodians no longer with the agency, the text messages were not preserved and therefore could not be searched, although it is possible that particular text messages could have been saved into other records systems such as email.' The acknowledgment that the records were not preserved has taken on new significance in the wake of the ongoing scandal over the loss of Secret Service agents' texts from January 6. 'It just reveals a widespread lack of taking seriously the obligation to preserve records, to ensure accountability, to ensure accountability to their partners in the legislative branch and to the American people,' Sawyer said. The Secret Service has said that its texts were lost as a result of a previously scheduled data migration of its agents' cell phones that began on January 27, 2021, exactly three weeks after the attack on the US Capitol." • So far as I can tell from the story, the phones were wiped because they were Pentagon phones, not because they were Trump Pentagon phones. We will, of course, be waiting with baited breath for the Biden Administration to "git tough" with records preservation *** cough *** Hunter's laptops, plural *** cough ***.
Abortion
"The Kansas Abortion Shocker" [The Atlantic]. "Voters [In Kansas] decisively rejected an amendment that would have allowed the state's Republican-controlled legislature to ban abortion. With more than 95 percent of precincts reporting, the 'No' vote was leading by nearly 18 points. The surprising result keeps abortion legal in a GOP stronghold, one of the few states in the region where conservative majorities have not already outlawed the procedure." • Eighteen points is rather a lot. The Republican dog may regret it caught the abortion car. Handy map:

One thing that is very striking about the abortion vote map from last night. It's not just urban and suburban counties like WyCo, JoCo & Sedgwick– several rural GOP leaning counties like Osage (which hasn't vote for a Dem since LBJ) also voted no. pic.twitter.com/cCIlQDDsPT

— Bryan Lowry (@BryanLowry3) August 3, 2022

Perhaps we have Kansas readers who can expand on this? Seems like good news to me.
Biden Administration
"Biden's antitrust adviser Tim Wu leaving White House" [Politico]. "Tim Wu, the White House adviser helping to drive the administration's push to rein in corporate giants with tougher antitrust enforcement is planning to leave his position in the coming months, according to a person with knowledge of the move…. Wu was part of a trio of antitrust hawks President Joe Biden installed last year as part of a push to curb the power sprawling companies — a fight that has focused in particular on tech titans like Amazon and Google. It's unclear what Wu's departure means for the Biden administration's antitrust strategy, but it does mean one of the key drivers of Biden's antitrust strategy won't be there to push for those changes anymore…. From his position on the National Economic Council, Wu was a primary architect of Biden's wide-ranging executive order from July 2021 designed to boost competition throughout the economy….. Wu, along with Federal Trade Commission Chair Lina Khan and Justice Department antitrust head Jonathan Kanter, have been praised by progressive advocates looking to rein in corporate power. Wu had also worked on competition policy under President Barack Obama in addition to stints at the FTC and New York Attorney General's office." • This is not good news at all.

"Doctor: Biden's COVID symptoms return, in 'good spirits'" [Associated Press]. "Biden is required to remain in isolation through at least Thursday under Centers for Disease Control and Prevention guidelines — and perhaps longer under tougher White House protocols if he continues to test positive." • I'm curious to know why White House guidelines would be tougher than guidelines for, oh, "essential workers."
2022
* * *
AZ: "Trump-Endorsed Election Denier Mark Finchem Wins Arizona Secretary of State Primary" [HuffPo]. "Part of a so-called America First slate of election-denying secretary of state candidates, he will join Nevada's Jim Marchant and Michigan's Kristina Karamo as the most prominent right-wing Republicans vying to win seats in order to exert influence over key swing state elections…. "There ain't gonna be no concession speech coming from this guy," Finchem said at a campaign fundraiser in late June, according to the Arizona Republic. "I'm going to demand 100% hand count (of ballots) if there's the slightest hint of any impropriety. And I would urge the next governor to do the same thing.'"• Well, the ballots ought to have been hand-counted from the beginning, ffs. Notice how hand-marked paper ballots, hand-counted in public, would entirely defuse this conflict? One can only wonder why Democrats don't support that policy.
AZ: "Arizona House Speaker Rusty Bowers loses state Senate bid" [Associated Press]. "Republican Arizona House Speaker Rusty Bowers lost his bid for a state Senate seat after refusing then-President Donald Trump's pleas to help overturn the 2020 election results and testifying before Congress about the efforts. Bowers tried to move to the state Senate because of term limits. He lost to former state Sen. David Farnsworth, who criticized him for refusing to help Trump or go along with a contentious 2021 "audit" that Republican leaders in the Senate commissioned."
2024
He's running:

Our intelligence community is the best.

— Pete Buttigieg (@PeteButtigieg) August 2, 2022

Raymond Shaw is the kindest, bravest, warmest, most wonderful human being I've ever known in my life.

"The Kamala Conundrum" [New York Magazine]. "Harris's office has seen enough turnover to make it a much-whispered-about story line in Washington and beyond. She has replaced her chief of staff, deputy chief of staff, communications director, spokeswoman, national security adviser, and speechwriter (twice), and her longest-serving senior aide, domestic-policy adviser Rohini Kosoglu, will depart this summer. Though Biden and Harris get along and meet regularly, it is rarely in the kind of one-on-one setting like the lunches that famously formed the cornerstone of Biden's relationship with Barack Obama…. [H]er new staff has suggested she take advantage of interviews with celebrities and influencers to reach nonpolitically focused audiences." • Let me know how that works out.

"Two House Dem committee chairs are the latest to cast doubt on a Joe Biden run in 2024. We're keeping a running count of who's with them" [Politico]. "House Judiciary Chair Jerry Nadler (D-N.Y.): 'Too early to say. Doesn't serve the purpose of the Democratic Party to, to deal with that until after the midterms.'… House Oversight Chair Carolyn Maloney (D-N.Y.): 'I don't believe he's running for reelection.' (She backtracked in a tweet on Wednesday, saying she would 'absolutely support President Biden, he decides to run for re-election' and calling him the 'strong and effective leader we need .'" • Some backtracking!
Democrats en Déshabillé
I have moved my standing remarks on the Democrat Party ("the Democrat Party is a rotting corpse that can't bury itself") to a separate, back-dated post, to which I will periodically add material, summarizing the addition here in a "live" Water Cooler. (Hopefully, some Bourdieu.) It turns out that defining the Democrat Party is, in fact, a hard problem. I do think the paragraph that follows is on point all the way back to 2016, if not before:

The Democrat Party is the political expression of the class power of PMC, their base (lucidly explained by Thomas Frank in Listen, Liberal!). ; if the Democrat Party did not exist, the PMC would have to invent it. . ("PMC" modulo "class expatriates," of course.) Second, all the working parts of the Party reinforce each other. Leave aside characterizing the relationships between elements of the Party (ka-ching, but not entirely) those elements comprise a network — a Flex Net? An iron octagon? — of funders, vendors, apparatchiks, electeds, NGOs, and miscellaneous mercenaries, with assets in the press and the intelligence community.

Note, of course, that the class power of the PMC both expresses and is limited by other classes; oligarchs and American gentry (see 'industrial model' of Ferguson, Jorgensen, and Jie) and the working class spring to mind. Suck up, kick down.

* * *

"The Democrats Didn't Just Fail to Defend Social Programs. They Actively Undermined Them" (interview) [Lily Geismer, Jacobin]. " I wanted to go beyond thinking only about the Democratic Party as a weak party that's in defensive reaction, which doesn't give much of a road map for understanding current tensions within the party that can't be explained through that lens. I also think it also lets the Democrats off the hook." • Grab a cup of coffee. I think most of us known this history, but it's nice to see it laid out all in one place.
Realignment and Legitimacy
"Delegitimizing the Administrative State" [Nonsite]. "In West Virginia v. EPA, the Supreme Court held that the Environmental Protection Agency did not have the authority to enact a plan it had proposed (but never implemented) because the EPA's actions presented an "extraordinary case" that triggered application of the major questions doctrine.1 That doctrine, in short, asserts that when issues are very important an agency cannot act on them unless Congress explicitly told the agency it could address the issue in the way it planned to act. It should be apparent in that brief description that the major questions doctrine is a powerful tool in limiting the ability of the administrative state to effectively respond to public policy crises. But the immediate outcome in the case—limiting the ability of the EPA to combat climate change—is only one part of the decision's significance to constitutional government. The decision by the Court and the concurring opinion by Justice Gorsuch make clear that the Court is waging a war on the legitimacy of the administrative state itself." • Yep.

"Who Profits?" [The Baffler]. "Nonprofits have grown steadily since the early 1960s, when politicians looked to dramatically expand the role of public-private partnerships in urban governance, particularly in distressed areas. Today, they comprise as of 2017, the latest year for which comprehensive data is available, according to the Johns Hopkins Center for Civil Society Studies. This growth has coincided with decades of yawning inequality, prompting social movements and scholars alike to look askance at the so-called 'nonprofit industrial complex'—the dense networks that connect community activists with professional social workers and managers, public administrators, and philanthropists." The PMC, in other words. Let it never be said we don't have a Jobs Guarantee! More: "The inherent financial constraints and unavoidable political considerations that shaped the priorities of local nonprofits rendered them into an intermediary and professionalized, yet tenuous, representation of broader social movements. Their growth was matched by a preponderance of time-consuming administrative paperwork and evaluation." • Well worth reading in full.
#COVID19
• "What precautions should families take as children return to school? Our medical analyst explains" [CNN]. Leana Wen, naturally. "It all comes down to how much the family wants to avoid Covid-19." Absolutely no consideration given to other families, let alone collective well-being. And this is a professor of "public" heatlth! I've already given Wen her award, I'm not sure what more I can do [bangs head on desk].
* * *
• Here is the CDC on Monkeypox transmission: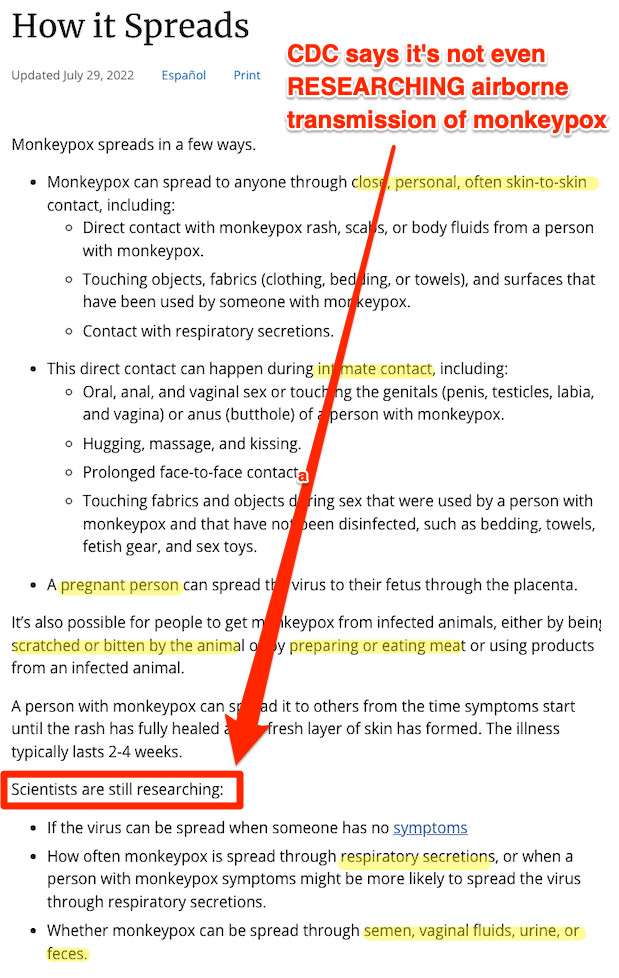 For the record, I once again run CDC's guidance on the Monkeypox in the Congo, which indicates that indeed it can be airborne: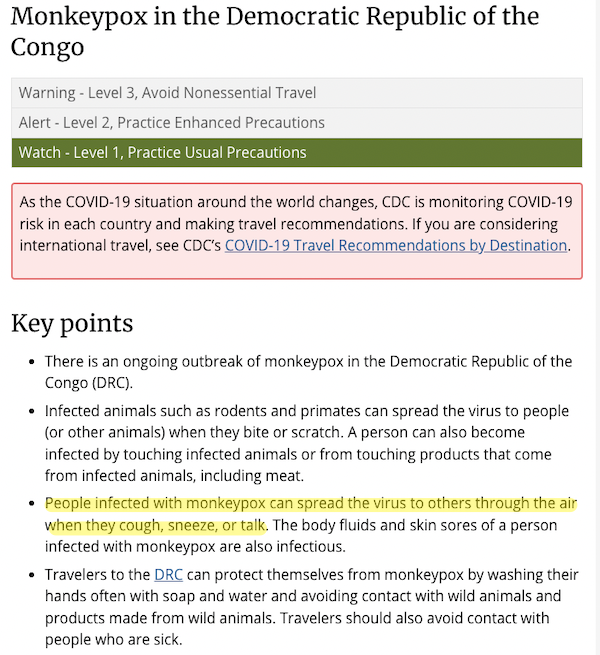 Perhaps those Negroes on the Dark Continent talk more loudly? Could that be why Covid is airborne in the Congo, but not the United States?
• Here is an enormous thread showing how Smallpox is airborne, with a ton of literature. Worth going through it all:
Smallpox thread.

It transmitted up two stories in a hospital in the 1970s.

— Jonathan Mesiano-Crookston 🌬️🔅#COVIDisAirborne (@jmcrookston) December 3, 2021
So, Monkeypox is just like Smallpox, so much alike the same vaccines can be used, but one is airborne and the other is not?
NOTE Again, readers know I have strong priors on airborne transmission (but not unbacked by evidence). At a minimum, however, it would be nice if CDC straightened itself out on what its transmission model for Monkeypox actually is, and why they chose it.
* * *
• Maskstravaganza: "The Efficacy of Facemasks in the Prevention of COVID-19: A Systematic Review" (preprint) [medRxiv]. Metastudy. "The initial review yielded 1732 studies, which were reviewed by three study team members. Sixty-one full text studies were found to meet entry criteria, and 13 studies yielded data that was used in the final analysis. In all, 243 subjects were infected with COVID-19, of whom 97 had been wearing masks and 146 had not. The probability of getting COVID-19 for mask wearers was 7% (97/1463, p=0.002), for non-mask wearers, probability was 52% (158/303, p=0.94)." Funding Statement: "This study did not receive any funding."
• Maskstravaganza:
We let these people down so badly by modelling the wearing of any old mask, only showing surgicals in government ads and by our health and political leaders wearing inadequate or no masks. By emphasising surface cleaning and by not ventilating and filtering indoor public spaces.

— Dr Carol Bird (@CallMeSafetyMom) August 3, 2022
For some, "letting down these people" was the goal. How else does one cull the herd?
• "'Downgrade your mask before entering'—a dangerous NHS policy at a critical public health juncture" [BMJ]. "Local masking policies vary widely, but anecdotal reports indicate that some issue all visitors with a single-use disposable paper mask on arrival and ask them to replace the mask they are currently wearing with it. A request for examples on Twitter quickly drew dozens of responses including from immunosuppressed people who had attended for chemotherapy or scans and had been asked to remove their high-filtration FFP2 or FFP3 respirator and replace it with a single-use disposable mask as a condition of entry. In some, but not all, examples, the individual had been able to negotiate putting the single-use mask on top of their respirator. SARS-CoV-2 is an airborne pathogen which is transmitted when people inhale viral particles that infected individuals exhale when speaking, coughing, sneezing, and even just breathing. In contrast with droplet infection which usually occurs via a single ballistic hit, airborne infection risk increases incrementally with the amount of time the lining of the lungs spend continuously exposed to viral-laden air—in other words, with time spent indoors breathing contaminated air." • So if your hosptials Infection Control administrator is a droplet goon, you could be be up sh*t creek without a paddle. Good job UK Health Security Agency, but the same applies in the US.
If you missed it, here's a post on my queasiness with CDC numbers, especially case count, which I (still) consider most important, despite what Walensky's psychos at CDC who invented "community levels" think. But these are the numbers we have.
* * *
Case Count
Case count for the United States: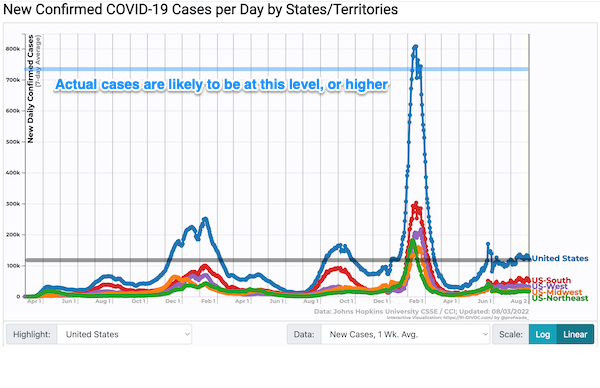 Lambert here: This tapewatcher is slightly befuddled by the case data. Set aside the worrying assumption that the curves for real cases are the same shape as the curves for reported cases, even though there's nothing to prove this. But cases are not going through the roof, at least in terms of case reporting. Data artifact? "Vaccine wall"? Why this slow, sawtooth pattern when BA.5 is known to be very infectious? Note that the Walgreens positivity tracker urges that the BA.5 peak was more or less the same level as the Omicron peak, i.e., the real level of infection really is indicated by the blue "Biden Line" (and hence, for example, the level of Long Covid). Note also that deaths exhibit the same weird sawtooth pattern as cases, albeit not at Omicron levels.
Remember that cases are undercounted, one source saying by a factor of six, Gottlieb thinking we only pick up one in seven or eight.) Hence, I take the case count and multiply it by six to approximate the real level of cases, and draw the DNC-blue "Biden Line" at that point. The previous count was ~125,000 Today, it's ~121,700 and 121,700 * 6 = a Biden line at 750,000 per day. That's rather a lot of cases per day, when you think about it. At least we have confirmation that the extraordinary mass of case anecdotes we've seen have a basis in reality. (Remember these data points are weekly averages, so daily fluctuations are smoothed out.) The black "Fauci Line" is a counter to triumphalism, since it compares current levels to past crises.
Regional case count for four weeks: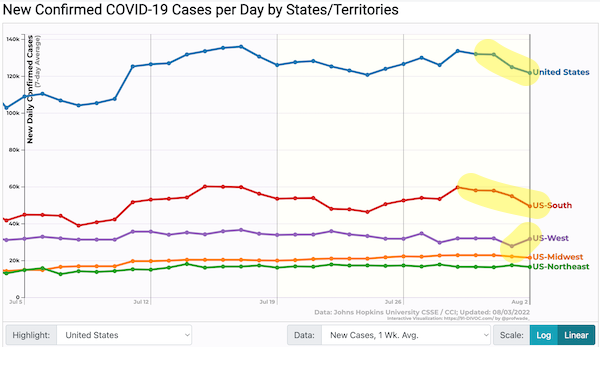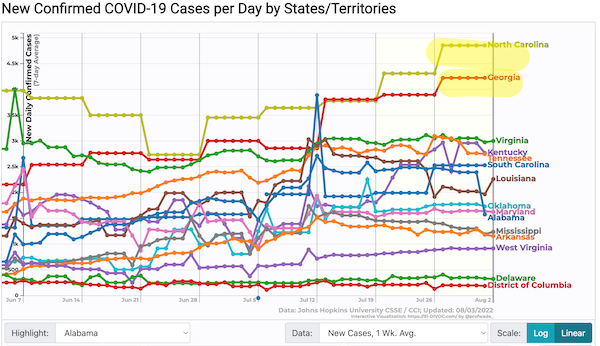 What kind of sick game are Abbott and DeSantis playing? (It has not escaped my notice that big states are driving the national case count, and that DeSantis (Florida) and Newsom (California) are both Presidential timber, and Abbbot might consider himself so.)
The South (minus Texas and Florida):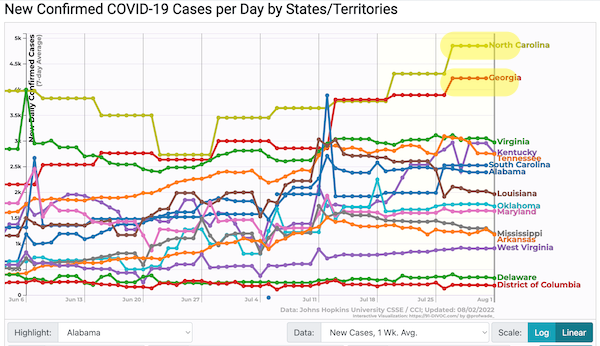 North Carolina and Georgia have no data today (hence the gaps in the chart).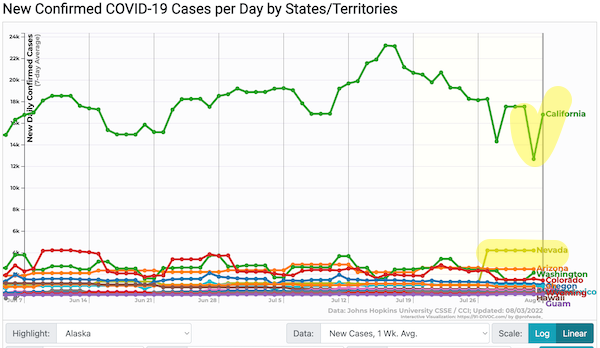 Yesterday's big drop reversed. I'm just not sure I can trust California data. For example, here is San Diego wastewater: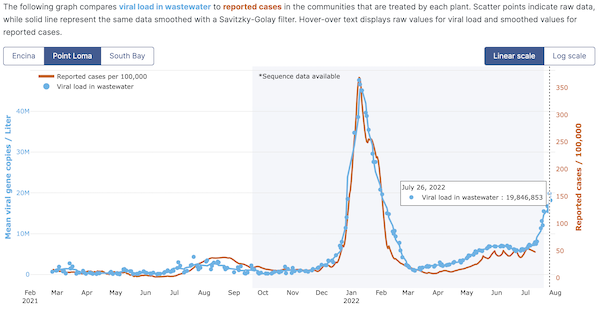 What do California readers think?
Positivity
From the Walgreen's test positivity tracker, August 1: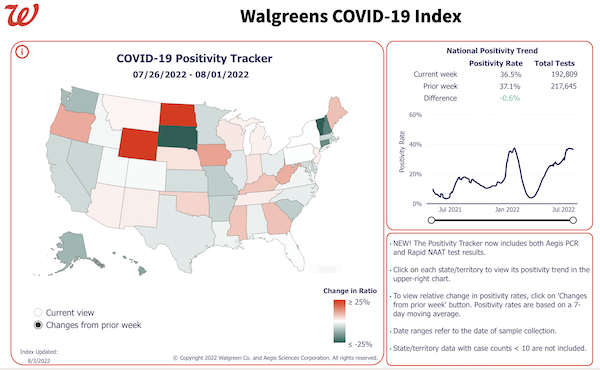 -0.6%. (I wonder if there's a Keynesian Beauty Contest effect, here; that is, if people encounter a sympotomatic person, whether in their social circle or in normal activity, they are more likely to get a test, because they believe, correctly, that it's more likely they will be infected.) Starting to look like positivity has peaked, at least for Walgreen's test population.
Transmission
NOTE: I shall most certainly not be using the CDC's new "Community Level" metric. Because CDC has combined a leading indicator (cases) with a lagging one (hospitalization) their new metric is a poor warning sign of a surge, and a poor way to assess personal risk. In addition, Covid is a disease you don't want to get. Even if you are not hospitalized, you can suffer from Long Covid, vascular issues, and neurological issues. For these reasons, case counts — known to be underestimated, due to home test kits — deserve to stand alone as a number to be tracked, no matter how much the political operatives in CDC leadership would like to obfuscate it. That the "green map" (which Topol calls a "capitulation" and a "deception") is still up and being taken seriously verges on the criminal. Use the community transmission immediately below.
Here is CDC's interactive map by county set to community transmission. This is the map CDC wants only hospitals to look at, not you. For July 21, 2020: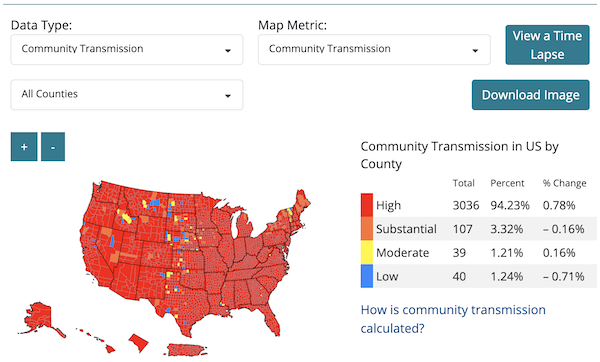 Status quo, i.e. it's a totally not-over pandemic.
Rapid Riser data, by county (CDC), August 3: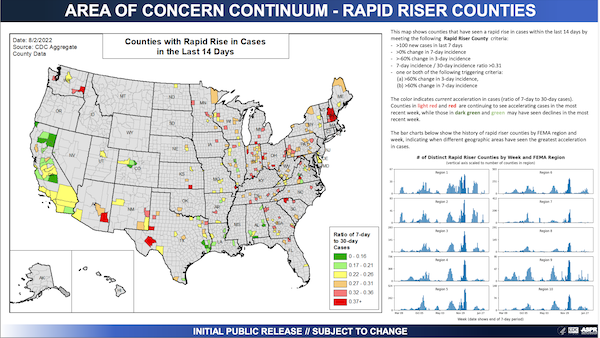 Improvements everywhere (except New Hampshire. Tourism?).
Previous Rapid Riser data: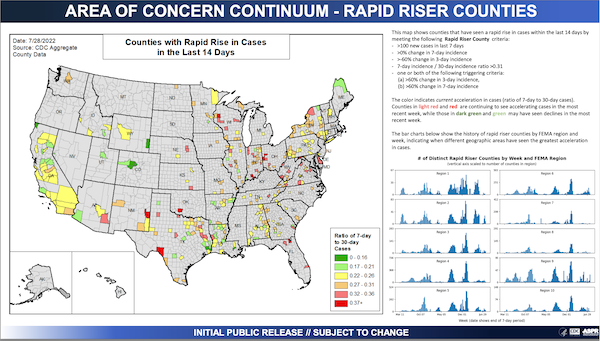 Hospitalization data, by state (CDC), August 3: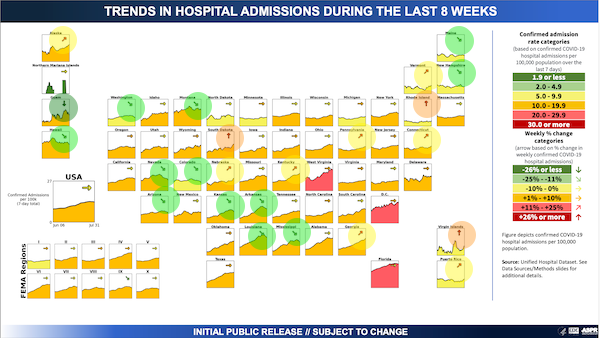 More green. Good!
Variants
Lambert here: It's beyond frustrating how slow the variant data is. I looked for more charts: California doesn't to a BA.4/BA.5 breakdown. New York does but it, too, is on a molasses-like two-week cycle. Does nobody in the public health establishment get a promotion for tracking variants? Are there no grants? Is there a single lab that does this work, and everybody gets the results from them? Additional sources from readers welcome [grinds teeth, bangs head on desk].
NOT UPDATED Variant data, national (Walgreens), July 14: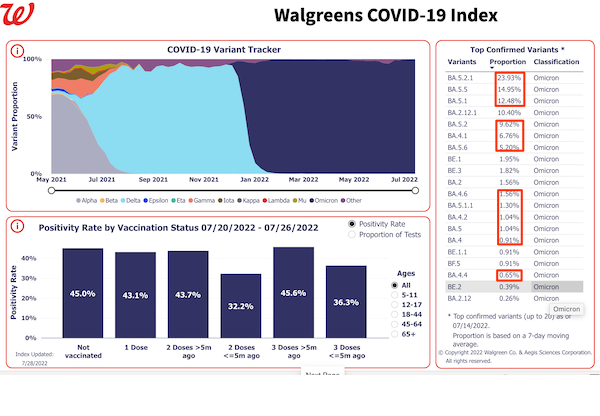 NOT UPDATED Variant data, national (CDC), July 16 (Nowcast off):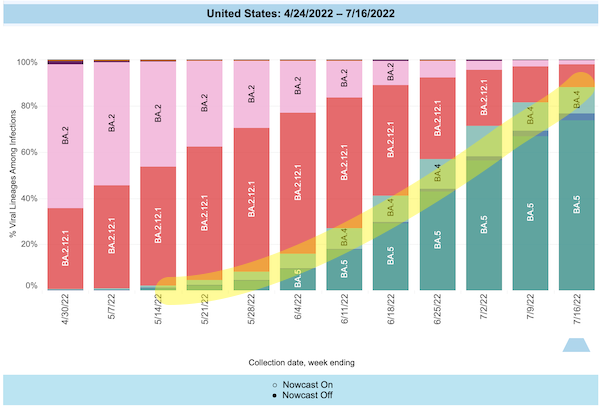 BA.5 moving along nicely.
Wastewater
Wastewater data (CDC), July 30: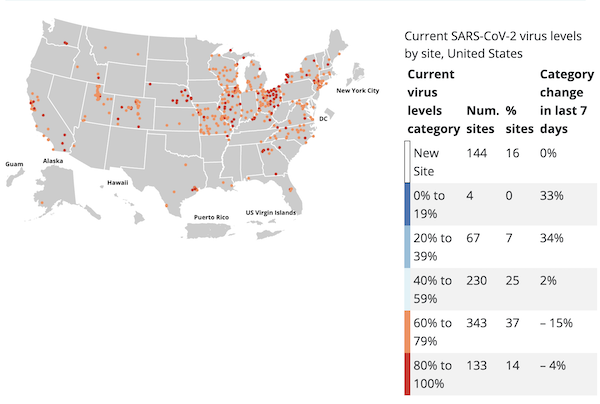 I found this chart hard to read, so I filtered the output to the highest (red) and next-highest (orange) levels (somewhat like Rapid Riser Counties, see on here). What's visible is that a lot of cities are in trouble; but that coverage is really patchy. Illinois, for example, has always had a lot of coverage, but the dots stop at the Illinois border. This chart works a bit like rapid riser counties: "This metric shows whether SARS-CoV-2 levels at a site are currently higher or lower than past historical levels at the same site. 0% means levels are the lowest they have been at the site; 100% means levels are the highest they have been at the site." So, there's a bunch of red dots on the West Coast. That's 100%, so that means "levels are the highest they've ever been." Not broken down by variant, CDC, good job.
Deaths
Death rate (Our World in Data):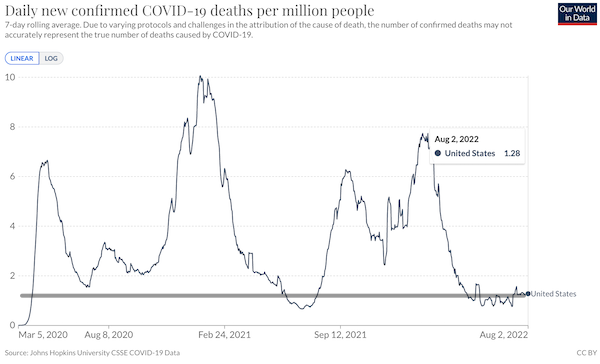 Total: 1,055,975 – 1,055,576 = 399 (* 365 = 145,635; the new normal). I have added an anti-triumphalist Fauci Line. It's nice that for deaths I have a simple, daily chart that just keeps chugging along, unlike everything else CDC and the White House are screwing up or letting go dark, good job.
NOTE Readers, I introduced a new piece of arithmetic: The level of death that the CDC and the political class generally would like us to become accustomed to.
Stats Watch
Manufacturing: "United States Factory Orders" [Trading Economics]. "New orders for US manufactured goods jumped 2% month-over-month in June of 2022, extending the upwardly revised 1.8% rise in May and well above market forecasts of a 1.1% increase, reflecting strong demand for products. Orders rose 2% among the non-durable goods industries, supported by petroleum and coal products (6%) and chemical products (1.1%). Durable goods industries rose at a slower 0.3%, with strong contributions from computers and electronic products (1.4%) and electronic equipment and appliances (1.3%), while transportation equipment stagnated." • If we're in a recession, it sure is a weird one. Perhaps the Fed needs to punish us more.
Services: "United States ISM Non Manufacturing PMI" [Trading Economics]. "The ISM Services PMI unexpectedly increased to 56.7 in July of 2022, the highest in 3-months, from 55.3 in June and beating market forecasts of 53.5."
Supply Chain: "United States LMI Logistics Managers Index Current" [Trading Economics]. "The Logistics Manager's Index in the US declined for a fourth month to 60.7 in July of 2022, the lowest reading since May of 2020 mostly due to a decline in transportation prices. The index stayed below the all-time average of 65.3 for a second time but still pointed to a healthy rate of expansion in the logistics industry…. Warehousing Utilization (68.8) and Inventory Levels (68.8) remained strong. source
* * *
The Bezzle: "Untying Tether" (excerpt) [Doomberg]. "Bankruptcy proceedings are notoriously vicious affairs. When multiple classes of creditors are owed more money than what's available to be split, the brawl over what remains can get bloody. Like vultures crowding a wounded animal, bankruptcy attorneys leave no bone unpicked…. The entanglement of Tether in the Celsius affair puts the controversial operator of the world's largest crypto stablecoin in an incredibly uncomfortable position, one which might finally pierce the veil of secrecy the company works so hard to preserve. If things play out the way we suspect, Tether could soon be forced to reveal damning specifics about the nature of its business practices. The relationship between Celsius and Tether – especially in the days leading up to Celsius' demise – just might give interested teams of aggressive lawyers the opening they needed to force Tether to come clean. Let's dig in." • Also a potted explanation of the prioritization of creditor claims, which I suspect will be handy.
* * *
Today's Fear & Greed Index: 42 Fear (previous close: 39 Fear) [CNN]. One week ago: 35 (Fear). (0 is Extreme Fear; 100 is Extreme Greed). Last updated Aug 2 at 1:43 PM EDT.
The Conservatory
Did it help then? Would it help now?
The Velvet Underground playing for the American Society of Clinical Psychiatrists in 1966 pic.twitter.com/Wr1SqeEbgb

— Jokermen (@JokermenPodcast) August 1, 2022
Zeitgeist Watch
I wonder what the German word for this is. Not quite schadenfreude:
the Baltimore subreddit never disappoints me pic.twitter.com/HZqInlCpTD

— mary 🤠 (@ibsignorer) August 2, 2022
Class Warfare
"NLRB demand for UMWA to pay Warrior Met Coal strike costs 'outrageous,' threatens American workers' right to strike" [United Mine Workers]. "The United Mine Workers of America today made it clear that it will vigorously challenge an outrageous assessment of damages made by the National Labor Relations Board Region 10 regarding the UMWA's 16-month strike against Warrior Met Coal in Alabama. 'This is a slap in the face not just to the workers who are fighting for better jobs at Warrior Met Coal, but to every worker who stands up to their boss anywhere in America," UMWA International President Cecil E. Roberts said. 'There are charges for security, cameras, capital expenditures, buses for transporting scabs across picket lines, and the cost of lost production.' 'What is the purpose of a strike if not to impact the operations of the employer, including production,' Roberts asked. 'Is it now the policy of the federal government that unions be required to pay a company's losses as a consequence of their members exercising their rights as working people? This is outrageous and effectively negates workers' right to strike. It cannot stand.' The union entered into a settlement agreement in June with NLRB Region 10 regarding charges the company had made about picket line activity in order to save striking members and families from days of hostile questioning by company lawyers. On July 22, the NLRB sent the union a detailed list of damages totaling $13.3 million dollars, more than 33 times the estimated amount NLRB lawyers had initially indicated would be assessed." • Joe Biden, friend of the working class.
"Warrior Met Coal Declares Special Cash Dividend" [BusinessWire]. • That's nice.
* * *
"Why Is America Fractured? Blame College, a New Book Argues." [New York Times]. "[Will] Bunch describes how the dream of college as a tool for democratic citizenship has 'instead become the rough show-us-your-papers demand for clinging to the middle class.'" And: "While universities always publicly denounce funding cuts, many were not-so-secretly glad for the excuse to become more exclusive, expensive and focused on the wants of the wealthy. That's how excellence has always been defined in American higher education. Just as tectonic economic shifts left tens of millions of workers needing new training and credentials, the public university system was becoming less affordable and more beholden to "meritocratic" ideas that thinly disguised the interests of the ruling class. Meanwhile, even students who might have been inclined by background and politics to embrace higher learning became disillusioned by the spiraling crisis of debt."
News of the Wired
I am not yet wired today.
* * *
Contact information for plants: Readers, feel free to contact me at lambert [UNDERSCORE] strether [DOT] corrente [AT] yahoo [DOT] com, to (a) find out how to send me a check if you are allergic to PayPal and (b) to find out how to send me images of plants. Vegetables are fine! Fungi and coral are deemed to be honorary plants! If you want your handle to appear as a credit, please place it at the start of your mail in parentheses: (thus). Otherwise, I will anonymize by using your initials. See the previous Water Cooler (with plant) here. From Expat2Uruguay: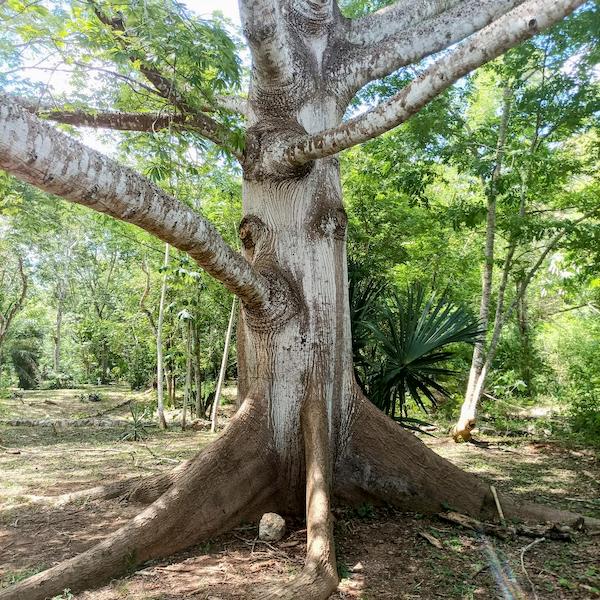 Expat2Uruguay writes: I'm traveling in Mexico and I was at the Mayan ruin at the Ek Balam Archaeological Site near Valladolid and spotted this tree, which immediately made me think of that infamous liar, so appropriate for our times of fake news, or is it fake nose?"
* * *
Readers: Water Cooler is a standalone entity not covered by the recently concluded and — thank you! — successful annual NC fundraiser. So if you see a link you especially like, or an item you wouldn't see anywhere else, please do not hesitate to express your appreciation in tangible form. Remember, a tip jar is for tipping! Regular positive feedback both makes me feel good and lets me know I'm on the right track with coverage. When I get no donations for five or ten days I get worried. More tangibly, a constant trickle of donations helps me with expenses, and I factor in that trickle when setting fundraising goals:
Here is the screen that will appear, which I have helpfully annotated: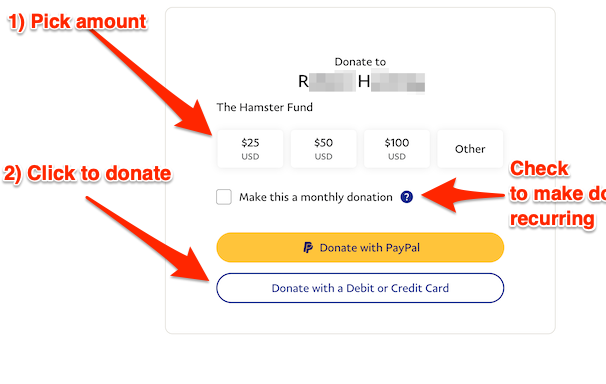 If you hate PayPal, you can email me at lambert [UNDERSCORE] strether [DOT] corrente [AT] yahoo [DOT] com, and I will give you directions on how to send a check. Thank you!